This Zucchini Parmesan Crumble is an easy zucchini recipe full of Mediterranean flavors. A tender stuffed and baked eight-ball zucchini, topped with a crispy, crunchy parmesan crumble. Serve it as a vegetarian appetizer or as a side dish.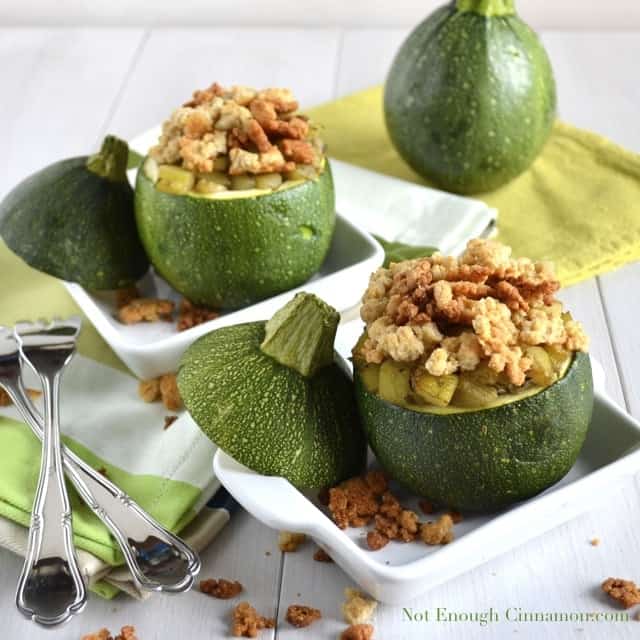 Hi everybody, hope you're doing great. I feel like I didn't post any recipe for an eternity! I was in vacation in a french countryside called Auvergne where I ate A LOT of cheese. Yum Yum.
But now I'm back to real life, which means, a little bit less cheese and a lot more exercise (because, you know, too much cheese doesn't look that good on me). But above all, I'm finally back in the kitchen cooking and baking delicious things like these adorable Zucchini Parmesan Crumbles.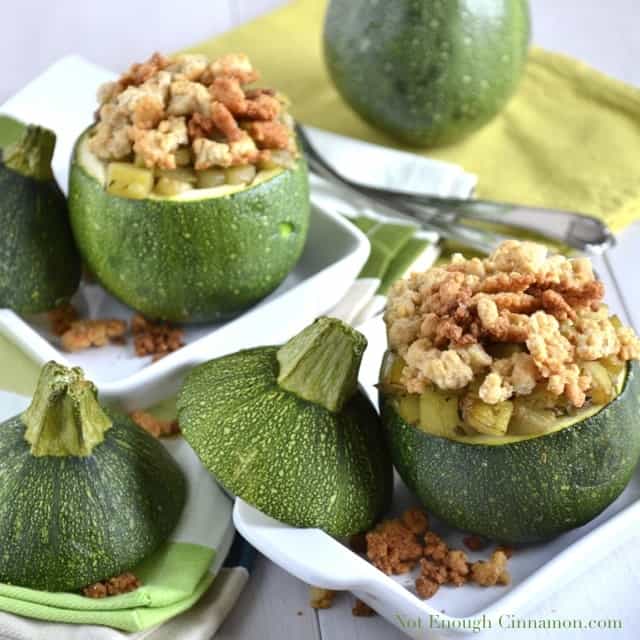 They are best described as baked, stuffed eight ball Zucchini with a crunchy Parmesan crumble on top. 
During our vacation, my boyfriend's mother, Véronique, made a quite similar meal (she originally found the recipe here). It was delicious so I decided to share it with you.
I just changed a few things to make this Zucchini Parmesan Crumble suit my taste better. For instance, I replaced tarragon with other herbs and served them in eight ball squash.
Do you know eight ball squash? Basically, they are rounded summer zucchini. They taste just like regular zucchini, but they are adorable, and you can stuff them with a delicious Mediterranean filling bursting with garlic and fresh herbs.
You can find eight ball Zucchini at your local farmer's market, and even at the grocery store if you're lucky. They are totally optional so if you can't find some, just use a regular oven dish for this Zucchini Parmesan Crumble recipe.
These Zucchini Parmesan Crumbles are the perfect side dish to any meal. It would go well with any kind of meat, like grilled chicken for instance. Nom nom nom
But these stuffed eight ball zucchini with parmesan crumble are also great alone, so go ahead if you're vegetarian!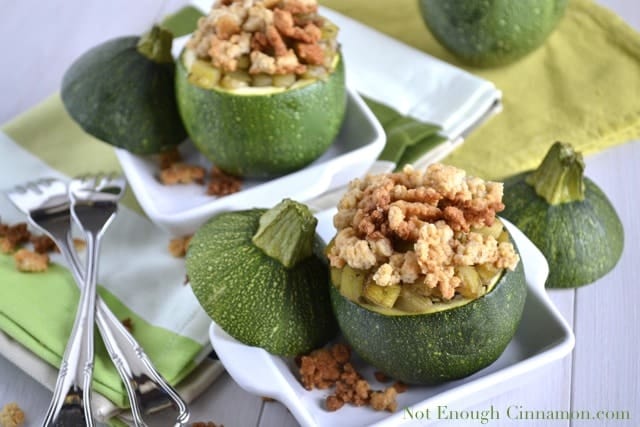 If you tried this Zucchini Parmesan Crumble, don't forget to rate the recipe below and let me know how it went in the comments – I love hearing from you! You can also follow me on Instagram, Pinterest and Facebook for more deliciousness and behind-the-scenes!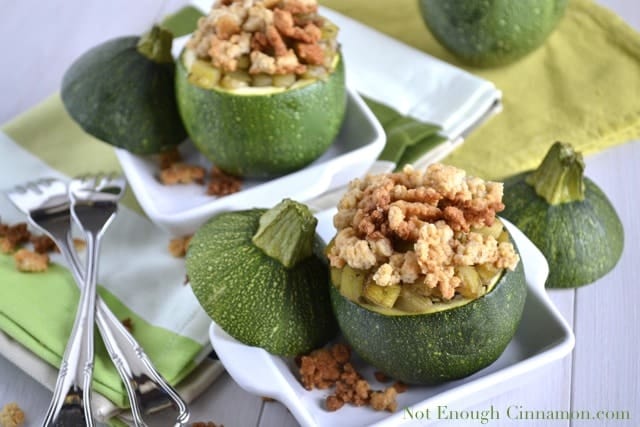 Zucchini Parmesan Crumble
This Zucchini Parmesan Crumble is an easy zucchini recipe full of Mediterranean flavors. Picture a tender stuffed and baked 8-Ball Zucchini, topped with a crispy, crunchy parmesan crumble. Serve it as a vegetarian appetizer or as an original side dish to any meat.

Total Time
1
hour
15
minutes
Ingredients
For the zucchini
4

8 ball zucchini

1

tsp

olive oil

3

small cloves

garlic

minced

4

cups

regular zucchini

peeled and cubed

1

tsp

thyme

½

tsp

oregano

½

tsp

rosemary

salt and pepper to taste

1

tbsp

balsamic vinegar
For the topping
½

cup

(½ cup) grated parmesan

¼

cup

(¼ cup whole wheat flour

4

tbsp

(½ stick) unsalted butter

, at room temperature, cut in large chunks
Instructions
For the filling:
Carve out the flesh of the eight ball zucchini, paying attention not to break through the shell. Dice the flesh.

Heat olive oil in a skillet, on medium heat. When hot, add garlic. Cook for a few seconds, then add zucchini (regular + eight ball flesh), thyme, oregano, rosemary, salt and pepper. Cook 10 minutes and add balsamic vinegar. Mix well and cook for another 5 minutes.
For the parmesan crumble:
While zucchini is cooking, prepare the parmesan crumble topping. In a medium bowl, add parmesan, flour and butter. Using your fingers, combine to form chunks.

Line a baking sheet with parchment paper or Silpat and spread parmesan crumble on it. Bake topping for 10 minutes or until golden brown. Be careful not to burn it. Remove from the oven and set aside in a bowl.

Reduce oven temperature to 300F.

Stuff eight ball zucchini with cooked zucchini. Line a baking sheet with parchment paper or Silpat, place stuffed zucchini on it and bake for 45 minutes (without crumble). Turn off the oven.

Remove from the oven and top with parmesan crumble. You can put them back in the oven for 5 minutes to warm up the crumble (optional). Serve immediately.
Recipe Notes
If you are not using eight ball zucchini, but a simple dish, skip step 5. The only reason we use the oven is to cook the zucchini shells. Just cook your zucchini in the skillet, bake your crumble and assemble in a dish or plates.
You could also use regular zucchini to make an edible shell. In that case, follow all the steps. Your choice. ALSO, a good thing to know if you want to make those for a larger crowd: for the crumble the proportions are 2tbsp/person, 1tbsp flour/person, 1 tbsp butter/person. Easy!
Nutrition Facts
Zucchini Parmesan Crumble
Amount Per Serving (1 zucchini)
Calories 253
Calories from Fat 153
% Daily Value*
Fat 17g26%
Cholesterol 41mg14%
Sodium 219mg10%
Potassium 887mg25%
Carbohydrates 17g6%
Protein 9g18%
Vitamin A 1105IU22%
Vitamin C 58.3mg71%
Calcium 200mg20%
Iron 1.6mg9%
* Percent Daily Values are based on a 2000 calorie diet.
More zucchini recipes: