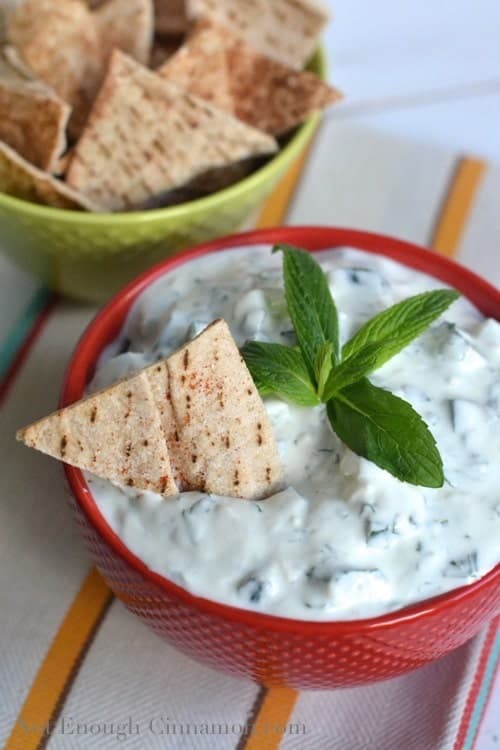 In 2011, Solal and I spent three months in Philadelphia, on the UPenn campus. This was one of the best summer I've ever had. I was still in law school but we were also working on a startup project and were looking for people to join our team. This summer, I discovered what would soon become an addiction: Chipotle Mexican Grill. I was unfortunately living 5 minutes away from it and Chipotle was on the menu several times a week. Not good at all for my hips I knooww! But back then, I had little to no idea what carbs meant and I honestly didn't realize that eating three burritos a week was not that good for me 😉 Solal was bored after two or three weeks but I could have kept on the same pace for ages. Thank God we came back to Paris just in time before I morphed into a giant bean. I learned that a few weeks before we moved to Australia, they opened a restaurant in Paris. I think they waited for me to be gone before opening it. And now, they need to come to Sydney. Oh wait, no, scratch that. I actually hope they never come to Sydney. I did learn a lot about carbs and grains but do I have enough self-control to resist barbacoa burritos - with extra guacamole, of course? Well, I'm not so sure... Anyways, Chipotle wasn't my only food discovery this summer. No, I'm not going to mention Five Guys, because everybody knows they made the best burgers and fries EVEEERRRR and I already knew back then that it wasn't good for me. Fries always send a clear signal.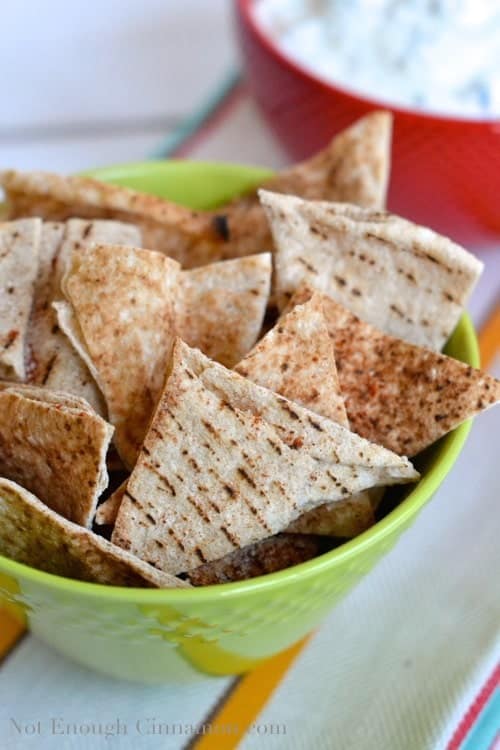 One of my favorite things to do when I travel is to go grocery shopping. I know it sounds really weird but I believe it's a great way to discover another culture - by scanning supermarket aisles and see what people are eating. So, one day, I was detailing my local grocery store (I think it was called the Fresh Grocer...aaah memories!) and came across Stacy's Pita Chips. O.M.G, what an AWESOME discovery. And what a heartbreak to realize when we came back home that there is no such thing as pita chips in France... Pita chips, or pita bread for that matter, are not very common there.  So for months, I thought I had no choice but to give up on this delicious snack, until I realized that I could simply make my own at home. No need for Stacy after all! So if you're like me and love pita chips but can't or don't want to buy them from the store, this recipe is for you!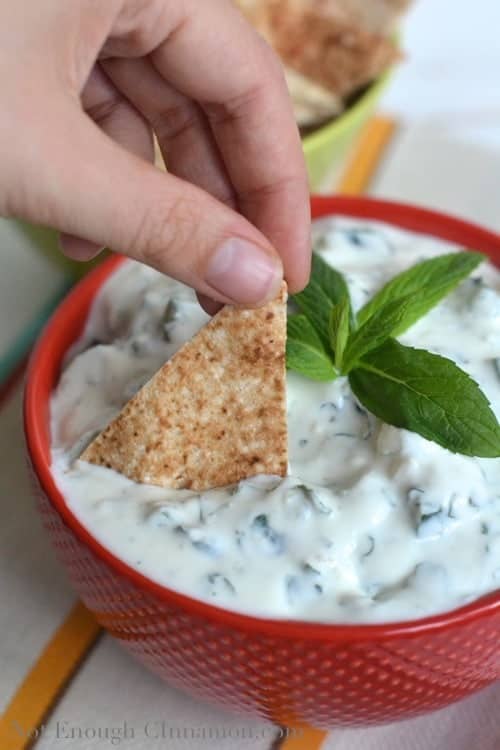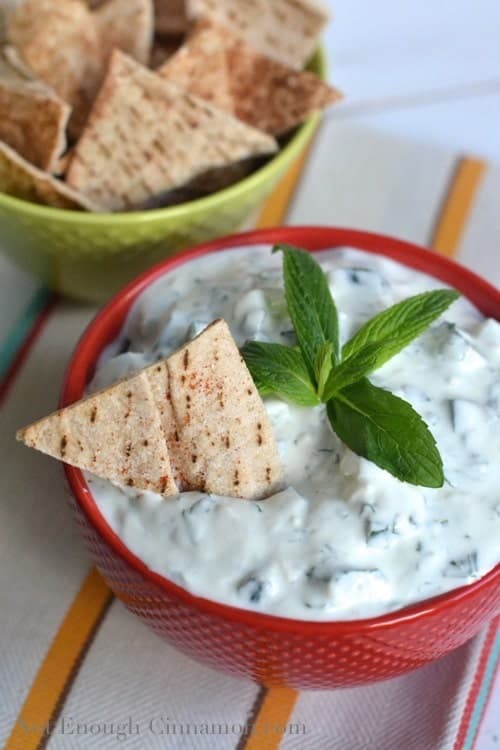 Homemade Pita Chips with Mint Yogurt Dip
Servings
6
people – 24 pita chips + 1 cup dip
Ingredients
3

large pita breads

salt

sweet paprika

olive oil spray
Mint Yogurt Dip
1

cup

Greek yogurt

2-3

tbsp

fresh mint

finely minced

1

clove

garlic

finely minced

⅓

continental cucumber

the long ones, with peel, cut into small cubes

1

tsp

olive oil

salt and pepper to taste
Instructions
Toaster method
Cut each pita bread in quarters (or in half if using the small ones)

Toast each half until crispy but still slightly soft. Using scissors or simply your hands, cut pita into triangles (or any shape you like!) and transfer to a bowl.

Toss with salt and paprika.
Oven method
Preheat oven to 375 F

Cut each pita bread in half and quartered into triangles. Arrange pita triangles on a baking sheet in a single layer.

Spray with olive oil and sprinkle with salt and paprika.

Bake for 10-15 minutes or until golden and crispy. Let them cool before serving.
Mint Yogurt Dip
In a medium bowl, combine all ingredients. Season with salt and pepper to taste. Serve with the pita chips you just made!
Nutrition Facts
Homemade Pita Chips with Mint Yogurt Dip
Amount Per Serving (4 pita chips + sauce)
Calories 106
Calories from Fat 9
% Daily Value*
Fat 1g2%
Cholesterol 1mg0%
Sodium 162mg7%
Potassium 103mg3%
Carbohydrates 17g6%
Protein 6g12%
Vitamin A 35IU1%
Vitamin C 0.8mg1%
Calcium 63mg6%
Iron 0.4mg2%
* Percent Daily Values are based on a 2000 calorie diet.