Ready for the best Macadamia Nut Butter ever? Toss the nuts with cinnamon, honey and coconut oil, bake until fragrant and process these homemade honey roasted macadamias until smooth and creamy!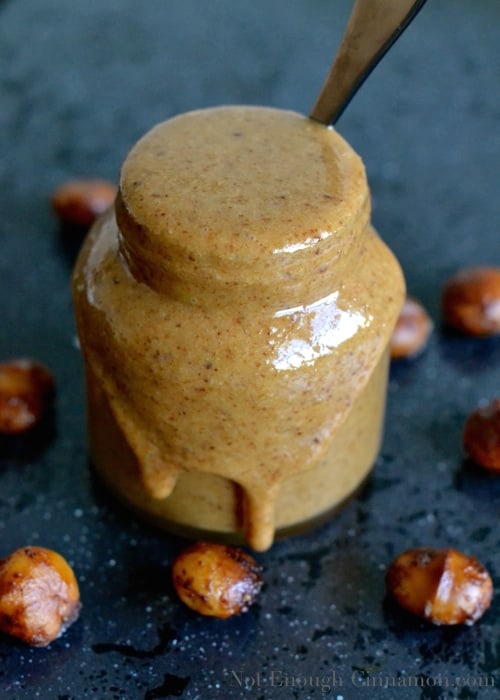 My love affair with nut butter dates back to when I was still living in Paris, two years ago. I had finally started my own food blog, after stalking other food blogs for almost a year.
Remember this summer I spent in Philadelphia? Well, this is where it all started. I mentioned that we were working on a startup project, right? I couldn't give you the details of precisely what we were doing back then partly because Solal and I worked on a lot of projects but mostly because I have a very bad memory. No joke, it's horrible!
Anyways, part of my job was to find blog partners and we decided to focus on food blogs first because the recipes were a great fit for our product. So basically I spent my days browsing the web in search of new food blogs. And I did find tons of them!
This food blogging world was very new to me because in France, there are very few of them and most are very small blogs that people start just as a hobby. Whereas in the States, it's a pretty serious business!
It definitely planted an idea in my head, but it wasn't quite ready to sprout just yet. Fast forward June 2012, 10 months after coming back from Philly, I finally gave in and started Not Enough Cinnamon. This is the first recipe I posted <3 I will love this salad forever just for that 🙂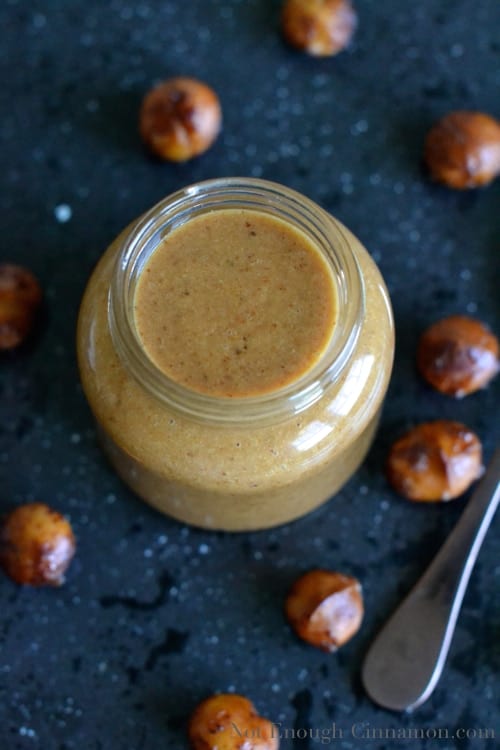 Now, you're wondering what it has to do with this macadamia nut butter, right? I'm coming at it. It was very clear from all the blogs I read that peanut butter was a very big thing in North America, but yet again, it's wasn't very popular in France.
It was only seen as a fattening American thing (big mistake!) and in fact, the one single PB brand I could find in my local grocery store was located in the "international/exotic" aisle. I still bought a jar and O.M.G REVELATION!
I just couldn't stop gobbling PB, wondering why I waited so long to taste my first dollop of nut butter. Alas this one and only peanut butter was quite expensive and full of salt, sugar and oil.
Given my ability to eat it in no time, I had to find another solution and basically just learnt how to make nut butter myself. You can find the recipe for homemade peanut butter (without added oil, sugar or salt) here.
I'm sorry but I have to stop my story for a second because I just realized I posted the homemade PB recipe two years ago, on August 15! Isn't it awesome that precisely two years later, I'm posting another nut butter recipe on the blog?
It's kind of funny to see how my nut butter game evolved. I started with the classic: peanut butter then moved onto almond butter and now this Honey Roasted Macadamia Nut Butter.
I realize that now would be a good time to finally talk about today's recipe for Macadamia Nut Butter if I haven't already lost you. So here goes!
This is nut just Macadamia Nut Butter, this a nut butter made from homemade Honey Roasted Macadamias!
Macadamia nuts roasted in honey are just a wonderful thing. As simple as that. An I-can't-stop-munching-on-it kind of treat. And when you turn them into a homemade nut butter, well, it's yet another level of awesomeness.
This macadamia nut butter is simply addictive - I wasn't able to stop at one spoonful, and I bet you won't either!
And while this Honey Sweetened Macadamia Nut Butter could be easily devoured by the spoonful, there are also so many uses for macadamia nut butter: think cookies, bars, cheesecakes or a big old drizzle on top of your morning oats!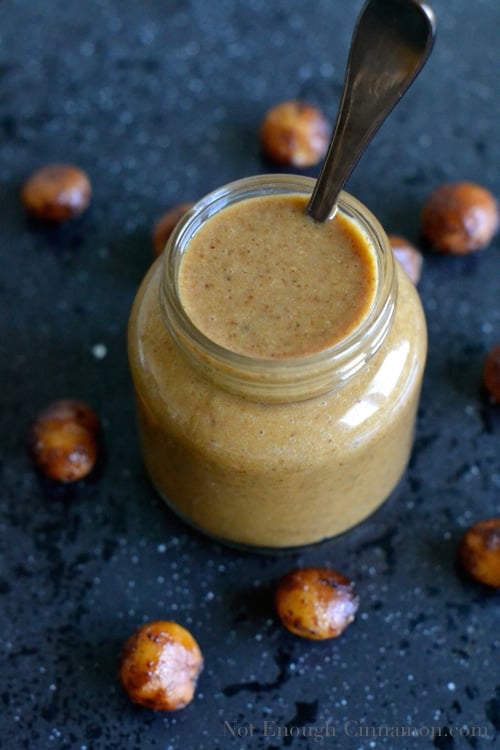 If you tried this Honey Roasted Macadamia Nut Butter, don't forget to rate the recipe below and let me know how it went in the comments – I love hearing from you! You can also follow me on Instagram, Pinterest and Facebook for more deliciousness and behind-the-scenes!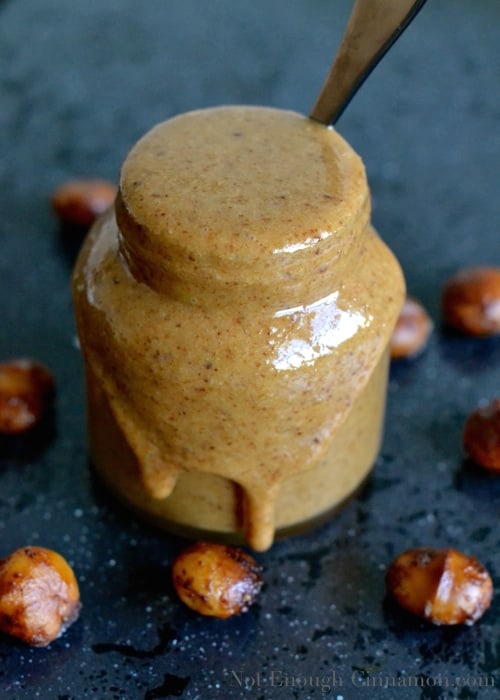 Honey Roasted Macadamia Nut Butter
Ready for the best Macadamia Nut Butter ever? Toss the nuts with cinnamon, honey and coconut oil, bake until fragrant and process these homemade honey roasted macadamias until smooth and creamy!
Servings
24
tablespoons – 1.5 cups
Ingredients
2

tbsp

honey

4

tsp

coconut oil

melted

½

tsp

cinnamon

1

pinch

salt

2

cups

raw whole macadamia nuts
Instructions
Preheat oven to 350F/180C. Line a baking sheet with parchment paper.

In a medium bowl, mix together honey, coconut oil, cinnamon and salt (I used a wooden spoon). Add nuts and mix to coat them with honey-coconut oil mixture.

Spread nuts on a lined baking sheet in a single layer. Bake for 15 minutes or until golden brown and roasted. Keep an eye on the oven to make sure they don't burn. Remove from the oven. Let them cool a little.

Transfer roasted nuts to food processor or high speed blender and process until smooth. You should get a very smooth butter in less than 5 minutes. Transfer into an airtight container and store in the pantry or the fridge.
Recipe Notes
As with natural peanut butter, the oil will separates out on top and you'll need to stir the macadamia nut before eating it. But it's well worth it 🙂
Nutrition Facts
Honey Roasted Macadamia Nut Butter
Amount Per Serving (1 tablespoon)
Calories 92
Calories from Fat 81
% Daily Value*
Fat 9g14%
Potassium 41mg1%
Carbohydrates 3g1%
Vitamin C 0.2mg0%
Calcium 10mg1%
Iron 0.4mg2%
* Percent Daily Values are based on a 2000 calorie diet.