This Chicken Stew with apples,  cinnamon and a touch of honey is the perfect easy one-skillet meal for fall. Serve this warming chicken stew with rice or mashed sweet potatoes as a comforting dinner.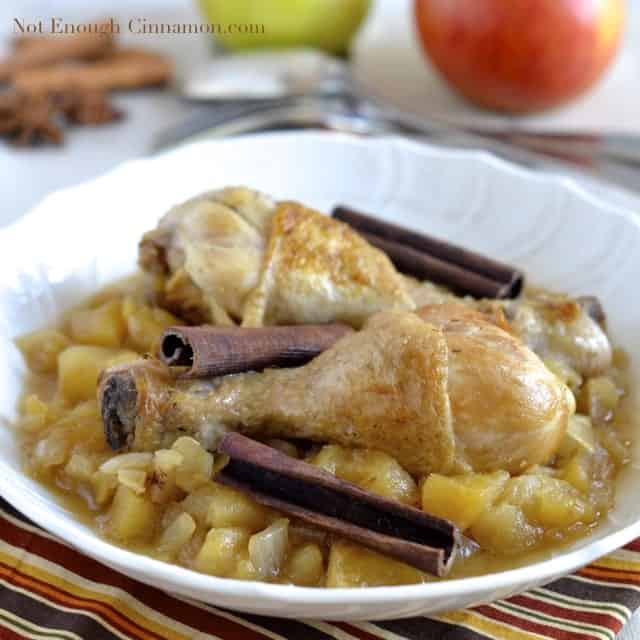 Before giving you the recipe for this delicious and comforting Chicken Stew with Apples and Cinnamon, let me tell you a little something.
My life is going to change A LOT in a few days — 10 little days, to be more precise. My boyfriend Solal and I are moving to Sydney, Australia. And I say «moving» because we're not going on vacation. We are actually going to live there for a year. I'm both super excited and scared.
I mean, you'll agree it's a big change, and I don't really know what to expect. I've never been to Australia, that's a country we don't hear about a lot, except when it comes to kangaroo and koala bears (just kiddin').
Obviously, I did a lot of research — I'm the kind of girl that reads hundreds of guides and websites  — but still, it definitively feels like an adventure for us. Not to mention that Australians have a strange accent, and I'm not sure I'll be able to handle that (just kiddin', again. Don't feel offended, my Aussie friend).
So what exactly are we going to do in Sydney, you may ask. Quite frankly, I'm not sure myself. I already know we'll have tons of things to do (I'll explain that in a minute), but we did not get transferred and we won't go to college.
Basically, we wanted to travel, to see something different while we're still young, with no kids and no house to pay for. Why Australia? Because it's always sunny! And I'm not kidding this time, that's actually one of the main reason we chose this country. My body and soul need the sun to work properly. And Paris is not exactly the sunniest part of the world.
In addition to the weather, I must say it's super easy to get a visa, at least if you don't intend to immigrate for more than one year. We got a «Working Holidays» visa in 15 minutes on the web. How incredible is that?! You understand now why so many people come to Australia!
As the name suggests it, this visa allows you to work, in order to pay for your vacation. The only drawback is that you can't work more than 6 months with the same employer.
And that brings us back to question: what are we going to do in Sydney? Well, lots of things. We'll find a regular job to earn some money. Solal and I have some business projects we'll work on, and I'm not done yet with my studies. I finished law school this year, and I'm actually starting something new in october. So as you can see, we'll have a very busy schedule (but I love that)!
My sweet blog is not going to be neglected at all and I intend to keep posting recipes on a regular basis, ideally three times a week. But it may take a little time for me to adjust to my new life so I hope you'll be understanding if I don't post as often as I used to — at least at the beginning.
From what I've heard, Sydney is an amazing city when it comes to food. There is very good fresh produce, local farmers market, excellent restaurants. I'm very excited to discover all that and looking forward to sharing it with you!
There's only one thing I'm a bit worried about. Australia doesn't have the same seasons as we do. When it's winter in the US or in France, it's summer there. Fruits and vegetables aren't in season at the same time. They have strawberries in January and pumpkin in March. Weird, right?
It's gonna be a huge challenge for me to come up with recipes that we'll both be able to make. I know that's possible, some other bloggers do a great job while travelling abroad. Like Lindsay, from Pinch of Yum, who is currently living in the Philippines. I think I'll just need a little time!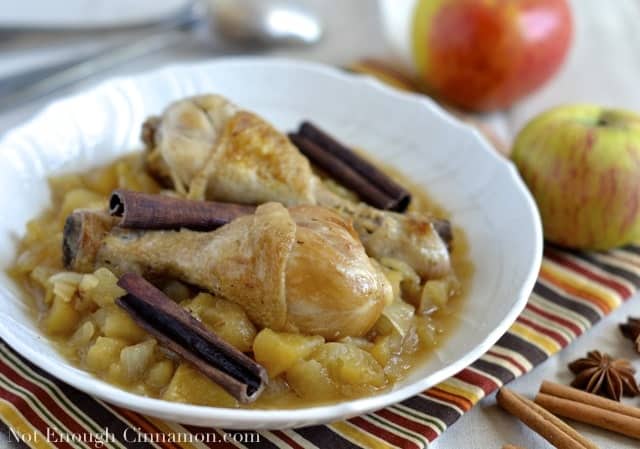 So, let's move on to this gorgeous Chicken Stew with Apples and Cinnamon. It's the perfect Fall dish you've been craving for. All you need, to make this simple comforting chicken stew, is a skillet, some chicken drumsticks, onions, apples, cinnamon and honey for sweetness.
Admittedly, cooking a Chicken Stew with Apples and Cinnamon is certainly not traditional but don't be shy and give this delicious, homey chicken stew a try. The cinnamon, apple and honey just go amazingly well together and work beautifully with the tender chicken drumsticks.
I found the recipe for this extraordinary chicken stew on a french website called L'Atelier des Chefs.
I think I did enough talking for one day, so I'll leave you with the recipe for this amazing Chicken Stew with Apples and Cinnamon.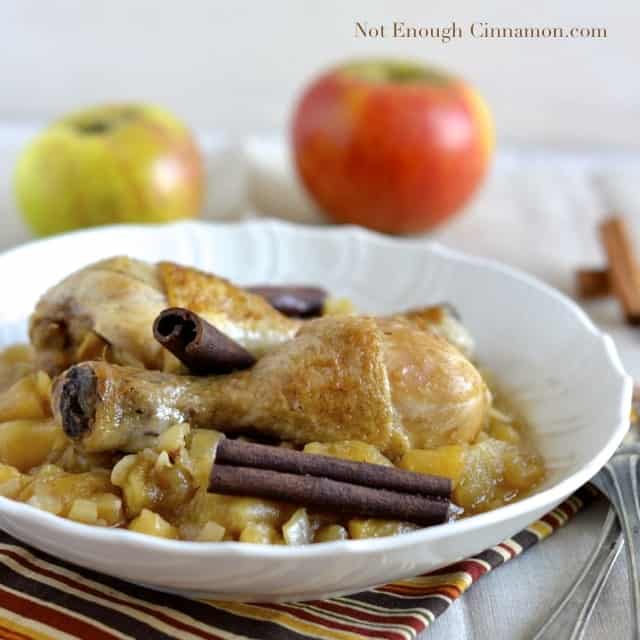 If you tried this Chicken Stew with Apples and Cinnamon, don't forget to rate the recipe below and let me know how it went in the comments – I love hearing from you! You can also follow me on Instagram, Pinterest and Facebook for more deliciousness and behind-the-scenes!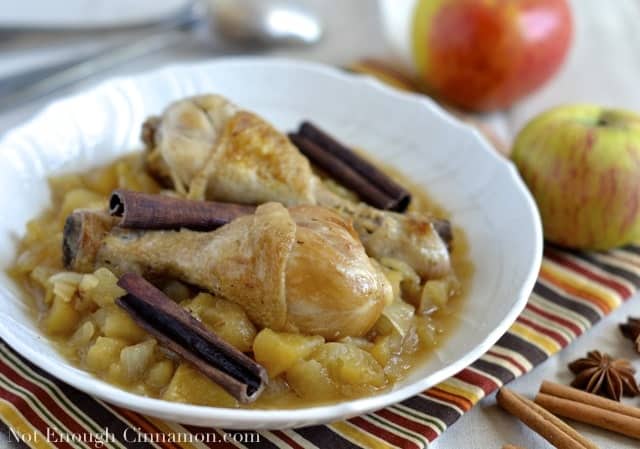 Chicken Stew with Apples and Cinnamon
This Chicken Stew with Apples, Cinnamon and a touch of honey is the perfect easy one-skillet meal for fall. Serve this warming chicken stew with rice or mashed sweet potatoes for a comforting dinner.
Ingredients
1

tbsp

olive oil

4

chicken drumsticks

1

large white onion

chopped

3

large apples

peeled and cubed

3

cinnamon sticks

2

tbsp

honey

½

cup

water

Salt and pepper to taste
Instructions
Heat olive oil in a large saucepan or Dutch oven, on medium heat. Brown each side of the chicken drumsticks, about 5 minutes total. Remove chicken from pan and set aside.

In the same pan, add chopped onions and cook them for 2 minutes. Add apple cubes, cinnamon sticks and honey. Mix well.

Put the chicken back in the pan, cover with ½ cup water and simmer for 30 minutes or until chicken is no longer pink inside.

Add salt and pepper to taste, and serve warm.
Recipe Notes
It's even better the next day
You can use chicken breasts, thighs and other cuts if you wish but adjust cooking time
You can add some pine nuts just before serving, it's delicious!
Nutrition Facts
Chicken Stew with Apples and Cinnamon
Amount Per Serving (1 drumstick with apples)
Calories 271
Calories from Fat 90
% Daily Value*
Fat 10g15%
Cholesterol 69mg23%
Sodium 83mg4%
Potassium 366mg10%
Carbohydrates 32g11%
Protein 14g28%
Vitamin A 110IU2%
Vitamin C 8.3mg10%
Calcium 48mg5%
Iron 0.9mg5%
* Percent Daily Values are based on a 2000 calorie diet.