Skinny Broccoli Chicken Fettuccine Alfredo (with Cauliflower Sauce)
A lighter version of your favorite fettuccine Alfredo pasta, using a super creamy and delicious cauliflower sauce for less calories and more sneaky veggies!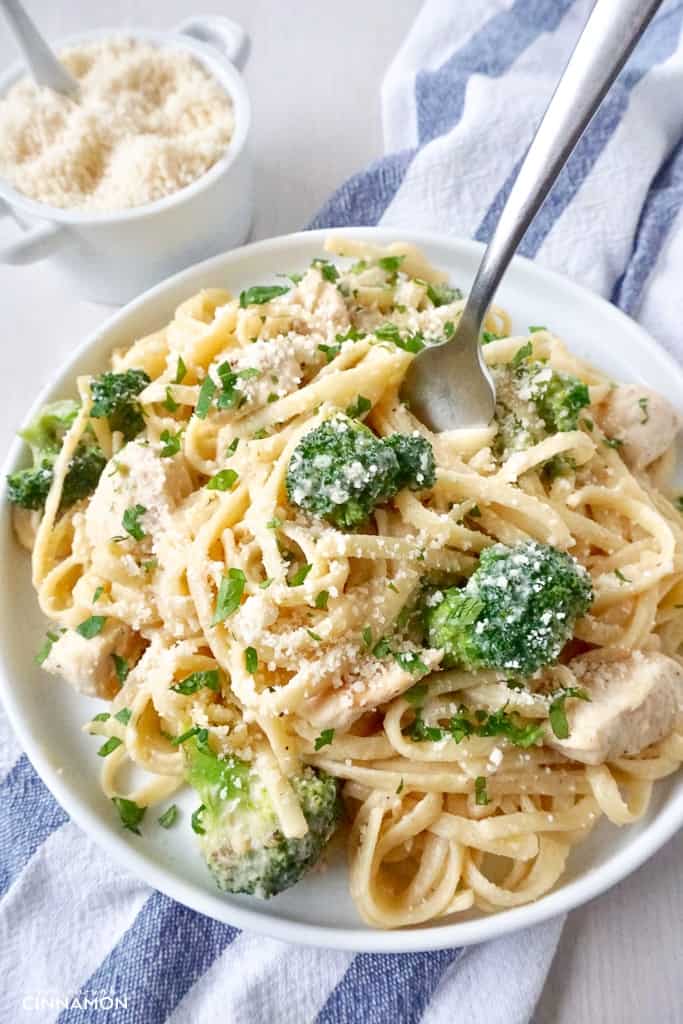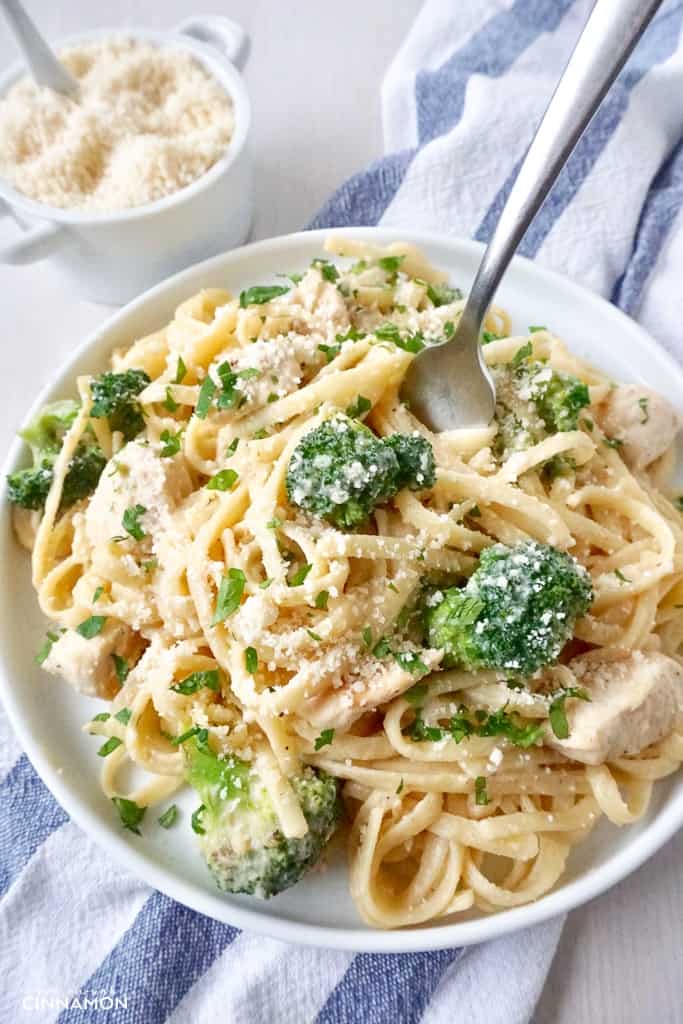 Sometimes, I just get a craving for a big fat pasta dish. Not with spiralized vegetable pasta. Not with an avocado pesto sauce. Just a big fat bowl of gluten-full pasta with loads of cream, and lots of cheese too. I'm only human, you know. Sometimes a girl just needs her dose of delicious crap (pardon my French!). I know you can relate, am I right?!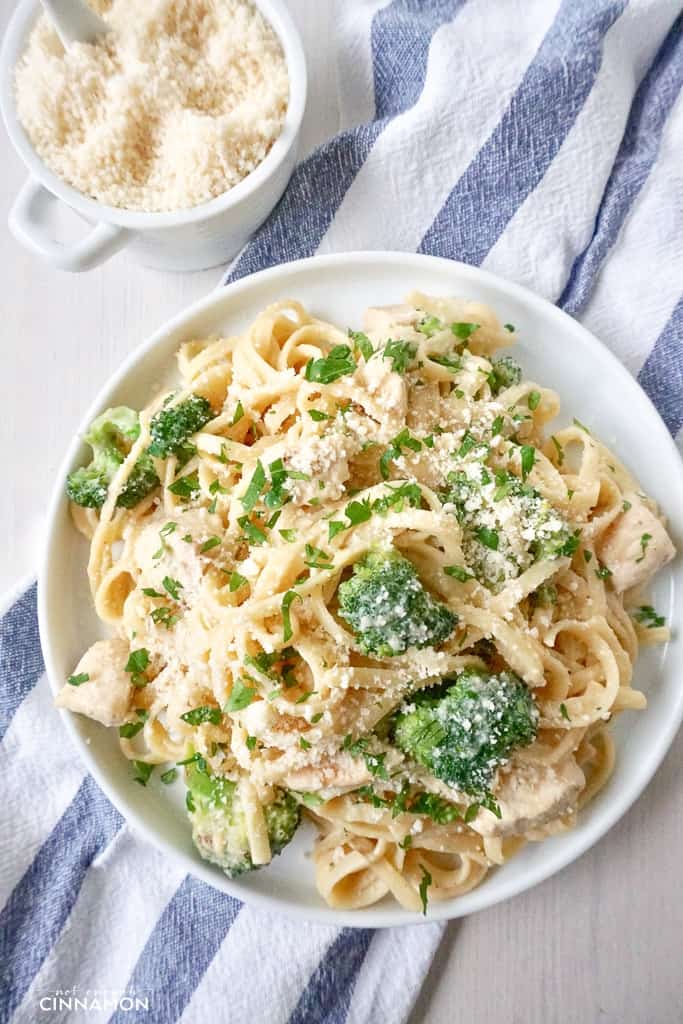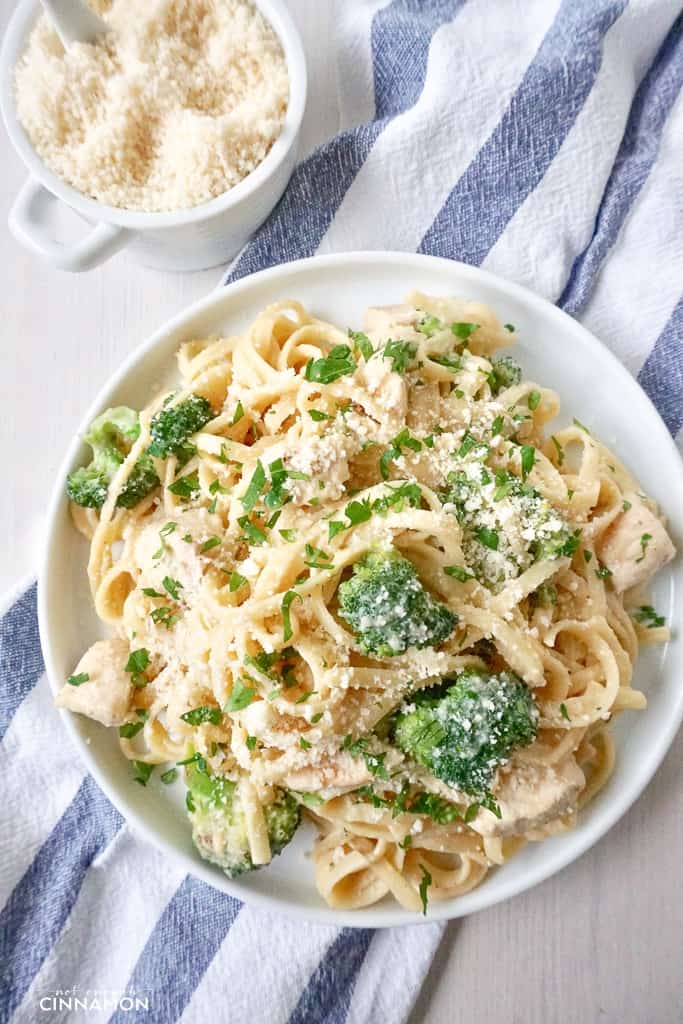 However, when my true love-eating-healthy-and-feeling-great self comes back and still wants to eat a big fat bowl of comforting pasta, I make her this. I mean, I make myself this.
Wait…what? This is getting confusing.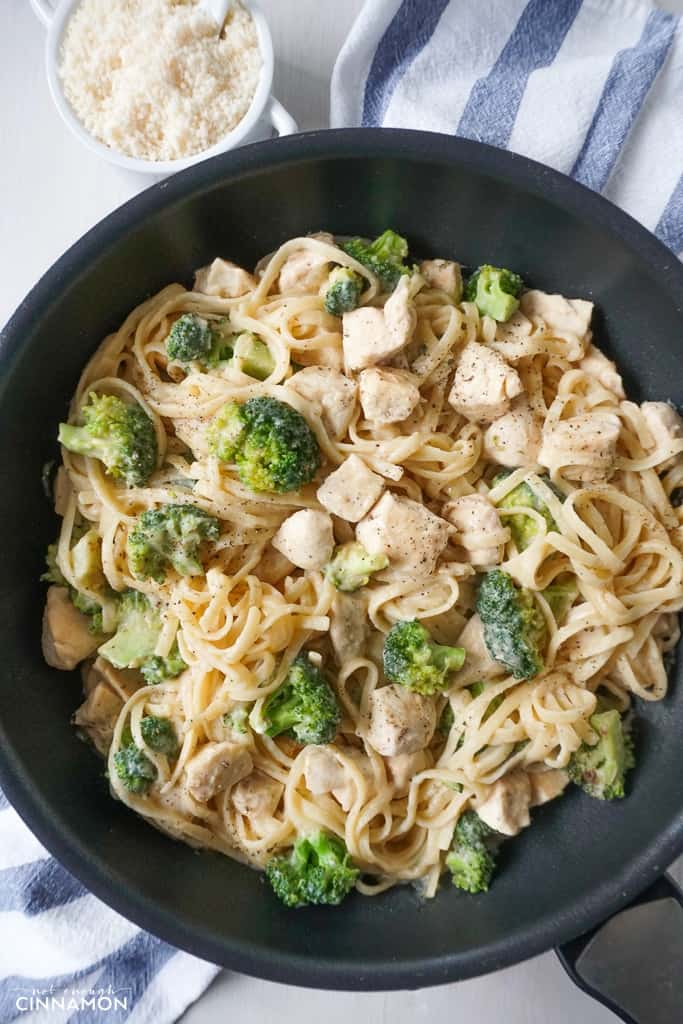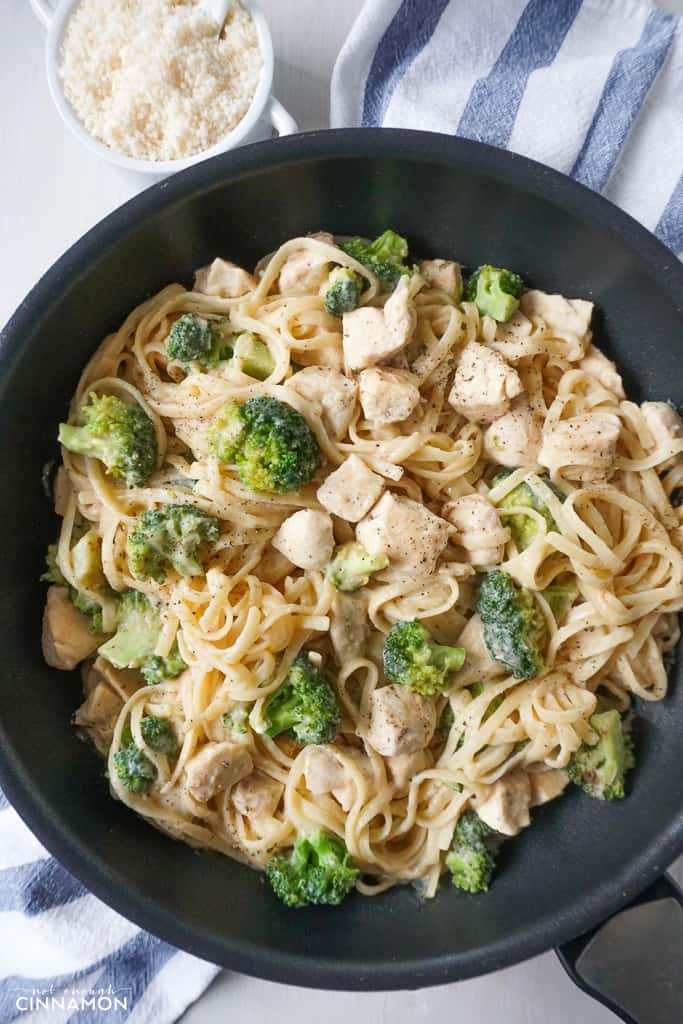 Anyways! These skinny broccoli chicken fettuccine alfredo are the perfect compromise between nutritious + feel-good and absolutely decadent with zero nutrients. Instead of using a classic Alfredo sauce – which, may I remind you, is made with butter, cream (lots of it) and parmesan – we're swapping it with…cauliflower Alfredo sauce!
Have you heard of cauliflower Alfredo sauce before? It's this magical lil' sauce made with cooked cauliflower, garlic and parmesan. It's sooo smooth and creamy, and pinky promise, it doesn't taste like cauliflower at all <= this is coming from someone who doesn't like the taste of cauliflower to begin with, so you can trust me (you do, right?). It's basically a healthy creamy sauce that you can use for anything you'd use a white sauce for, like pasta, casseroles (like this skinny moussaka and this skinny chicken alfredo lasagna) and whatever your heart desires. I know you will like it.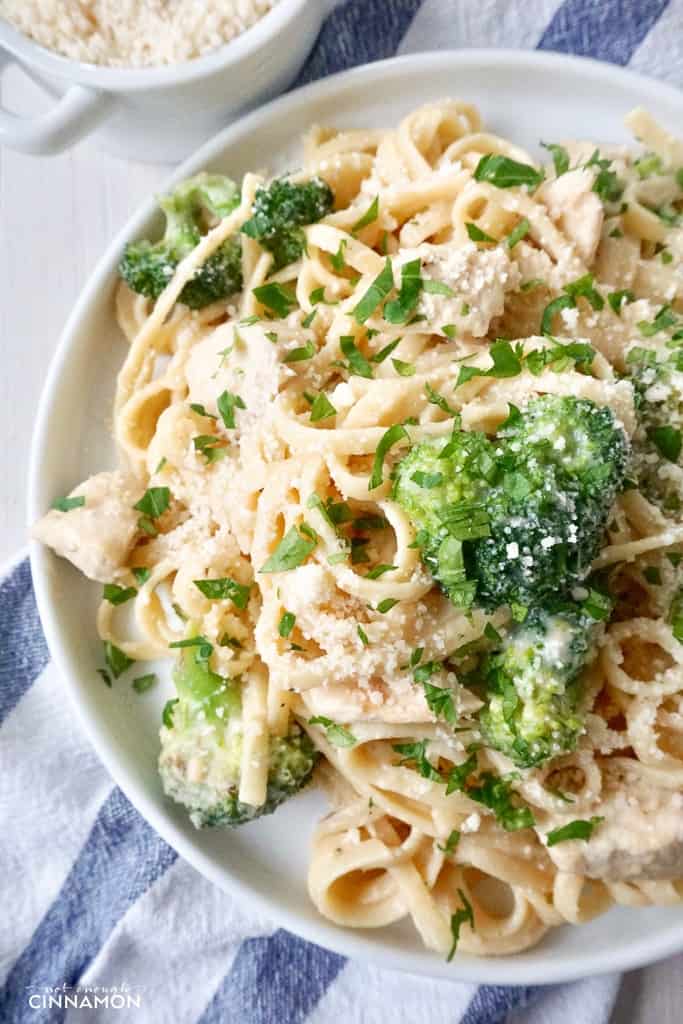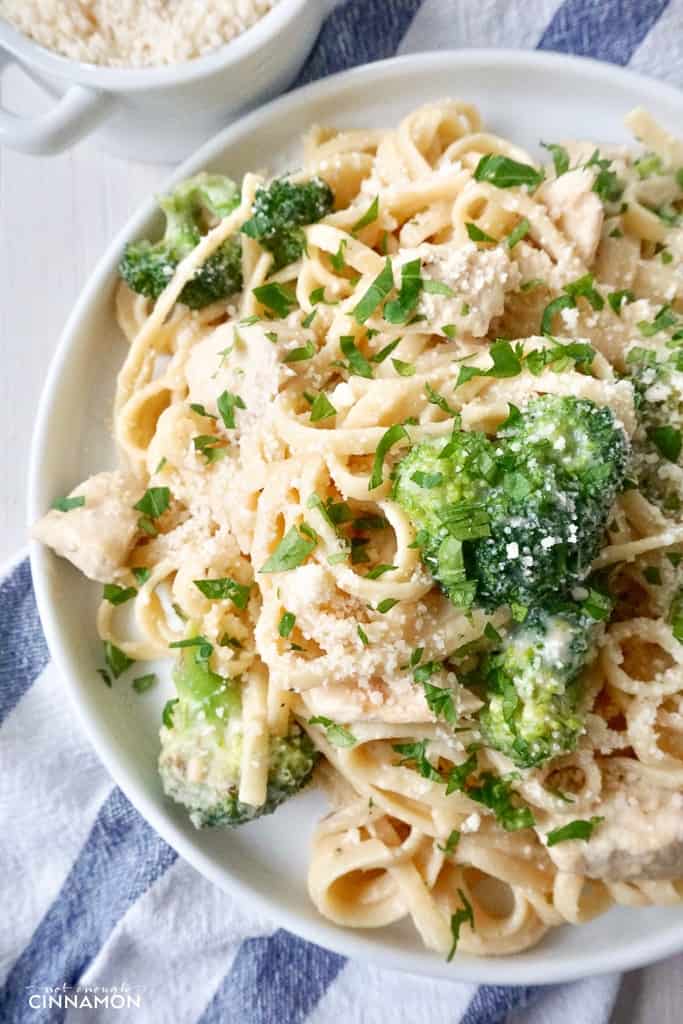 In this pasta dish, we're making the recipe as we would traditionally do, but instead of adding alfredo sauce, when add our favorite cauli sauce. And thanks to that, you have a dinner that's not only about a gazillion calories lighter (don't quote me on that number though) but also has the added nutrition bonus of veggies you won't taste. Awesome benefits include dietary fiber, vitamin C, vitamin K, vitamin B6, folate, pantothenic acid, potassium and manganese. And that's without even considering the broccoli. Can I get a big YAY and a promise you'll make it soon? Enjoy! 🙂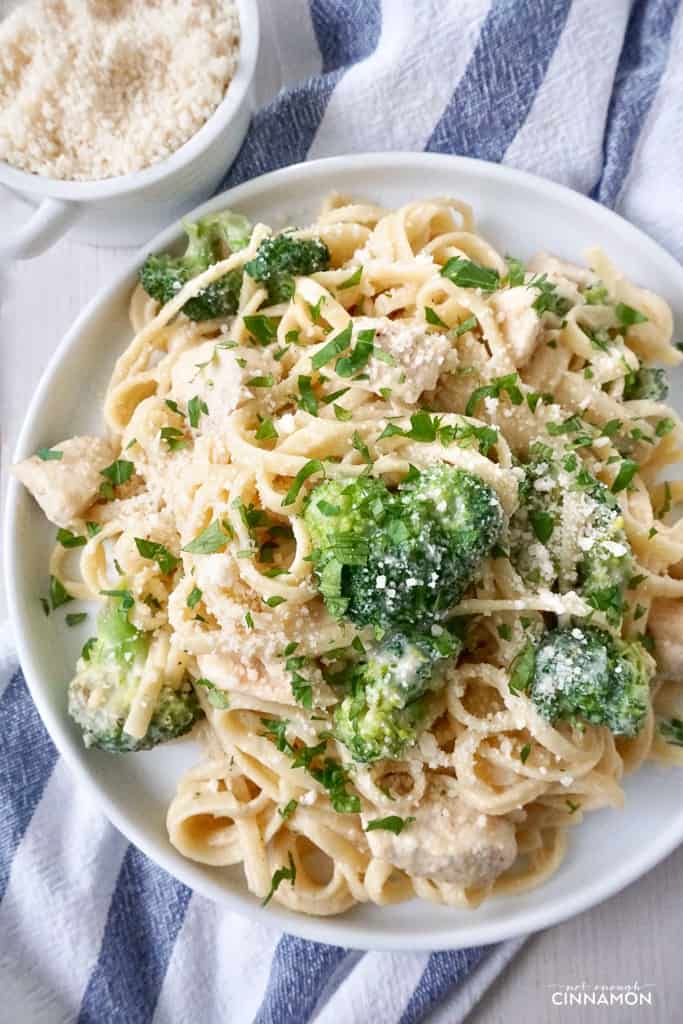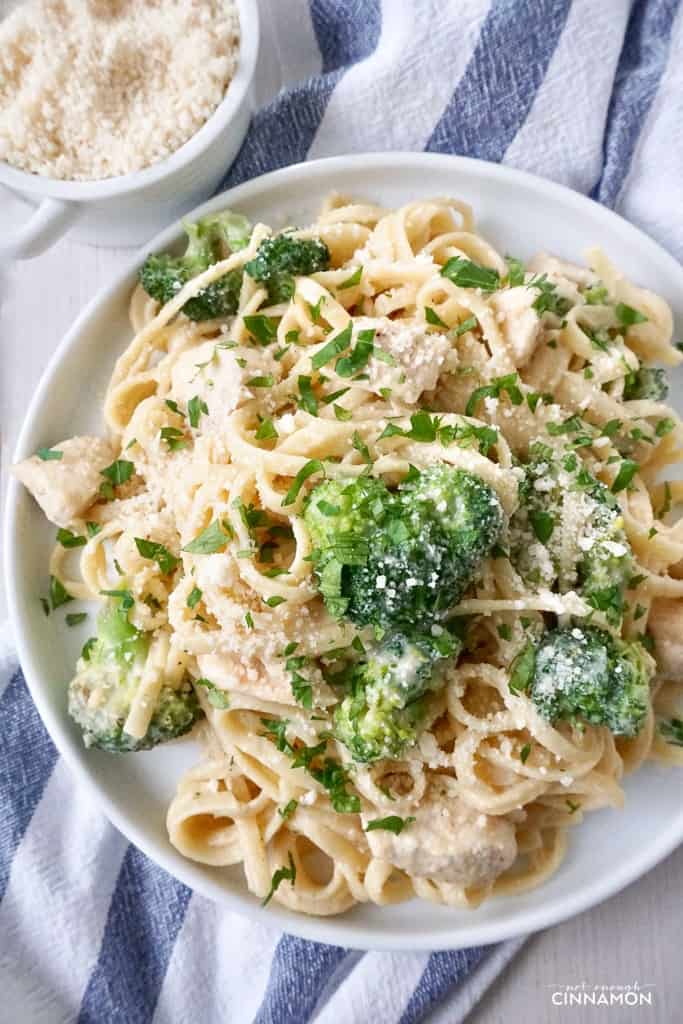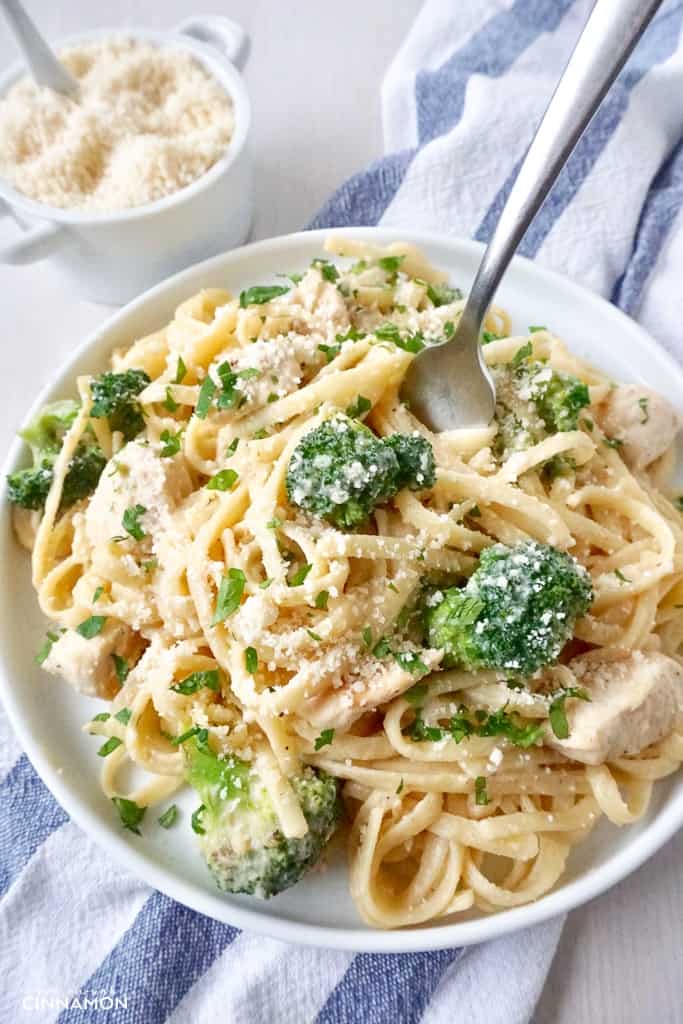 Skinny Broccoli Chicken Fettuccine Alfredo
A lighter version of your favorite fettuccine Alfredo pasta, using a super creamy and delicious cauliflower sauce for less calories and more sneaky veggies!
Ingredients
1

lb

- 450 grams fettuccine pasta

I used rice pasta to keep it gluten free

1

tbsp

olive oil

2

heads

broccoli

chopped, about 3-4 cups

2

boneless skinless chicken breasts

about 6 oz / 170 grams each, cut into 1″ - 2.5 cm cubes

chopped parsley

to serve
Cauliflower sauce
3

large garlic cloves

peeled and minced

1

tbsp

butter

see notes to make dairy free

3

cups

cauliflower florets

about one small cauliflower or half a medium one

3

cups

chicken stock + 3 cups water

3/4

cup

grated parmesan

plus more for serving – see notes to make dairy free

1/2

tsp

ground nutmeg

1/2

tsp

freshly ground pepper
Instructions
Prepare alfredo sauce. Add butter in a non-stick skillet over medium low heat and cook garlic until fragrant but not browned (or it will be bitter). Turn off the heat and set aside. Add cauliflower florets to a large pot, cover with chicken stock and water. Bring to a boil then cook for 10 minutes or until cauliflower is very tender. Transfer cauliflower to the bowl of your food processor using a slotted spoon. Start by adding 3/4 cup of cooking liquid and process until very smooth (add more or less cooking liquid, up to 1 cup total, depending on how smooth the sauce is - you don't want it to be too thin). You can also use a blender, but if you do, you might need to process the cauliflower in two batches. Add parmesan, nutmeg and freshly cracked black pepper. Season with salt to taste. Process again until smooth. Set aside.

Bring a large pot of salted water to a boil.

While the water is boiling, prepare the broccoli. Heat half a tablespoon olive oil in a large skillet. Add broccoli and cook for 4 to 5 minutes, or until broccoli is bright green. Add 1/4 cup water and cook until water has evaporated and broccoli is crisp tender. Set aside in a bowl.

Add the pasta to the boiling water and cook according to package instructions.

In the same skillet as the broccoli, heat another half tablespoon of olive oil. Cook chicken in an even layer, for about 5 to 7 minutes or until chicken is golden and cooked through. Season with salt and pepper. Turn off the heat (or lower it to very low to just keep it warm if the pasta isn't ready yet).

When pasta is cooked, drain it, and reserve 1 cup of cooking water (don't forget to do it!). Add cooked pasta and broccoli to the skillet with the chicken. Add 2 cups of cauliflower alfredo sauce and toss to coat. Add 1/2 cup to 1 cup of pasta cooking liquid to thin the sauce as needed (the quantity will depend on how thick your sauce is to be begin with). Serve immediately with additional grated parmesan and chopped parsley.
Recipe Notes
Sauce recipe makes more than what you'll need for this recipe. You can freeze the leftovers or store them in the fridge for up to 3 days.
MAKE IT DAIRY FREE:
use one tablespoon of olive oil instead of the butter - use one cup nutritional yeast instead of parmesan
MAKE IT GLUTEN FREE:
use gluten free pasta instead of wheat pasta. I like to use rice pasta, but corn, garbanzo or quinoa pasta works well too.
MAKE AHEAD TIPS:
I like to prepare the cauliflower sauce ahead. It keeps up to three days in the fridge and freezes well. If the cauliflower sauce is ready ahead of time, the whole meal takes less than 20 minutes to prepare.
REHEATING INSTRUCTIONS:
The sauce will dry out quickly. To reheat, add a dash of milk and it'll be as good as new!
Recipe inspired by Tastes Lovely
Nutrition Facts
Skinny Broccoli Chicken Fettuccine Alfredo
Amount Per Serving (1 /6th)
Calories 532
Calories from Fat 108
% Daily Value*
Total Fat 12g 18%
Cholesterol 43mg 14%
Sodium 519mg 22%
Potassium 1076mg 31%
Total Carbohydrates 80g 27%
Protein 28g 56%
* Percent Daily Values are based on a 2000 calorie diet.