Welcome to another edition of Interview with a food blogger! Today, we're chatting with Thanh, the blogger behind the fabulous food photography and recipes blog Eat, Little Bird. Thanh has a slight addiction to cookbooks – wait until you know how many she has!– and loves trying out new recipes. On her blog, she shares her favorites, along with stunning pictures. I absolutely love the way she styles food (even her recipe instructions are gorgeous!). See this one below for instance? Beautiful! Scroll down to read the interview and go give Thanh some love!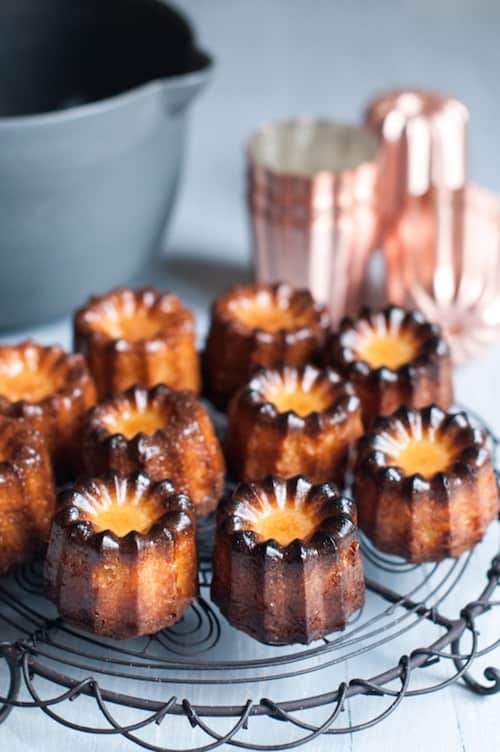 The Interview
1. What's the story behind your blog's name?
My husband once sent a greeting card to his brother which had a photo of a big Italian mama holding an enormous plate of food and with the caption, "Eat something, little bird!" Apparently, growing up, my brother-in-law was always a bit on the skinny side and the family was always trying to fatten him up. So my husband sent this greeting card as a little joke, and which my brother-in-law found very amusing. Since then, the phrase, "eat, little bird" has commonly been used in the family to encourage someone to eat, even if they have just stuffed themselves silly!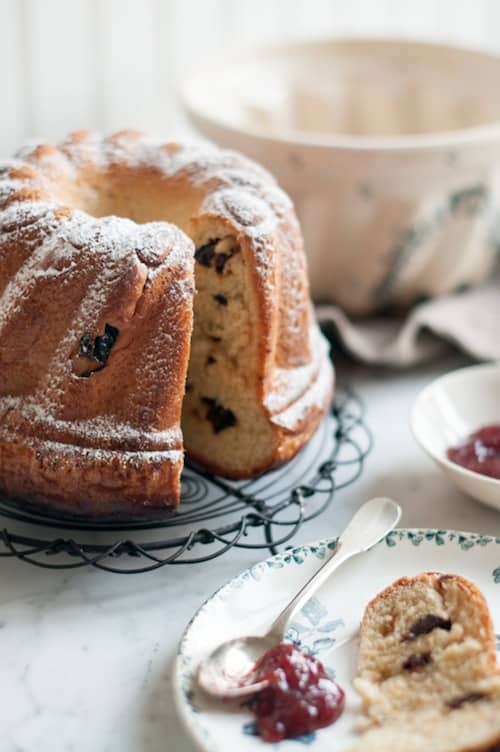 Kugelhopf with Prunes & Armagnac
2. You are an Australian-born Vietnamese, married to a Frenchman and living in Switzerland. What's your favorite Vietnamese dish? (I could have picked France, Australia or Switzerland but...you know how much I LOVE Vietnamese food, so I was very curious!)
Ooh … just one?? It would have to be a Vietnamese chicken noodle soup. The broth is made by gently cooking a whole chicken in some boiling water with some spring onions and coriander, and served with vermicelli noodles or, as my mum used to make for me, small pasta shells. This was a dish which my mother regularly made for me when I was growing up - it was cheap and lasted several days. I now make it once every few weeks but it never tastes as good as my mum's.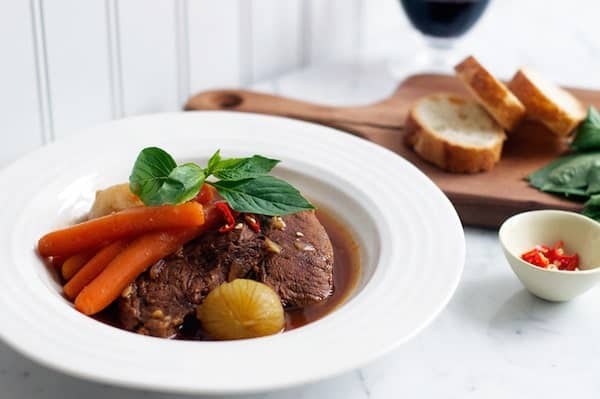 3. You describe yourself as a cookbook addict. If you could only have one cookbook, which one would it be?
How to Eat by Nigella Lawson
 was chief among the initial collection of books which got me started in the kitchen. It is such a comprehensive collection of beautiful recipes, ranging from how to make a simple roast chicken to how to prepare an extravagant three-course meal for eight. I would describe it as my cooking bible, a comforting reference book which gives me a little bit of confidence in the kitchen.
4. What cookbook would you recommend for someone who has just started cooking and wants to go beyond the spaghetti-with-tomato-sauce-every-night phase?
I would recommend How to Eat by Nigella Lawson, except that it happens to be one of the few cookbooks without any photos. A lot of people need to see photos accompanying a recipe to form an impression of how the end product might look or merely just to assess if it is a recipe they want to try without having to look at the ingredients and instructions in detail.
If you are someone who needs a visual guide, I think it is hard to go pass any of the books by Donna Hay. The photos in her books are always stunning and the recipes are always short and simple. I have been cooking a lot from Simple Dinners
 lately and everything I have made so far has just tasted beautiful!
5. And for a more experienced home cook in need of new inspiration? 
Bouchon by Thomas Keller
. If you are an experienced home cook, then I think you might appreciate how to make everyday dishes taste even better. I regularly make roast chicken on the weekends and used to just simply rub the chicken in some butter or olive oil, sprinkle over some salt and pepper and fill the cavity with a wedge or two of lemon and maybe some twigs of thyme or rosemary. And then I came across Thomas Keller's method of brining the chicken in an aromatic salt solution before roasting it. The difference in taste and texture is just amazing that I try to do this every time now.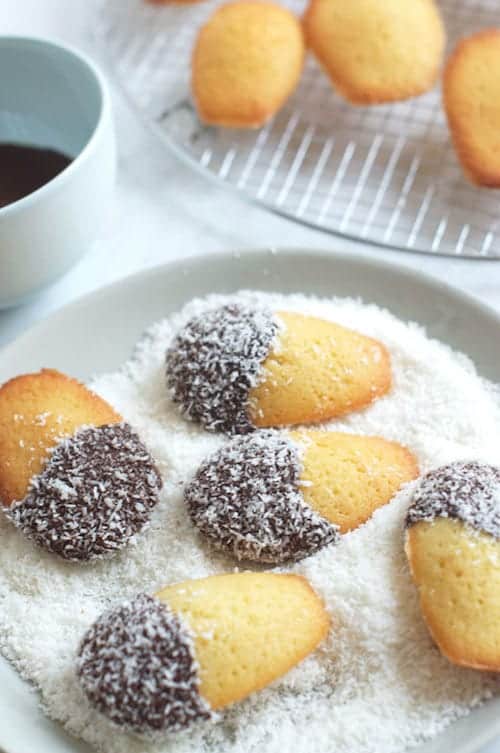 6. Now tell me, do you have a room in your house dedicated to cookbooks? Do you know how many you have?
I have a really large bookshelf which covers the main wall in the entrance to our apartment and it is dedicated to just cookbooks. It is a rather impressive sight as you enter the front door, but I can imagine that it can be rather overwhelming too! We also have a bookshelf in our dining room which previously proudly displayed my husband's collection of French literature but, much to his dismay, is now a second home to my cookbooks … I have approximately 300 cookbooks in English, French and German. It's a bit excessive, I know. But some people like to collect wine or baseball caps or fridge magnets … my weakness happens to be cookbooks.
7. What's your biggest failure ever in the kitchen?
It depends on what you classify as a "failure" … If we are referring to something which was tasteless, inedible and just tasted yuck, it would have to be Nigella's Chocolate Christmas Pudding from Feast. I know there are a lot of fans of this recipe out there but, honestly, it was like eating a solid mound of prunes and raisins which were glued together by a bit of melted chocolate. My husband still loves to joke about this one.
But I did have a moment recently which I blame on baby brain (Thanh has a little 16-month old baby). A good friend was visiting from Singapore and I wanted to make her a caramelised onion tart with feta. I had bought the requisite amount of onions the day before but my husband only put away some of the onions in our onion bowl and hid the rest somewhere else. I just assumed that the onions in the bowl were the quantity I had bought, even though it looked really little to me. Of course, once the onions were cooked and caramelised, I had barely enough to spread on a piece of toast! My husband later exclaimed that the bowl was too small to contain all of the onions so he put the remaining onions on the kitchen bench which were, of course, right in front of my eyes! We all had a good laugh and ended up ordering pizza for dinner.
8. What's the one kitchen tool you couldn't live without?
That's a hard question … can I assume that you are excluding knives, wooden spoons, etc? 😉 I think it would be my KitchenAid. It's not an essential gadget in the kitchen but it makes my life a lot easier when it comes to whisking egg whites, beating cake batters and especially kneading bread dough. Plus, the mere sight of it is comforting to me. When I was working full-time, cooking and baking were a way for me to wind down after a stressful day in the office, and so I associate my KitchenAid with calm and relaxation.
9. What ingredients would you bring on a desert island with you? You can only pick three!
Coriander, chillies and Nutella. Coriander and chillies are staple ingredients in my fridge and add that freshness of flavour that is essential to so many Vietnamese and Asian dishes. And Nutella because, some days, I think I could simply live on that stuff. I think that will have to change soon once baby realises what it is exactly that I am eating all the time!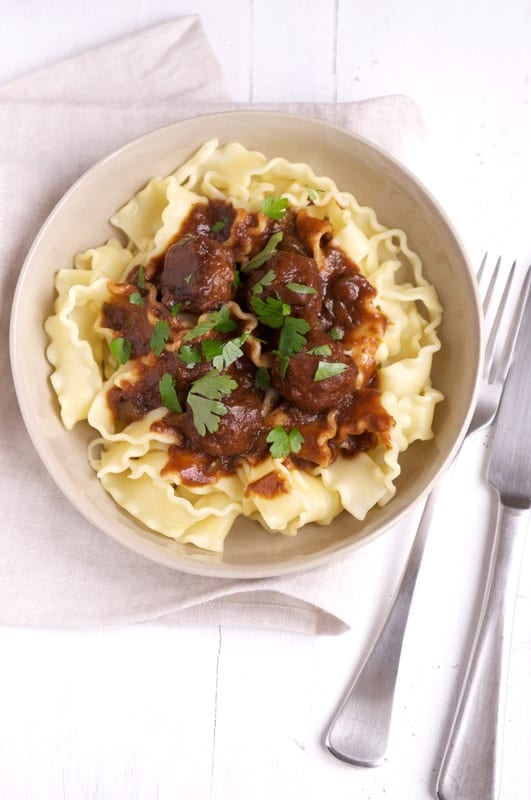 10. What's your favorite recipe from Eat, Little Bird?
I have a lot of favourite recipes on my blog, especially since it was created originally as a place where I could share my favourite recipes but also to try out new recipes from my cookbook collection. I regularly make the Pikelets and Chocolate Coconut Bars, but the Boeuf Bourguignon with Baguette Dumplings is one of my all-time favourites. I love a good beef stew and these dumplings are such an addictive pairing.
My favorite recipes from Eat, Little Bird
Once again, picking only three recipes was really a difficult job. So I decided to choose three recipes that represent pretty well who I am: a french girl living in Australia and loving Vietnamese cuisine!
Pikelets are basically baby pancakes. They're pretty popular here in Australia and pretty damn delicious too!
Pho is a staple of Vietnamese cuisine, pretty much like hamburger is for American cuisine et baguette for French cuisine. So you know you have to give it a try - and this recipe is the perfect place to start!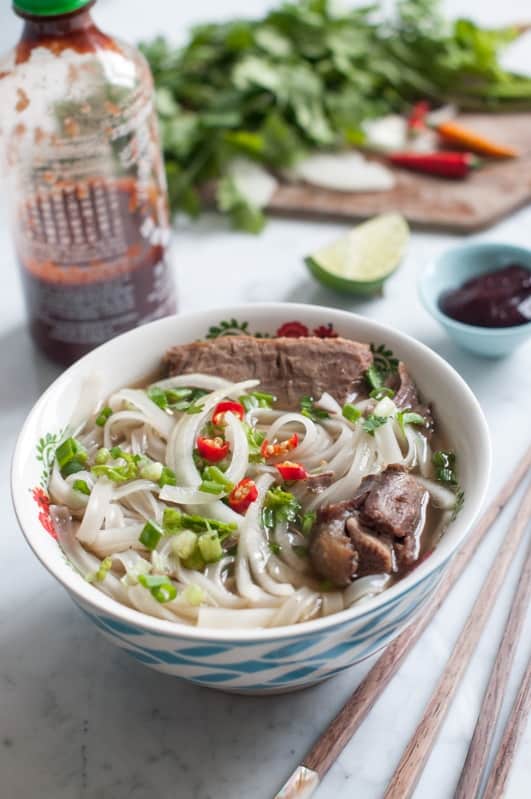 I love this funny twist on Croque-Madame, a classic french dish we used to eat almost every week when I was a kid.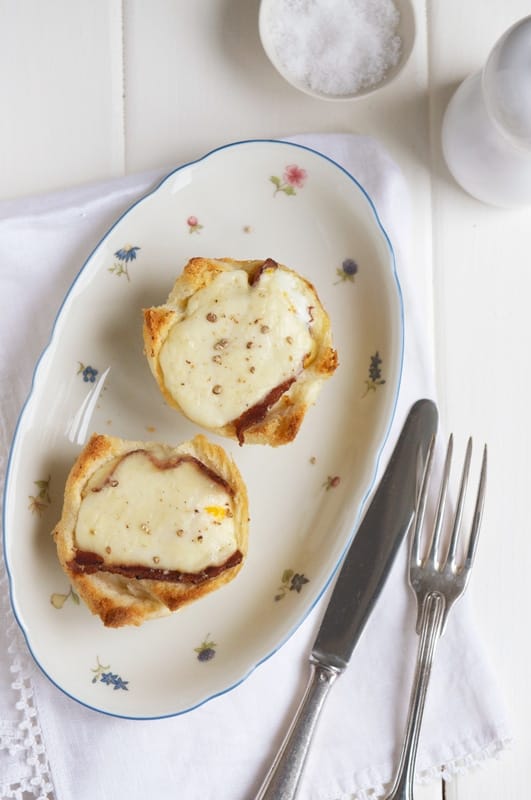 Want more recipes? Head over to Thanh's recipe index or see her Pinterest board dedicated to Eat, Little Bird recipes!