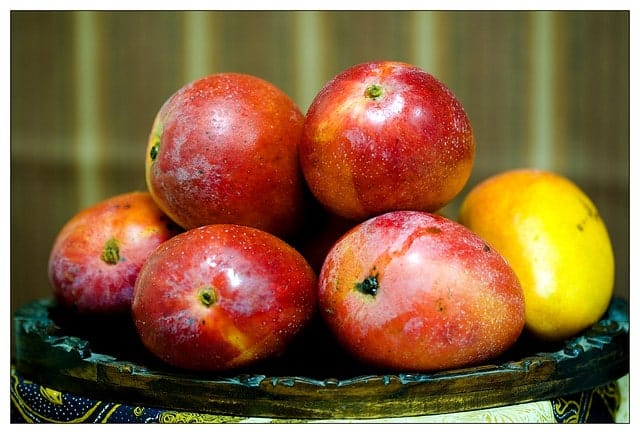 How to choose the perfect mango
First, weight the mangoes and choose one that is heavy for its size.  Then look at its shape. You want a plump mango, not a flat one that could be stringy. You should smell a fruity aroma when held near your nose.
When choosing a mango, don't focus on color, always judge by feel. The redness you'll see on some varieties is not a good indication of ripeness. A ripe mango has a yielding but not mushy flesh.
Ripening and storing mangoes 
Most of the mangoes you'll buy from the store will be hard and unripe. They must be fully ripen before eating, or you'll get a bland taste. 
Keep unripe mango at room temperature, it will turn soft and sweet in a few days. If you want to speed up the process you can place your mango in a paper bag, still at room temperature.
Once your mango is ripen, place it in the fridge. Whole mangoes can last up to 5 days. You can keep peeled and cubed mangoes in an airtight container in the refrigerator for a few days, and up to 6 months in the freezer.
Recipes using mangoes
If you want to know anything else about mangoes, ask me in the comment below!