Fresh Strawberry Granita
The recipe I'm sharing today is a repost from the archive. I'm currently on vacation in Europe for the whole month of June and when you read this post I'll be in Normandy spending some family time with my dad and step-mum and cuddling my baby sister and brother. Starting next week, I'll be doing themed weeks on the blog with recipes inspired by the places I'm visiting and vacation pictures so you can feel like you're traveling too 
I'll be popping in and out on social media, so feel free to follow me on Facebook and Instagram (@notenoughcinnamon) for vacation pictures and updates.
Homemade Granita is one of my favorite summer treats. It's super refreshing, sweet and simply delicious. Basically granita is a granular ice with a sugar-syrup base and flavored with fruit purée, coffee or even wine. It comes from the italian granire, which means to make grainy. Sometimes, it's also called water ice or Italian Ice, and now you understand why 😉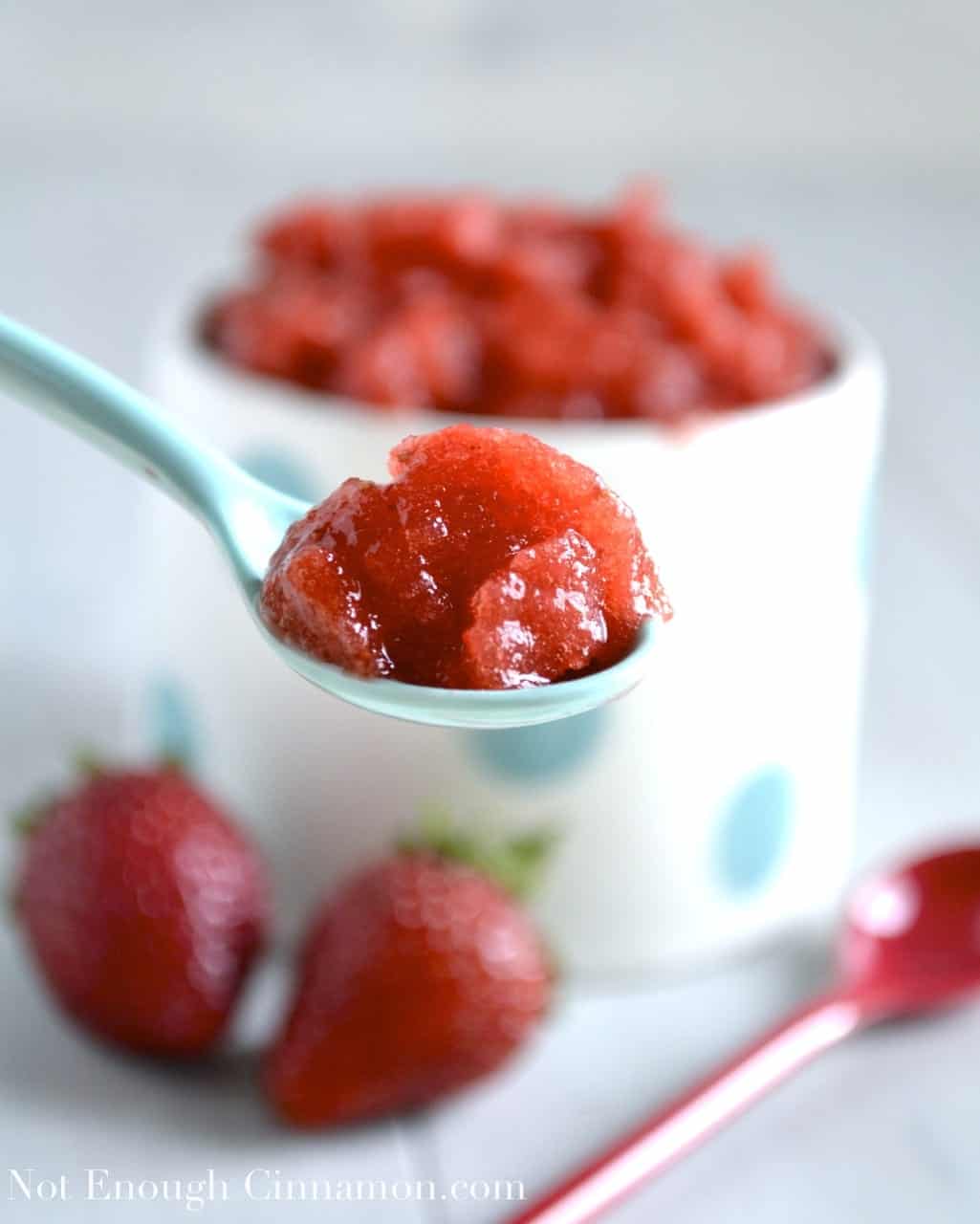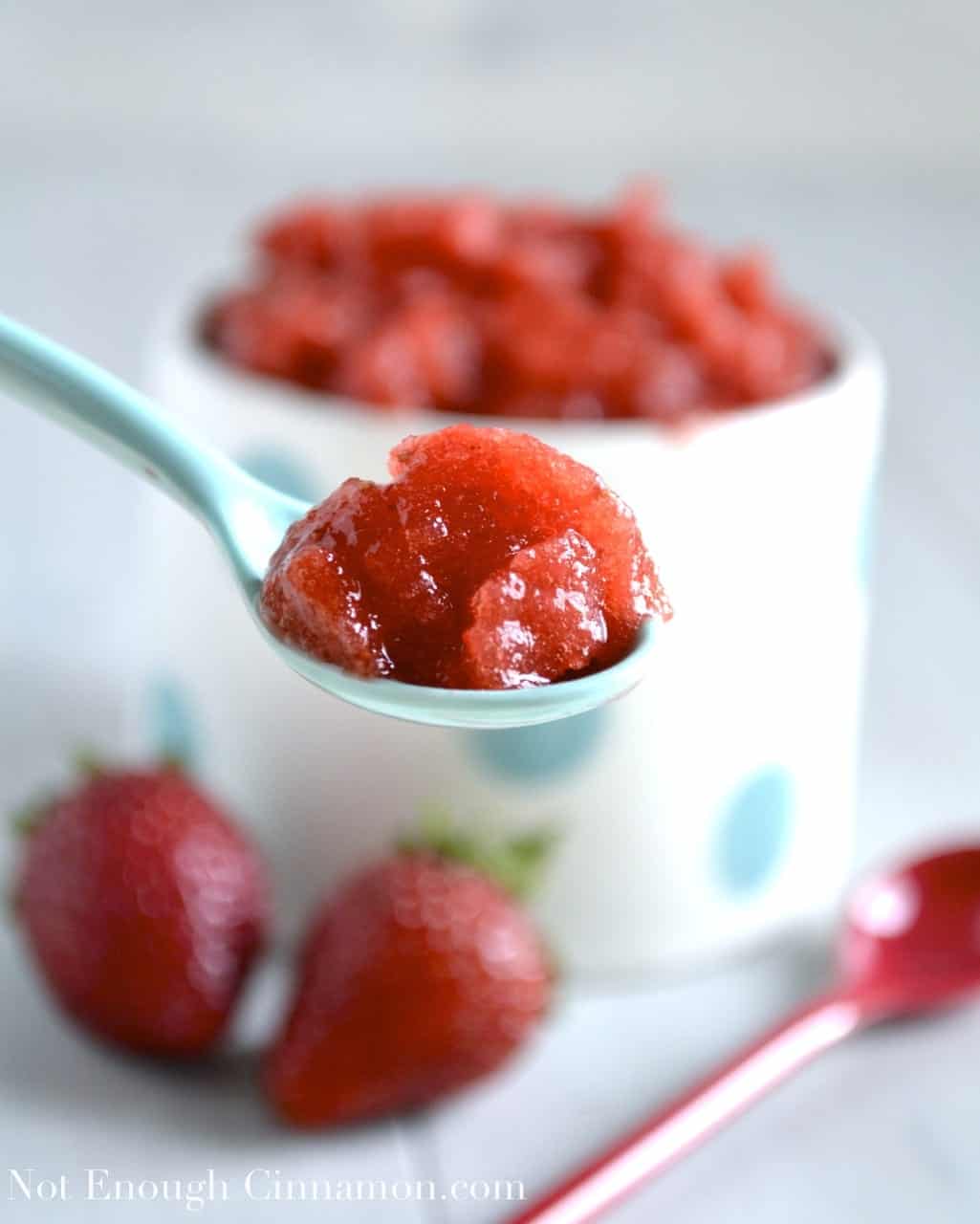 It takes a little time to make granita (about 3 hours) but your freezer does almost all the work for you. You just have to prepare the syrup, purée the fruits, combine together, put in the freezer and check back on your baby every half hour. In between, just relax.
Making granita is a perfect way to use overripe fruits you won't have time to use before they spoiled.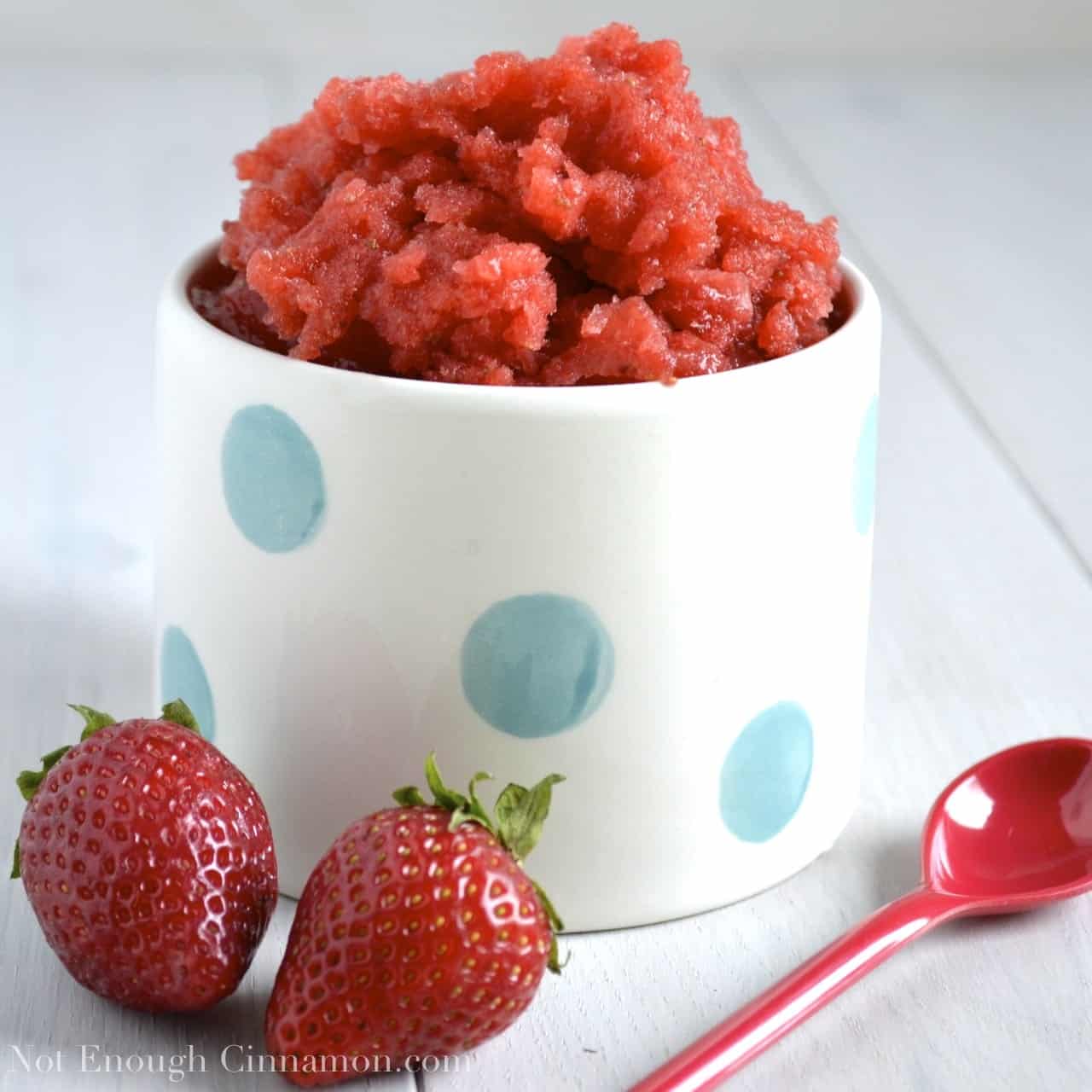 Just a quick tip here. In the recipe, you'll see that you need to add lemon juice to the strawberries. So why is that?
Adding a splash of lemon juice in your fruits will help them keep their beautiful color. See that bright red on the pics? That's all natural, I didn't add any food dye, or use photoshop.
It also prevents fresh cut fruits from becoming brown. This works with fruit salads, apples, avocados, potato salads or any other food that may suffer from oxidation. When baking with blueberries, using lemon juice will prevent them from turning green – which is not really appetizing!
But now, let's see this strawberry granita recipe! Enjoy!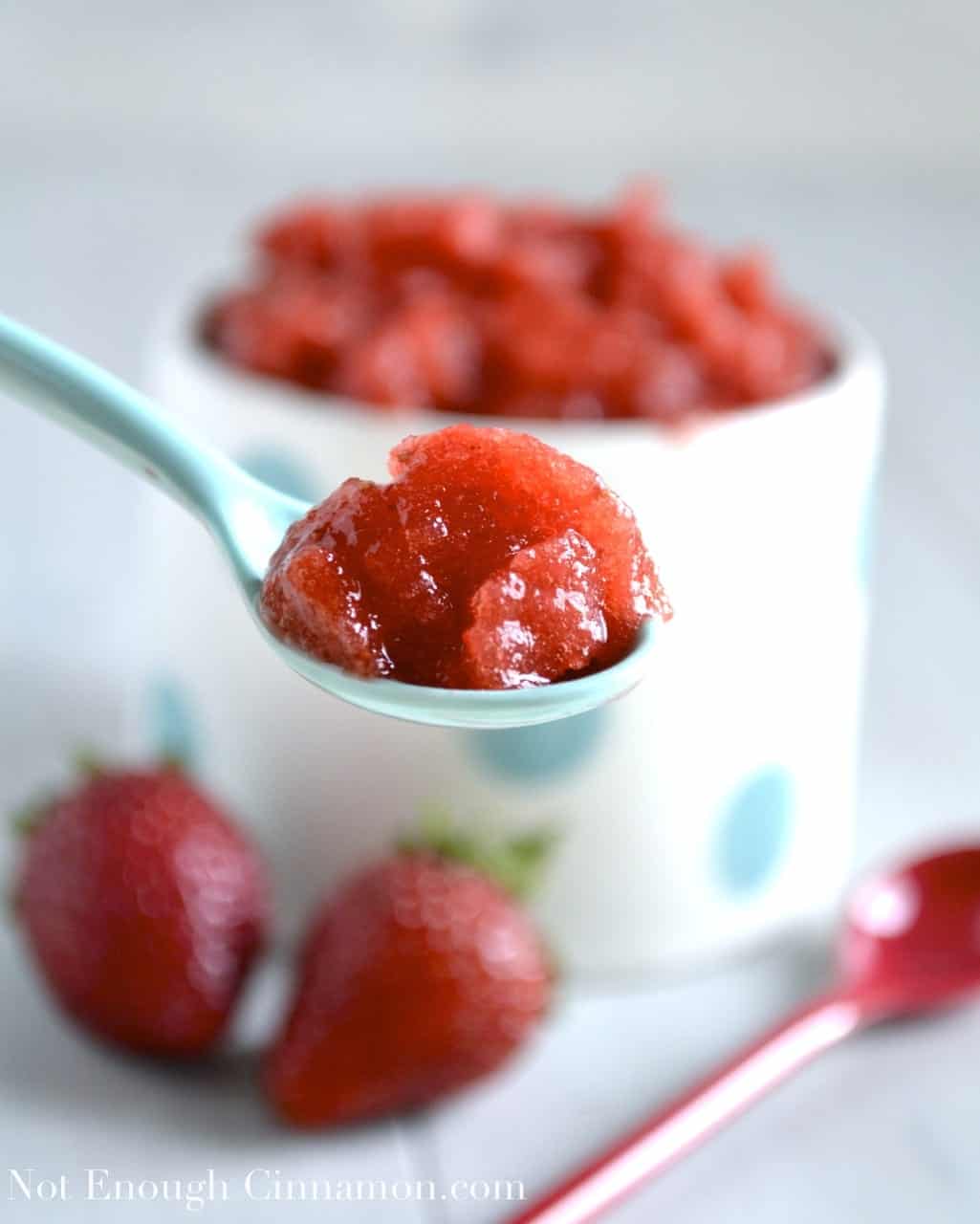 Fresh Strawberry Granita
Ingredients
1

cup

water

1/2

cup

brown sugar

packed

1

lb

fresh strawberries

hulled and sliced

2

tbsp

agave

2

tbsp

lemon juice
Instructions
Prepare the syrup. Combine water and sugar in a saucepan, simmer on medium heat until sugar is totally dissolved. Remove from heat and let cool.

Prepare fruit puree. Combine strawberries, agave and lemon juice in your blender and mix until smooth. Add cooled syrup to strawberry mixture, and blend until combined.

Pour mixture in a 13x9-inch metal baking dish. Cover tightly with foil, and place in the freezer.

Freeze for about 1/2 hour or until icy at the edges. Using a fork, scrape ice crystals from the hedges. Stir mixture well, breaking all icy chunks, and put back in the freezer. Repeat every half hour during 2 1/2 hours. Granita is ready when granular but still slushy.

Scrape granita into bowls or ice goblets, and serve immediately.
Nutrition Facts
Fresh Strawberry Granita
Amount Per Serving (1 cup)
Calories 116
% Daily Value*
Sodium 8mg0%
Potassium 140mg4%
Carbohydrates 29g10%
Vitamin A 10IU0%
Vitamin C 46.4mg56%
Calcium 27mg3%
Iron 0.4mg2%
* Percent Daily Values are based on a 2000 calorie diet.
You might also like:
Click on the link or picture to see the recipe
Mango-Strawberry Yogurt Parfaits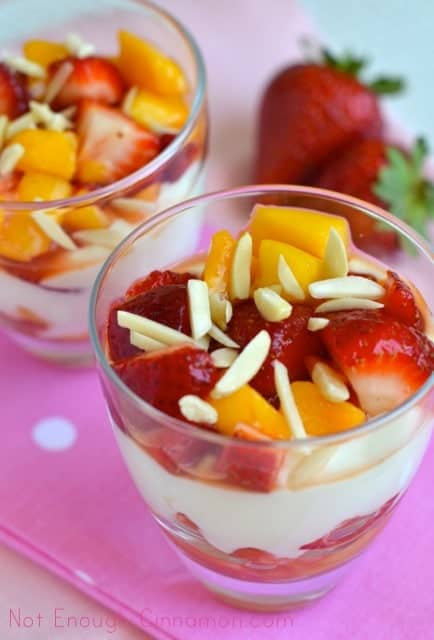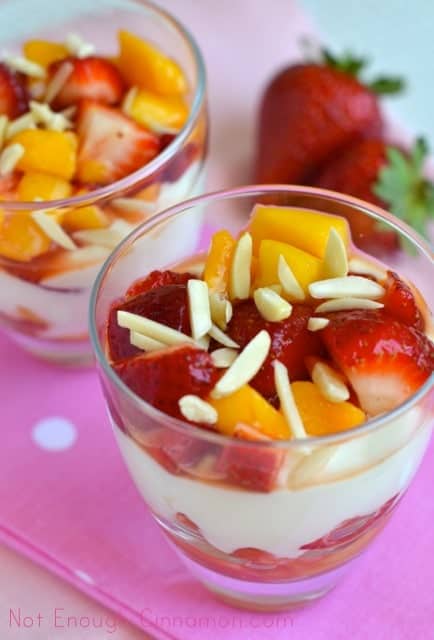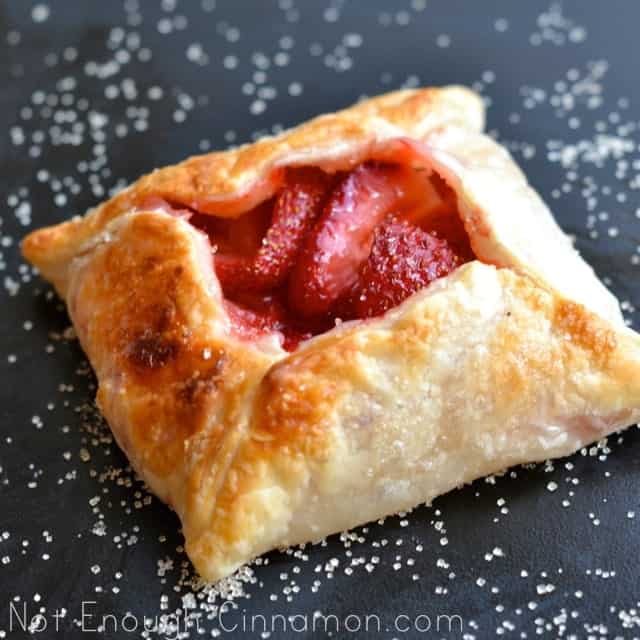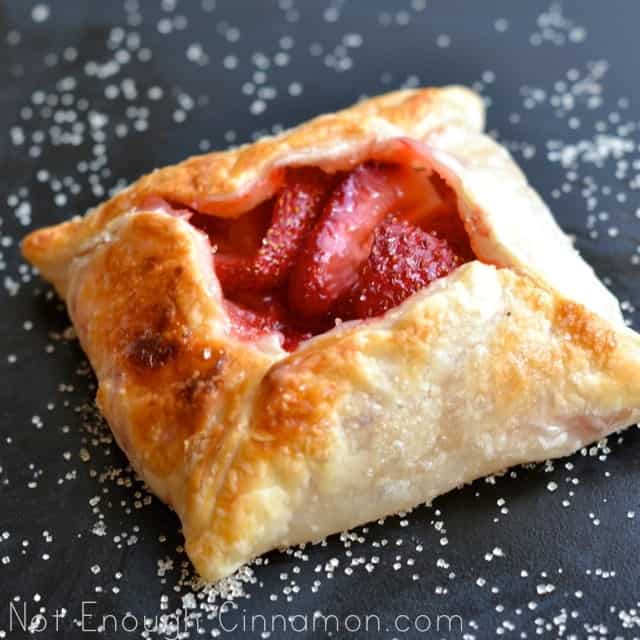 Strawberry, Pineapple and Coconut Crisp