Fell in love with Ikea's Crispy Oatmeal Cookies? Don't worry, this recipe for Crispy Oatmeal Chocolate Sandwich Cookies might be even better than the popular Ikea Cookies!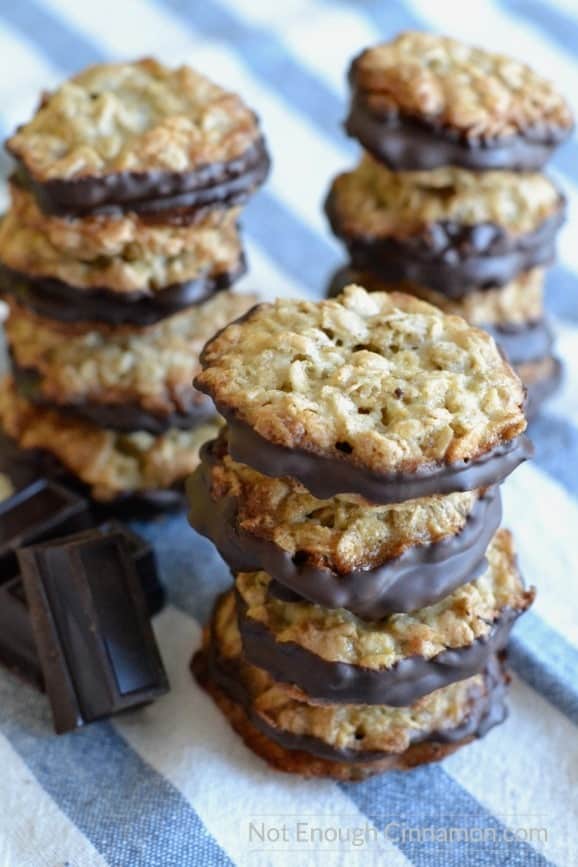 We arrived in Canada with exactly 6 suitcases – mostly clothes and other essentials – and no furniture. So what did we do when we needed to fill our new empty apartment?
We went to Ikea, of course! But not just once. Oh no, once isn't fun enough! <rolling my eyes>.
I've lost count at this point but I think we've been there.... at least four times? I mean, I like Ikea but please, please, don't ask me to go there again anytime soon because I've had enough, thank you very much!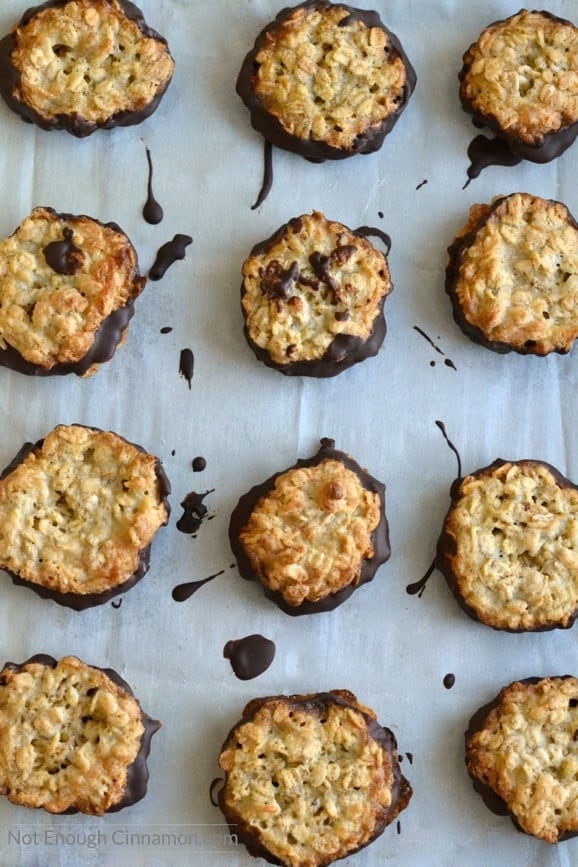 Ikea's chocolate covered crispy oatmeal cookies, however? Mmm, I will never get enough of those.
I am semi-ashamed to admit it but I totally used these divine crispy oatmeal cookies as an excuse to convince Solal to be dragged to Ikea once again.
After all, I really needed an armchair for my office/studio and he can totally be bribed with food. No surprise we got married, him and I.
Anyways, buy these fantastic crispy oatmeal cookies before your shopping session and I can guarantee you'll enjoy your time at Ikea much more.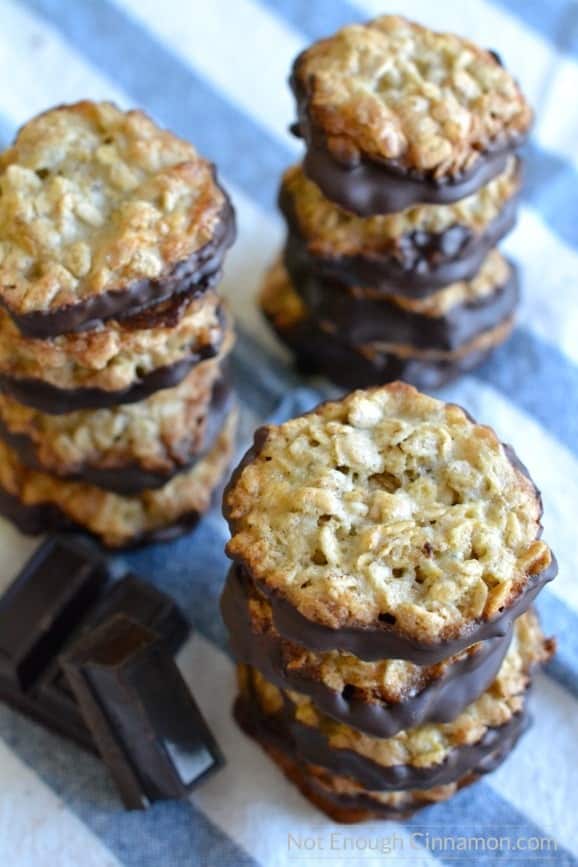 These Crispy Oatmeal Chocolate Sandwich Cookies taste just like the ones from IKEA!
But what happens when you don't want to go to Ikea just for their famous oatmeal cookies? Call Marie to the rescue! I initially wanted to surprise Solal with a batch of these chocolate-dipped sandwich cookies.
However, given that he now works from home, too and his "office" is right in front of the kitchen island (plus the fact that he has a chocolate detector)...Well, surprises are not really an option anymore, but he loved these crispy oatmeal cookies nonetheless.
According to him – and I second this opinion – they taste exactly like the ones we ate at Ikea! Except they're not loaded with nasties.
I wouldn't push it and call these cookies healthy, but at least you know exactly what goes in them. And your tummy will too, trust me. Nom nom nom.
Enjoy! 🙂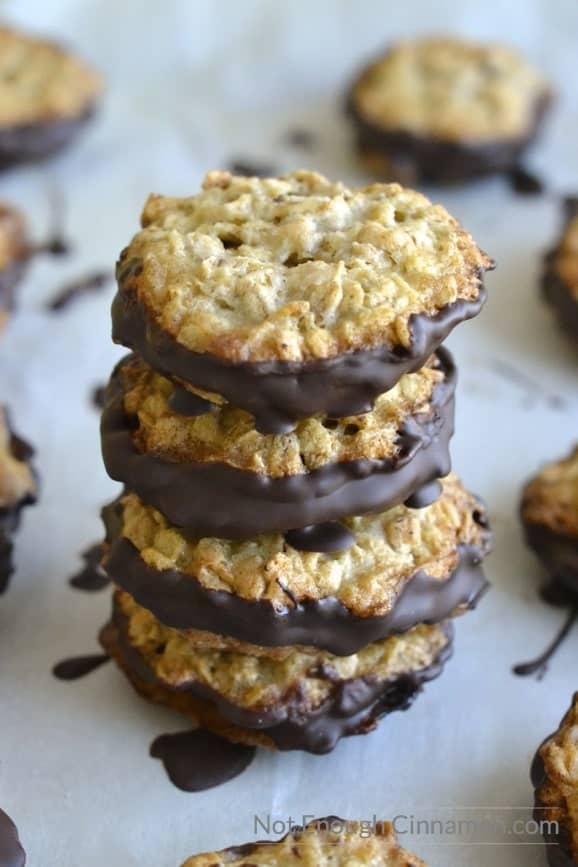 If you tried these crispy oatmeal cookies (Ikea Cookies), don't forget to rate the recipe below and let me know how it went in the comments – I love hearing from you! You can also follow me on Instagram, Pinterest, and Facebook for more deliciousness and behind-the-scenes!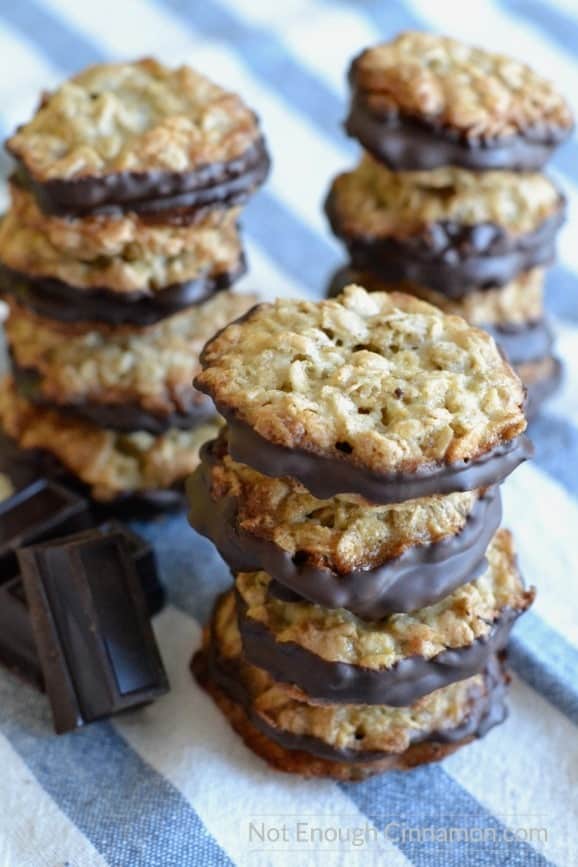 Crispy Oatmeal Chocolate Sandwich Cookies
Fell in love with Ikea's Crispy Oatmeal Cookies? Don't worry, this recipe for Crispy Oatmeal Chocolate Sandwich Cookies might be even better than the popular Ikea Cookies!
Servings
16
sandwich cookies
Ingredients
3

oz

unsalted butter

85 g, 6 tbsps

1 ½

cups

rolled oats

not the quick ones

3

tbsp

all-purpose flour

you can also use a gluten free flour mix

1

tsp

baking powder

1

tsp

pure vanilla extract

1

pinch

salt

⅔

cup

sugar

1

egg

200

g

dark or semi-sweet chocolate

7 oz, chopped

1

tbsp

coconut oil

used refined coconut oil to avoid a coconut taste
Instructions
Preheat oven to 400F/200C. Line two baking sheets with parchment paper.

In a large pot, melt butter over low heat. Remove from the heat and mix in oats, flour, baking powder, vanilla, and salt. In another bowl, whisk egg and sugar until pale. Stir in the oat mixture.

Drop small balls of batter, one teaspoonful each, on the prepared baking. Leave room for them to spread a bit. Make sure they are all about the same size if you want them to turn out pretty (and it'll be easier to sandwich them).

Bake 6-7 minutes or until the edges are golden brown. Remove from the oven, and let them cool directly on the baking sheet. Repeat with remaining batter if needed.

Melt chocolate and coconut oil in the microwave or in a double-broiler. Let it cool.

When cookies are cooled, dip the flat side of one cookie into chocolate, dip another cookie and sandwich them together. Place on a baking sheet or serving plate. Repeat with remaining cookies. The cookies are ready to be eaten when chocolate has set.
Nutrition Facts
Crispy Oatmeal Chocolate Sandwich Cookies
Amount Per Serving (1 cookie)
Calories 191
Calories from Fat 99
% Daily Value*
Fat 11g17%
Cholesterol 22mg7%
Sodium 7mg0%
Potassium 152mg4%
Carbohydrates 20g7%
Protein 2g4%
Vitamin A 155IU3%
Calcium 29mg3%
Iron 1.9mg11%
* Percent Daily Values are based on a 2000 calorie diet.