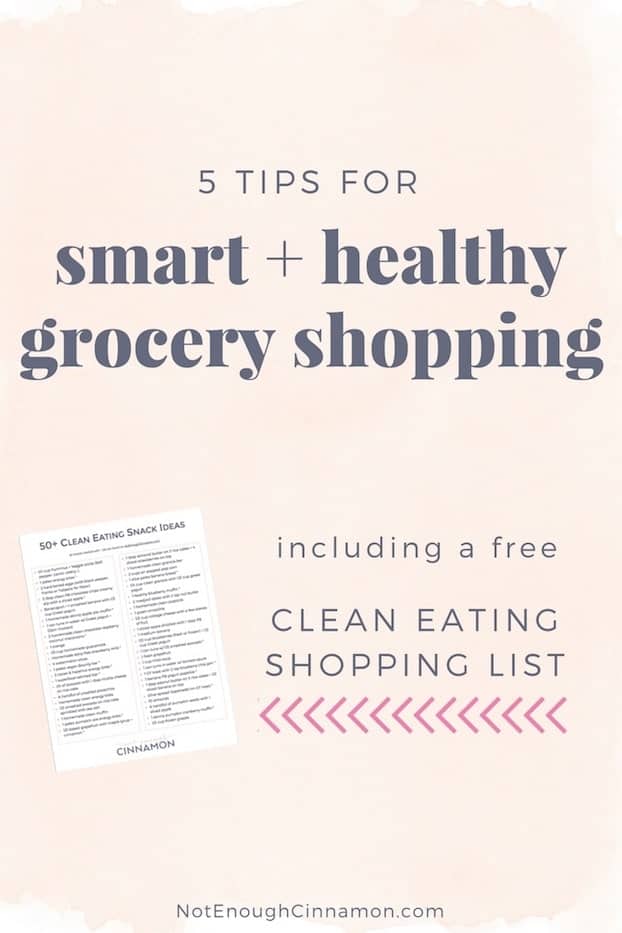 Hello girlfriend!
Today I wanna talk to you about something that might not be super glamorous and exciting but still very important aka…grocery shopping. Yep, told you. I'd rather be shopping for cute new outfits instead but hey, we've gotta eat too and food isn't going to magically appear in the fridge (I wish!).
Smart grocery shopping is important because that's when you lay the foundation of your clean eating. The logic is pretty simple: if you only buy wholesome, nutritious food, you'll only cook wholesome, nutritious meals. Here are my best tips to help you shop smart:
Never go grocery shopping when you are hungry
Seriously, I cannot stress this enough. You WILL end up buying something not-so-good-for-you if you go hungry. I know what I'm talking about and I'm sure you do to. Pizza always sounds like a good idea when you're starving but clearly it's not. Have a little snack beforehand if you need to, but do not go on an empty stomach.
Always have a list – and stick to it!
First, having a list saves you lots of time. Less time at the store = more time watching Netflix, cuddling your dog/cat/pillow/partner and relaxing. Or more time to be active and workout; you choose. I suggest alternating days.
Plus, if you don't have a list, you are more likely to pick up unhealthy items because they will look extremely tempting and stare at your from the shelves, crying "please take me home". Be strong and just stick to the list. You can do it!????
Psss! Feeling uninspired? I've got a clean eating shopping list ready just for you. Buy the items on the list and you'll have a good base to make plenty of nutritious meals. Download it here:
(UPDATE: unfortunately, the list isn't available anymore for now)
Beware of products marketed as "healthy" or "natural"
Clean eating is pretty popular these days (yay!) and we see more and more "healthy" products flooding supermarkets' aisles. It's awesome because it means more wholesome food is readily available and it's becoming easier to eat healthy.
However, this comes with a downside. Just because products claim to be healthy doesn't mean they actually are, and that's when it gets tricky. There's no regulation when it comes to calling products "healthy" or "natural" so food manufacturers can pretty much do what they want. 50 grams of sugar in a single cereal bar? No problem, it has oats and chia seeds, it's healthy! Ahem, nope. ????
Remember that it's all about marketing and that just because it's located in the "health" section of your store (or even if in a health food store itself), doesn't mean it's necessarily good for you.
So how do you make good choices? Two rules:
Always read the labels: if it has more than 5 ingredients total, added sugar or if you can't pronounce all of the ingredients, don't buy it. As simple as that. 
Avoid processed food at all cost: buy real, unprocessed food and keep it simple. Think veggies, fruits, meat, fish, nuts, grains, spices and healthy fats.
To help you navigate the maze of your grocery store, I've put together a clean eating shopping list that you can print and take with you at your next trip to the store. Save it to your phone or email it to yourself so you always have it handy!
Download your clean eating shopping list here:
(UPDATE: unfortunately, the list isn't available anymore for now)
Have any questions? Wanna share your tips for smart + healthy grocery shopping? Leave a comment below! 🙂