This succulent White Fish with Mango Lime Salsa Topping makes for an easy, healthy meal for busy weeknights! Serve this Carribean Paleo fish dinner with a side of baked sweet potatoes or coleslaw!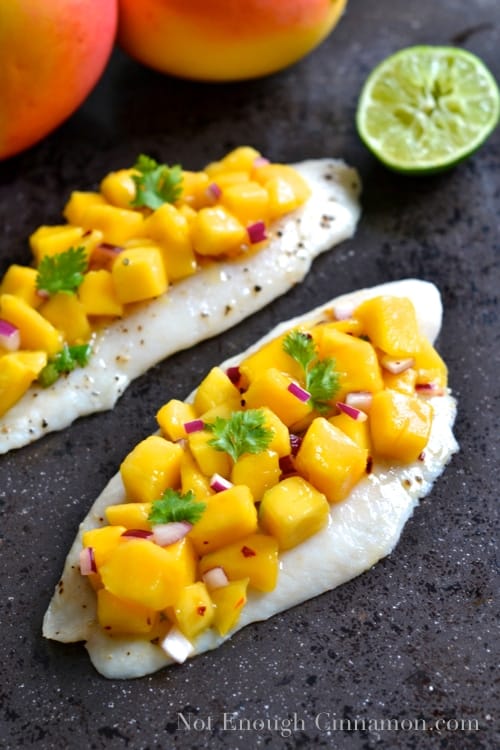 Looking for healthy, high-protein dinner or lunch recipes? I've got an easy one, which has become a staple in our home: White Fish with Mango Lime Salsa - slightly exotic, super easy to make, paleo and clean eating - approved! A true winner!
A few years ago I decided I would no longer make New Year Resolutions. Sure it's very fun, especially if you like making lists (I love lists!) but after several NYE and countless resolutions, I realized that none of them actually stuck - and I'm pretty sure it's the same for a lot of people.
Why is that? I really feel like we are thinking too big. Take this common resolution for instance: 'I want to lose weight'/ 'I want to have my dream body'/'I want to eat healthily/ paleo / totally clean'. This is a great goal, that's for sure, but seeing it as a whole can be overwhelming.
Instead, take baby steps. If you never exercise, try being active at least once a week. It can be taking a long walk, going to the gym, swimming... whatever you like. But do it. Every.single.week. Then, when it has become a habit, try to exercise twice a week. And so on. That way, you won't feel discouraged.
Same thing regarding healthy eating. Be it for clean eating or the attempt of a paleo diet, if you're used to eating crappy food and want to change that, don't go for steamed veggies and green smoothies overnight. It just won't work.
Try changing little things in your diet. Lauren from Lauren's Latest put up a great list of 50 easy tips for a healthy lifestyle, you should definitely check it out. And remember, it's all about making small changes a habit.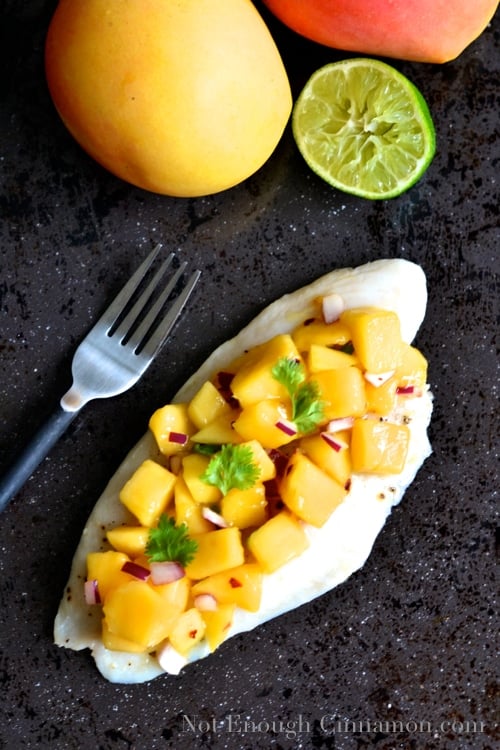 So no more NYE resolutions for me. However, every month or so I  look back on my life and my achievements and draw new goals for the weeks to come - not for the whole year.
What does it have to do with this recipe for White Dish with Mango Lime Salsa, you ask? Well, one of my small goals lately is to incorporate more fish into my diet. I love white fish but we definitely don't eat enough of it!
It took me 20 minutes to bring this healthy meal of white fish with mango lime salsa to the table - so really there's no excuse.  For this simple fish dinner, I used Basa fish which is very cheap and readily available in Australia. If basa is not available where you live, you can substitute it with any white fish like tilapia.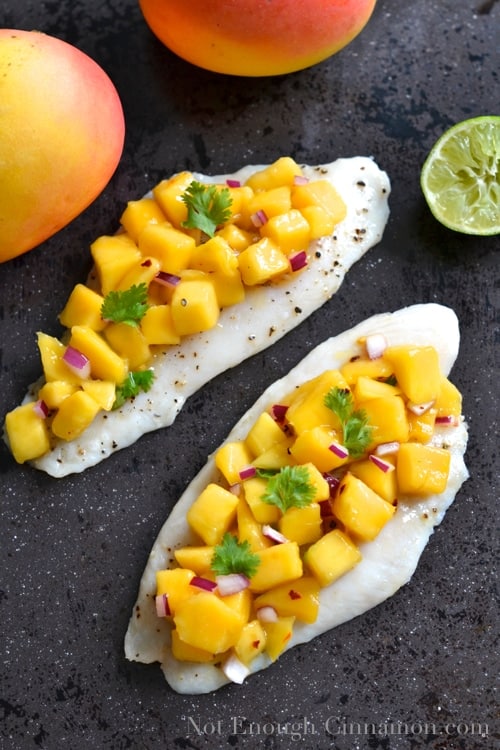 If you tried this White Fish with Mango Lime Salsa, don't forget to rate the recipe below and let me know how it went in the comments – I love hearing from you! You can also follow me on Instagram, Pinterest and Facebook for more deliciousness and behind-the-scenes!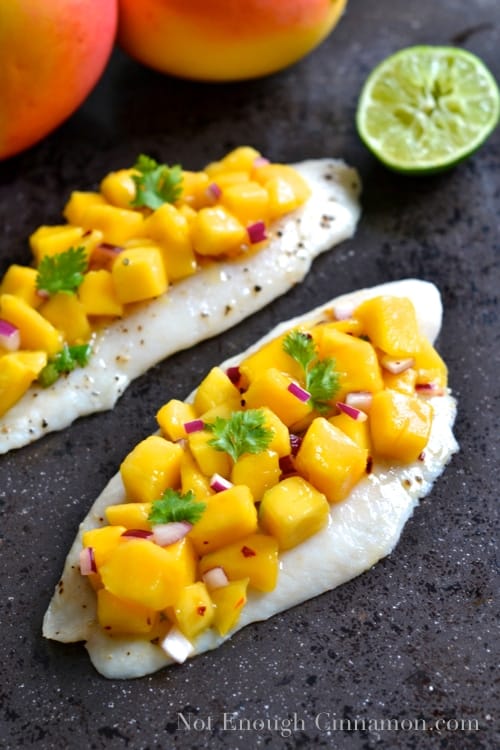 White Fish with Mango Lime Salsa
This succulent white fish with Mango Lime Salsa Topping makes for an easy, healthy dinner for busy weeknights! Serve this quick Carribean fish dinner with a side of baked sweet potatoes, coconut rice or slaw!
Ingredients
For the fish
4

white fish fillets

I used Basa - Tilapia would work fine

olive oil spray

salt and pepper to taste
For the salsa
2

cups

mango

ripe but still firm, peeled and cubed (about 2 small mangoes)

1

lime

1 ½

tbsp

red onion

finely chopped

¼

tsp

red pepper flakes

1

tbsp

fresh cilantro

chopped

pinch

salt
Instructions
For the fish:
Preheat oven to 380F. Line a baking sheet with parchment paper and lightly spray it with olive oil.

Arrange the fish fillets, season them with salt and pepper and lightly spray them with olive oil. Bake the fish for 10 minutes or until cooked.
For the salsa:
While the fish is baking, prepare the salsa. In a bowl, combine mango, the juice of ½ lime, red onion, red pepper flakes, fresh cilantro and a little salt.

Top fish fillets with salsa, drizzle with the juice of ½ lime and serve.
Recipe Notes
The salsa will taste even better if prepared ahead and kept in the fridge for a few hours.
Nutrition Facts
White Fish with Mango Lime Salsa
Amount Per Serving (1 fish fillet with salsa)
Calories 219
Calories from Fat 27
% Daily Value*
Fat 3g5%
Cholesterol 85mg28%
Sodium 91mg4%
Potassium 669mg19%
Carbohydrates 14g5%
Protein 34g68%
Vitamin A 930IU19%
Vitamin C 35.1mg43%
Calcium 32mg3%
Iron 1.2mg7%
* Percent Daily Values are based on a 2000 calorie diet.
You might also like:
Click on the link or picture to see the recipe
Salmon with Green Olive and Pistachio Topping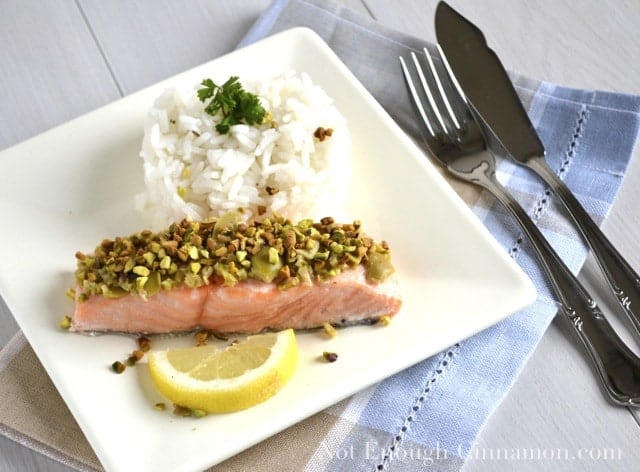 Mango, Shrimp and Arugula Salad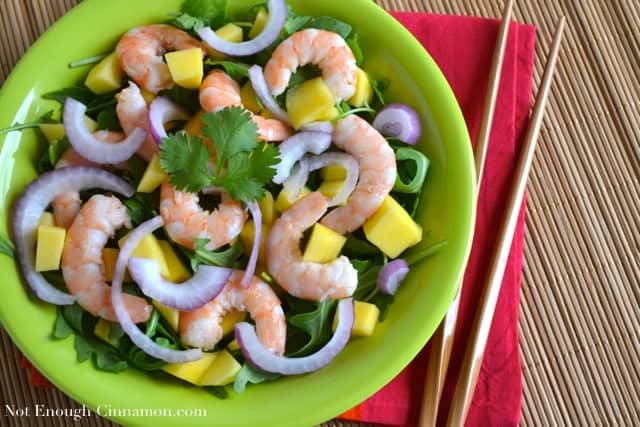 Bell Pepper, Mango and Red Onion Chicken