On the 29th of July this year, Solal, my handsome best friend/partner in crime/boyfriend of 10 years and I got married in Normandy, France.
Well, got married again to be precise. Two years ago in Sydney we got married for the first time at the French consulate – but it was only a civil, "legal", 10-minute ceremony where only Solal's parents and our witnesses could be present (the downside of living so far away from your family!). Nothing too romantic, really! But still, you can bet I was already calling Solal "hubby" and him "my wife" with pride from this day forward ????
We always said we would do the "real" wedding - as in actual ceremony and party later. Well, later was this summer and it was well worth the wait! We are pretty private persons, so the idea of being the center of attention was a bit nerve-wracking as we were planning this wedding, but in the end, it was an absolutely beautiful week-end where we got to share our love with our dearest people. We created amazing memories for a lifetime. And did I mention that the food was amazing? I wish I could get married a third time, if just for the food! haha.
This is the story of our special day ❤️
Getting Ready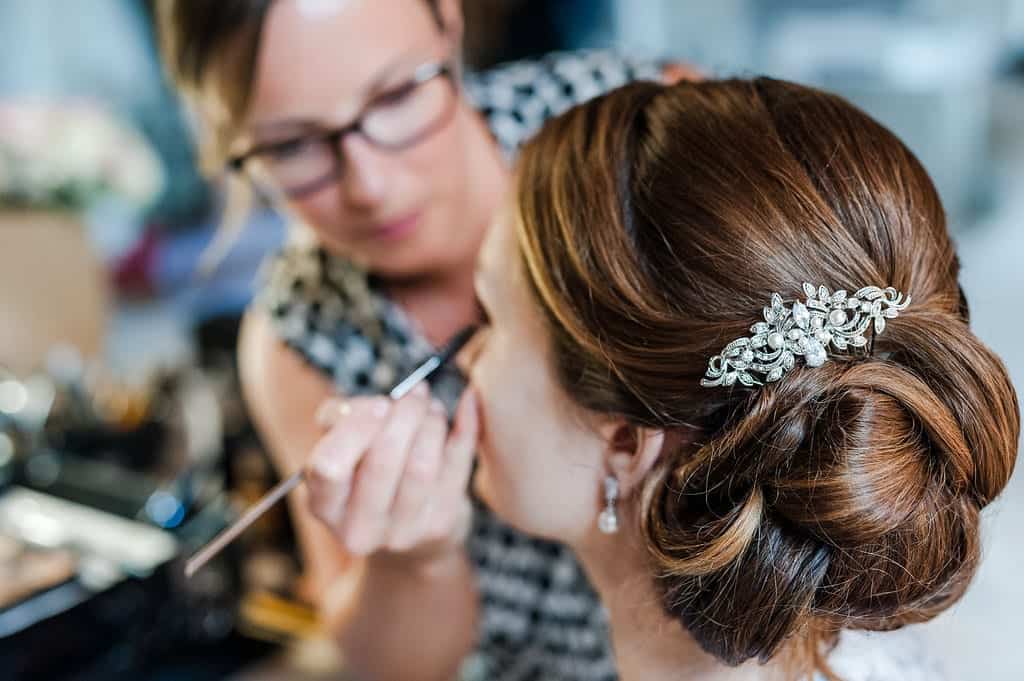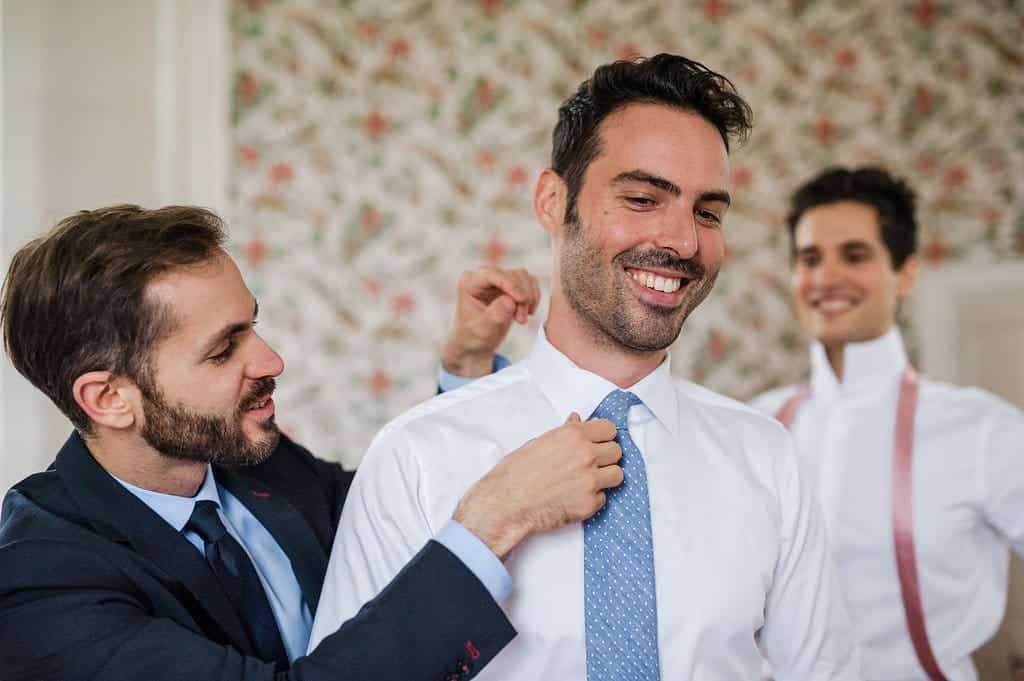 The Ceremony
When you decide to get married in Normandy, which is in the North of France, there's always a chance that it's going to be raining a bit, even in the middle of summer. We chose the date of July 29th to maximise our chances but...we weren't lucky - at least, only partially. It rained a lot the morning of the wedding, making the grass impraticable and so we had to cancel our plan A for the ceremony – it was supposed to be under this amazing oak tree (the pic below) – and we moved it inside. We were pretty sad because the view and surroundings were pretty amazing from there, but our awesome wedding designer still managed to do something beautiful inside. And the sun decided to show up for the cocktail so we really can't complain!
My dad (the handsome/cutie pie pictured below) gave me away to Solal, who was anxiously waiting for me with his groomsmen. You can't really see it on the pictures, but he was sooo stressed! Being the center of attention really isn't his thing - I think he was dying a little bit inside. Poor little thing???? The look on his face when he saw me enter the room was completely priceless though ????
Our wedding wasn't traditional in a lot of ways – mostly because we mixed French, Anglo-saxon and Jewish traditions. The one thing that surprised most I think was the fact that we didn't really exchange rings. Well, I did, but he didn't. Let me explain. Solal gave me a ring but I gave him...a watch. Very early on, Solal told me that he really doesn't like rings on men, he doesn't like the look of it. However, he's a big fan of beautiful watches. So we decided that I was going to have a beautiful wedding ring and he was going to have a beautiful wedding watch. We had bought the engagement + wedding band together a long time ago in Sydney but the watch was a surprise! He loves it ????
Also pictured: me trying to keep it together as I read my vows ????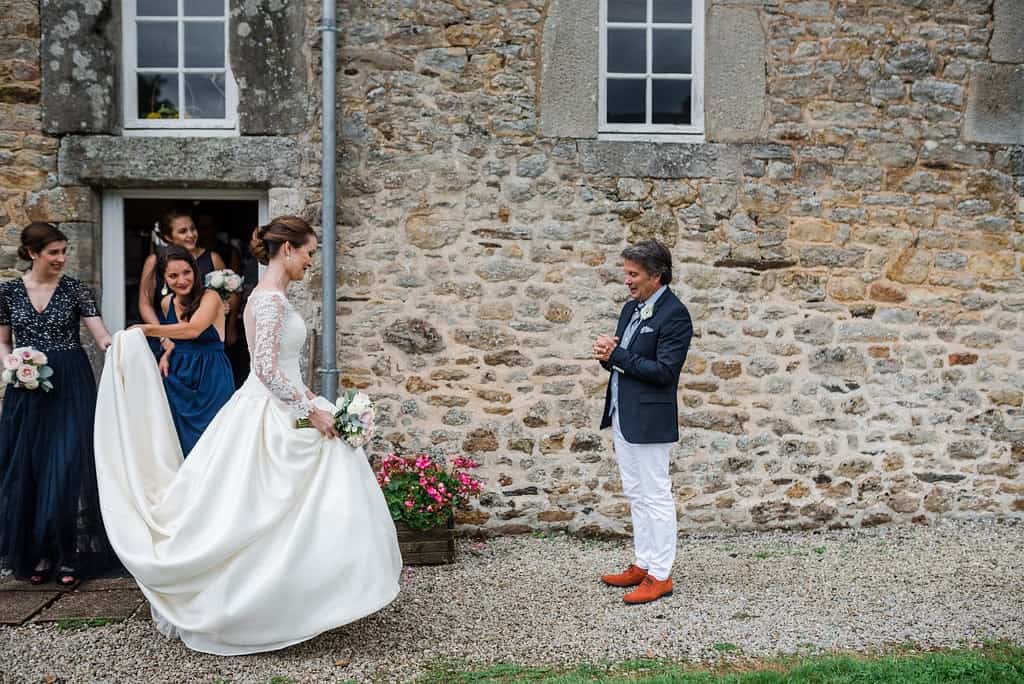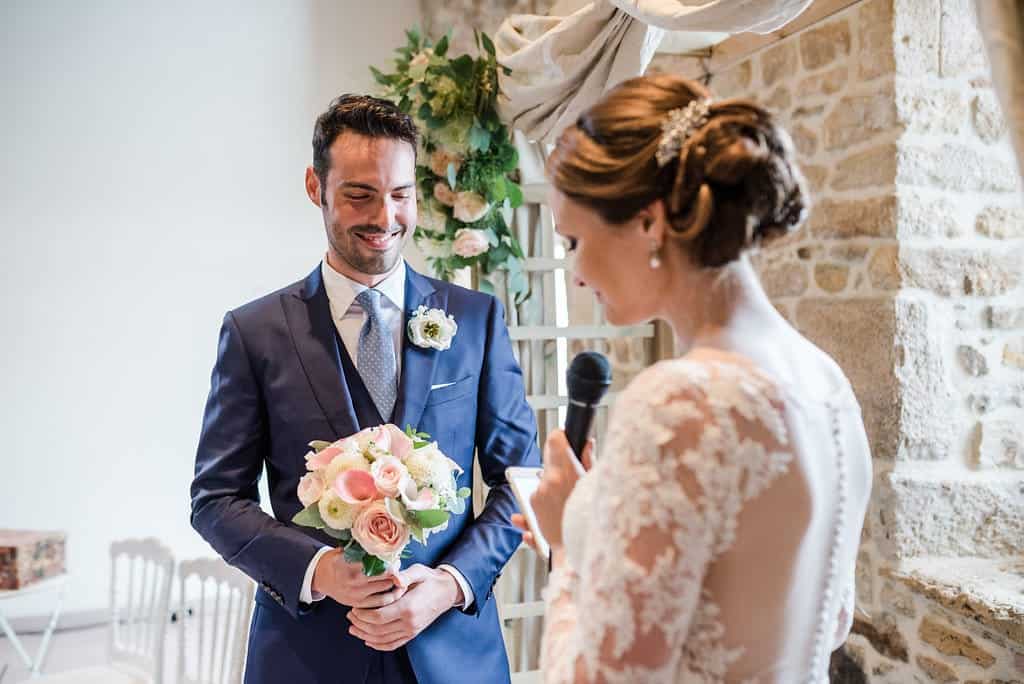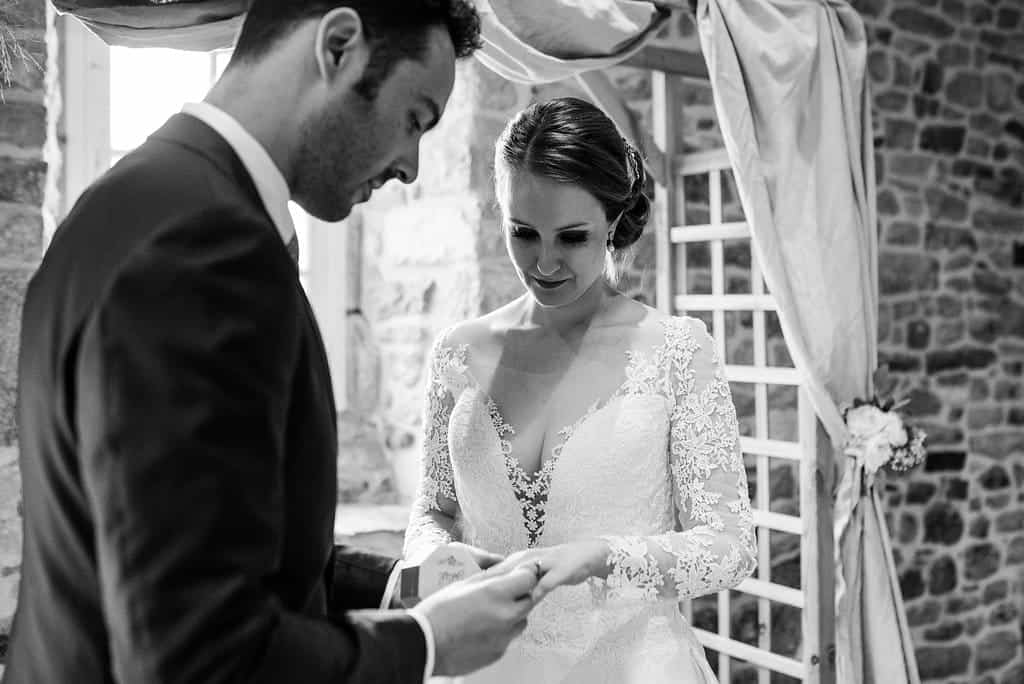 The Cocktail
Luckily the rain stopped during the ceremony, so the caterer quickly set up everything outside, right in front of the castle. We were finally getting our views and enjoying the beautiful domain! ☺️
To fully enjoy what the region has to offer, we decided to serve local craft cider and a cocktail called Kir Normand made with a blackcurrant liqueur and cider (+ other drinks too!). The food was a pletora of finger food served in spoons, canapés, local oysters and hot food made freshly in front of the guests like this amazing braised veal or this marinated beef cooked on the plancha. The food was seriously amazing. We worked with a caterer that only uses the freshest local produces and gosh, it didn't disappoint. I wish he had a restaurant where we could go and re-eat all the things he made us for our wedding!
As you can see from the picture, my dress got dirty the minute I stepped foot into the ceremony room because of the rain and the dirty floors, but I decided I wasn't going to care about it and ignored it blissfully. Even when our plan A got canceled just before the ceremony because of the weather, it didn't bother me much - I had decided that I wasn't going to care about things I couldn't change and just focus on all the other millions things that were going great. That makes for a much happier bride, let me tell you!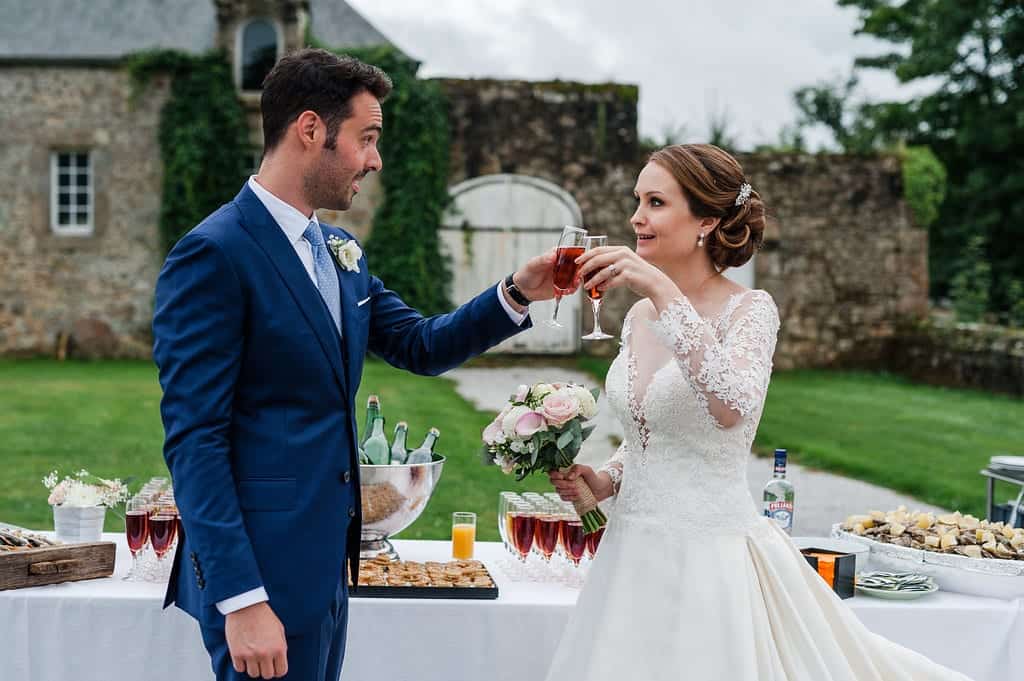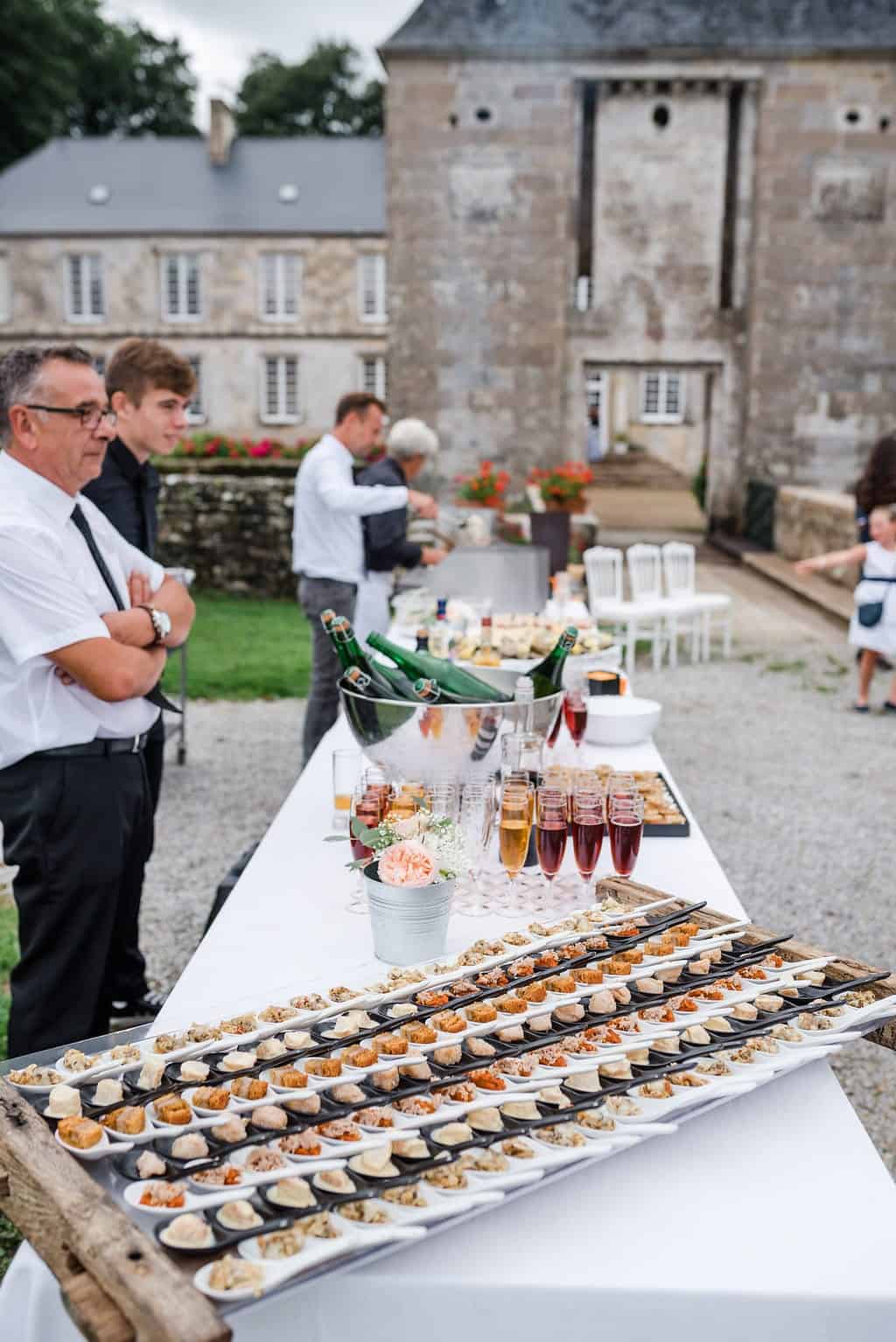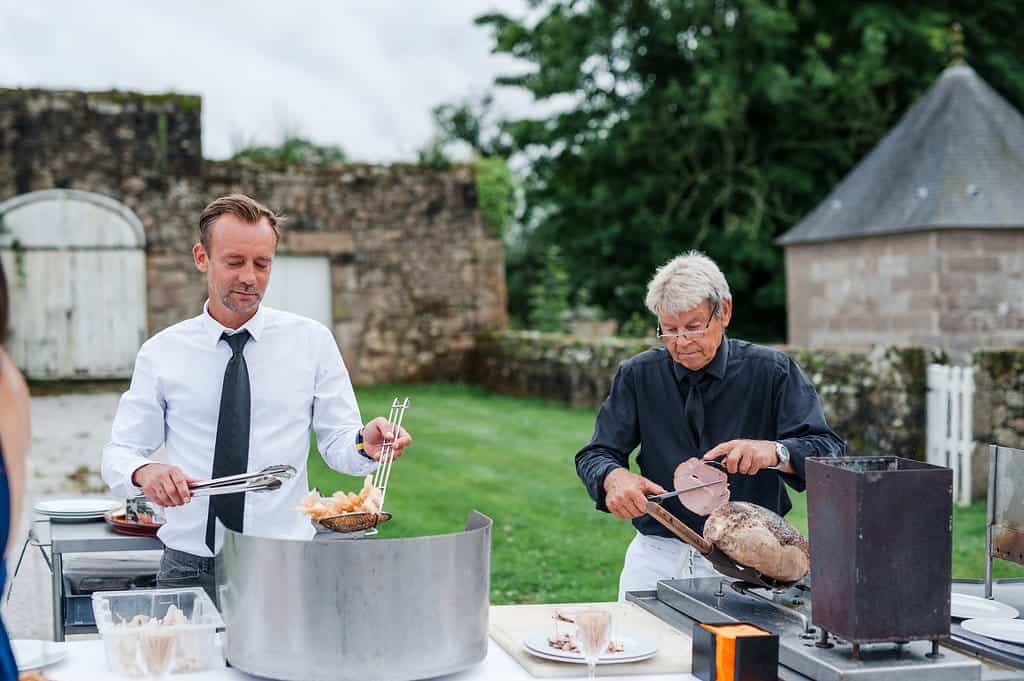 My People
One thing I loved most about our wedding was to be able to be surrounded by all the people we love. We've lived overseas for many years now, Solal has a big family – some of them living in the US – and I come from a big blended family so we can pretty much never gather everyone at the same time. We hadn't seen some of these people for years! So it really was wonderful to have them all for the weekend.
Unfortunately, a lot of our friends didn't make it to the wedding because they were too far away or were about to have babies - we're thinking about you our favorite Aussie, American, Israeli and Canadian peeps!
It's also the perfect occasion for me to introduce you to some of my favorite people ????
First up, our groomsmen and bridesmaids! From left to right: Vanessa, my sister #1; Mériam, my Maid of Honor and very close friend; Roxane, Solal's sister and Alexia, my sister #2 and then Sydney, Wesley and Bradley, all siblings and Solal's childhood friends.
My beautiful Mama, Chantal and my handsome brother, Matthieu ????
Vanessa, Roxane, Yours Truly, Alexia and Mériam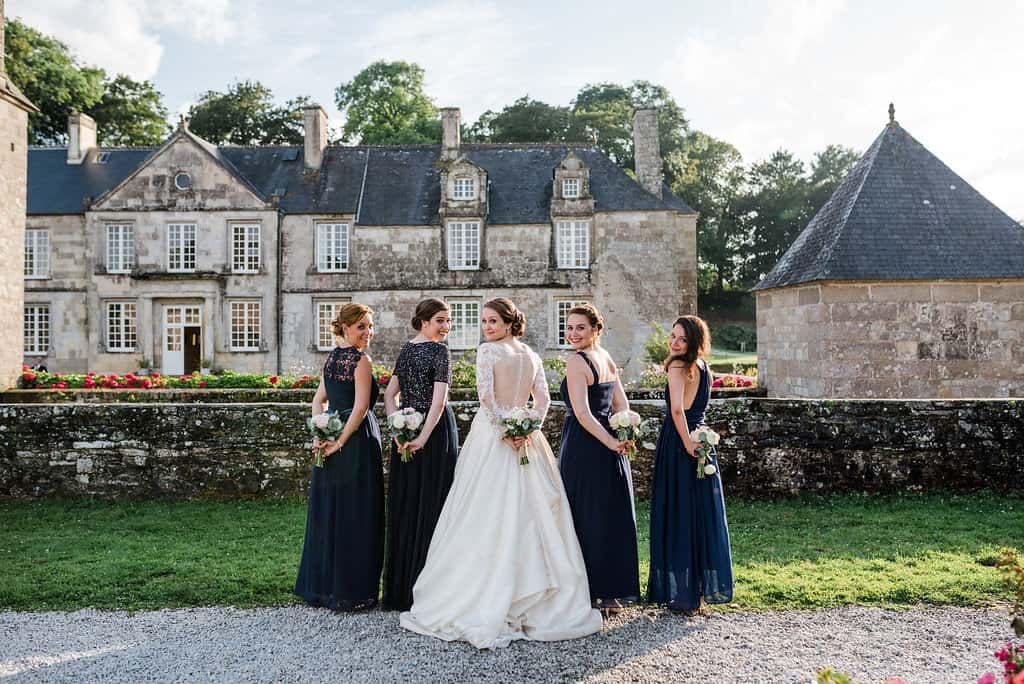 My Dadda, Gérard ????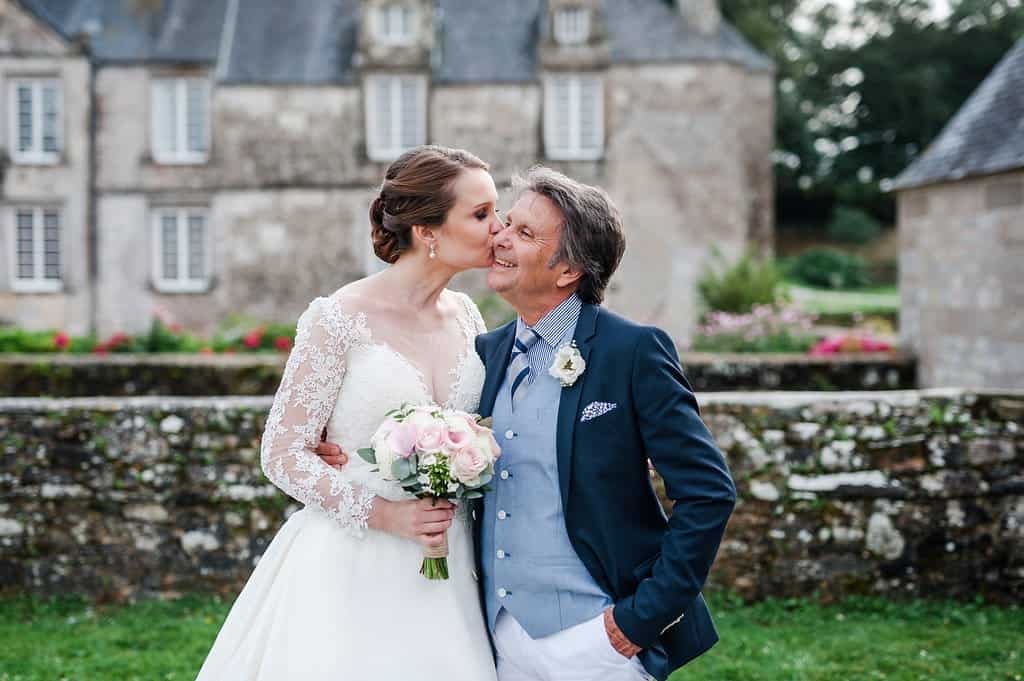 All my siblings!! Matthieu, Alexia, Vanessa - and the cutie pies Camille (sister #3) and Charles (brother #2) (they're twins!)
Our friends - some I've known for more than 15 years now! ????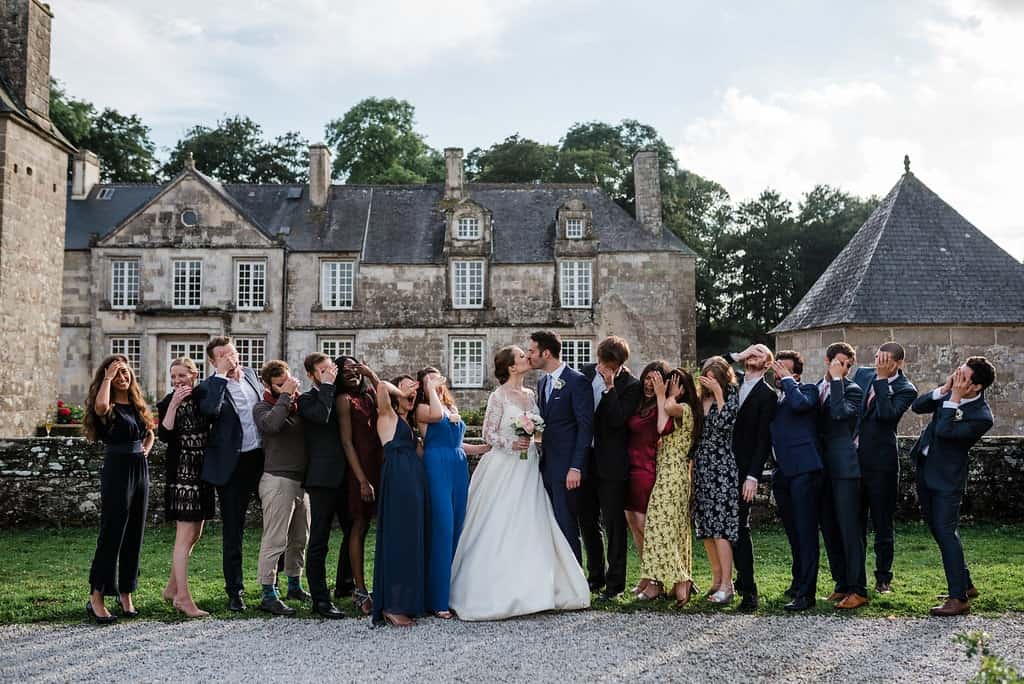 Couple's Session
After the cocktail, while our guests were finding their seats for the dinner and getting cosy inside the big tent, we took a little break and did our couple's session with our favorite photographer Typhanie. Here's a little sneak peek! Isn't she the best at capturing emotions and working with the light? Love her. We will have beautiful memories thanks to her.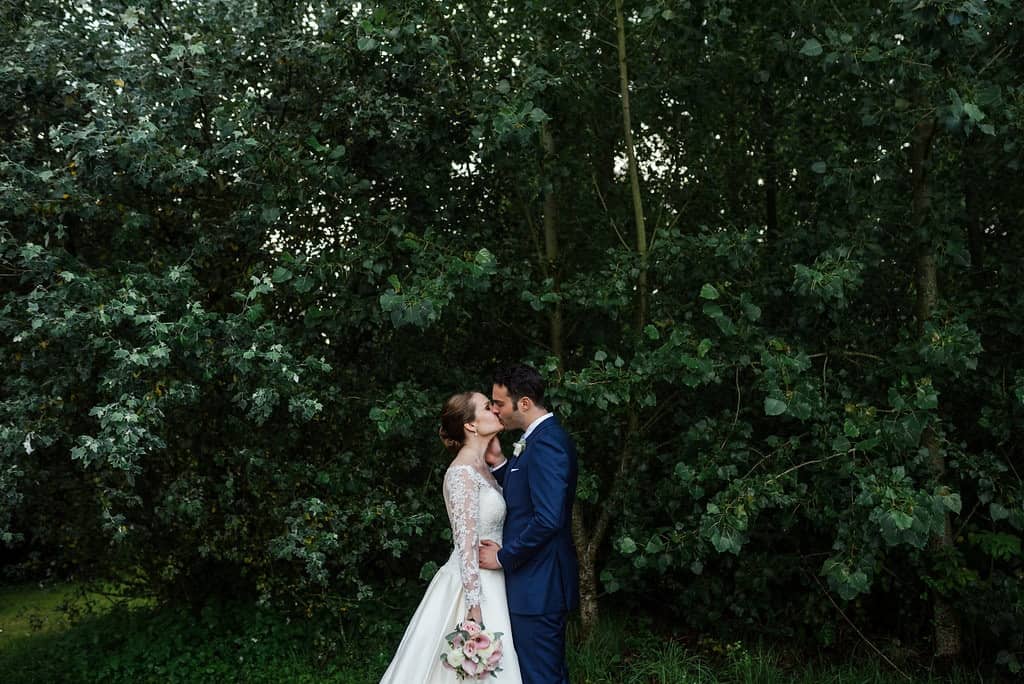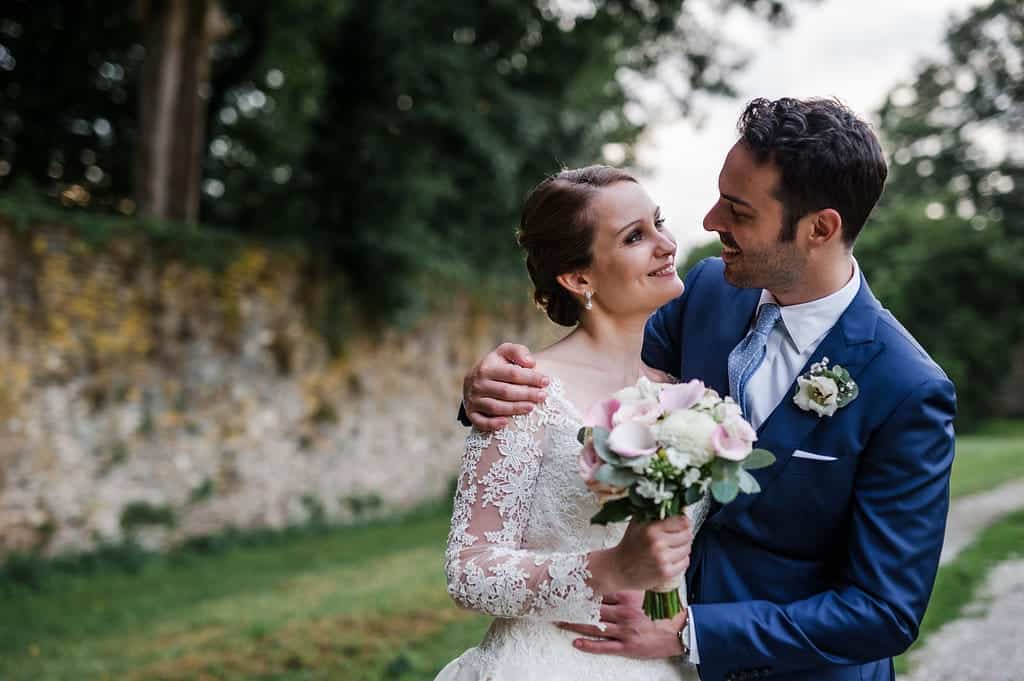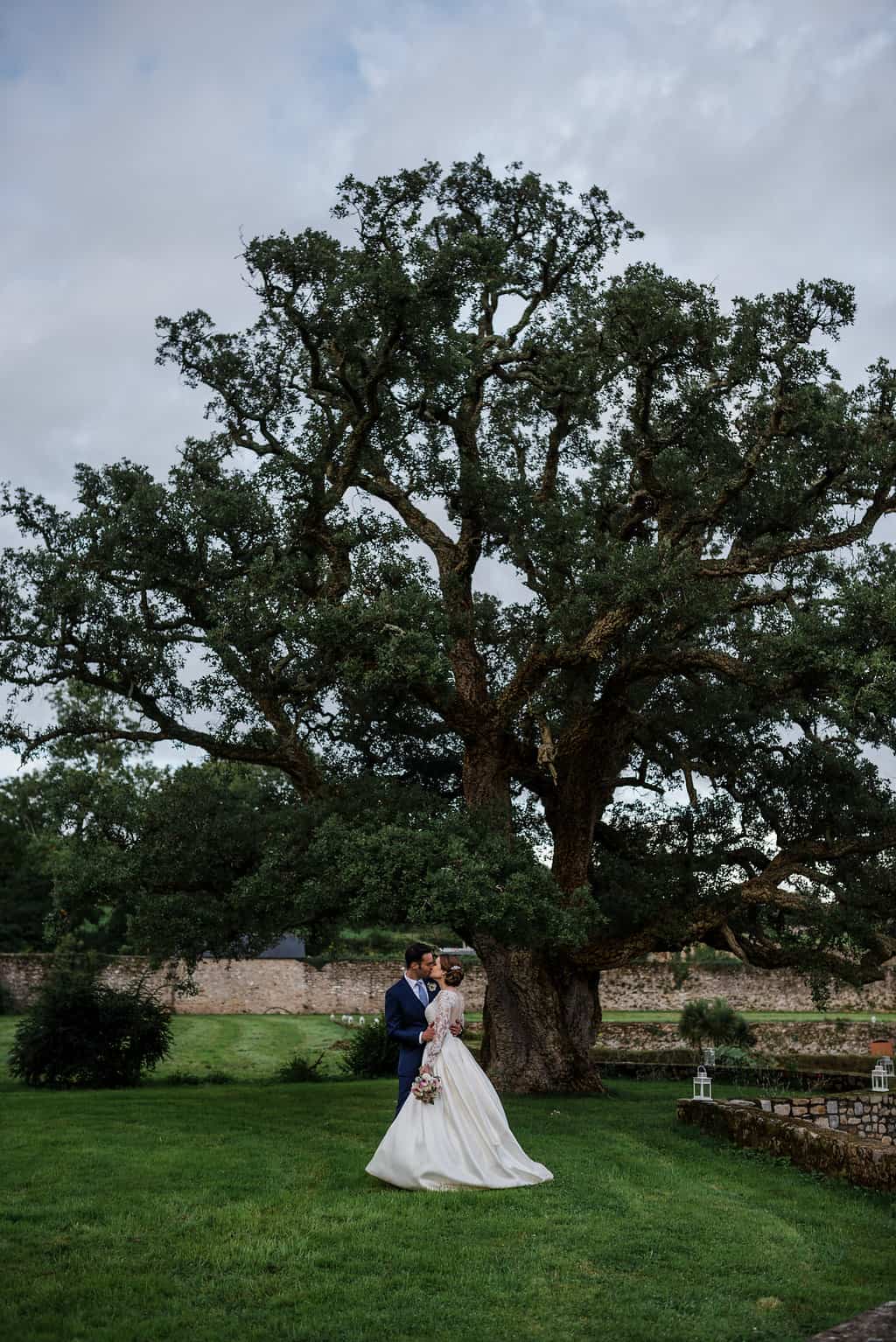 The Dinner & Party
Our theme for the wedding was rustic chic, with touches of wood, zinc, white and blush. I absolutely loved our decoration. It was simple and elegant, exactly what I had pictured. Thank you for your amazing work Flavie ????
The traditional wedding favour in France is a bag of sugared almonds – "dragées"– but Solal and I don't really like them. We wanted to gift something a bit different and original (and actually tasty!) so we offered our guests little bags of local salted caramels ("Caramels d'Isigny", made with a famous butter from Isigny, Normandy). We bought some linen bags and a customized stamp et voila! the cuttest and most delicious favours ☺️
The food for the dinner was out of this world too! We had duck fillets with a sesame caramel sauce, pineapple and raspberry chutney, and a fava beans purée. Then an assortment of cheese (obvi, you're in France, it's illegal not to have cheese!) served with salad and for dessert, the most delicious almond cake made half with raspberry, half with chocolate (to satisfy both the bride and the groom ????) and an assortment of 8 mini-desserts that were to die for! I wish I had pictures of all the food but I don't, we were all too busy enjoying it!
After nightfall, we took a short break from the dinner to release lanterns in the sky. It was such a beautiful show! A very special moment ☺️ Then we went back inside to cut the cake, have dessert and after our first dance, it was time to get the party started!! My favorite moment was without a doubt the Horah - a Jewish dance during which the bride and the groom are lifted in the air on their chairs. It would be a bit scary if it wasn't so much fun!!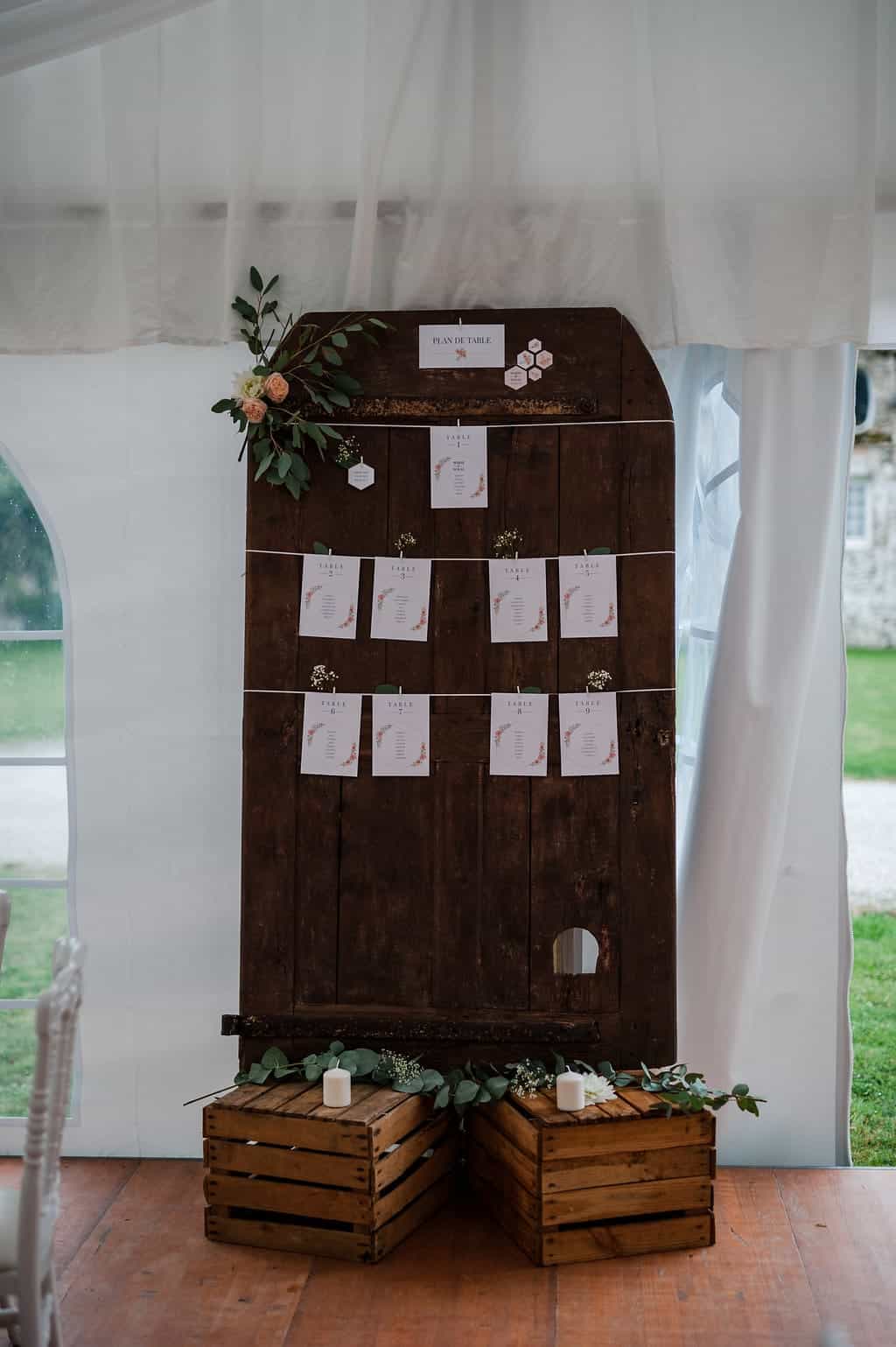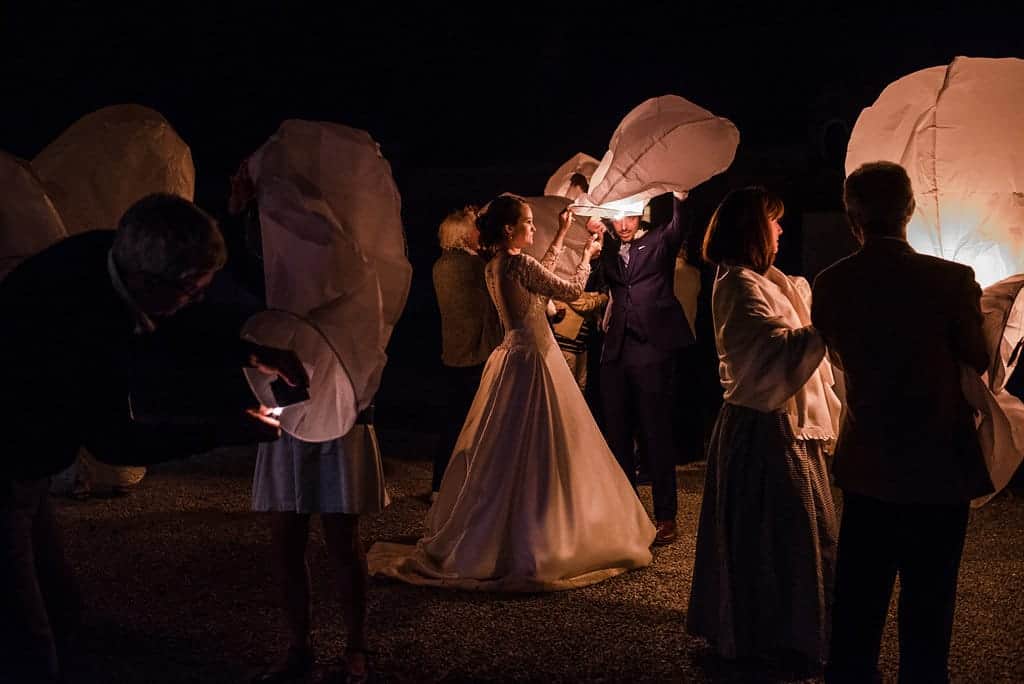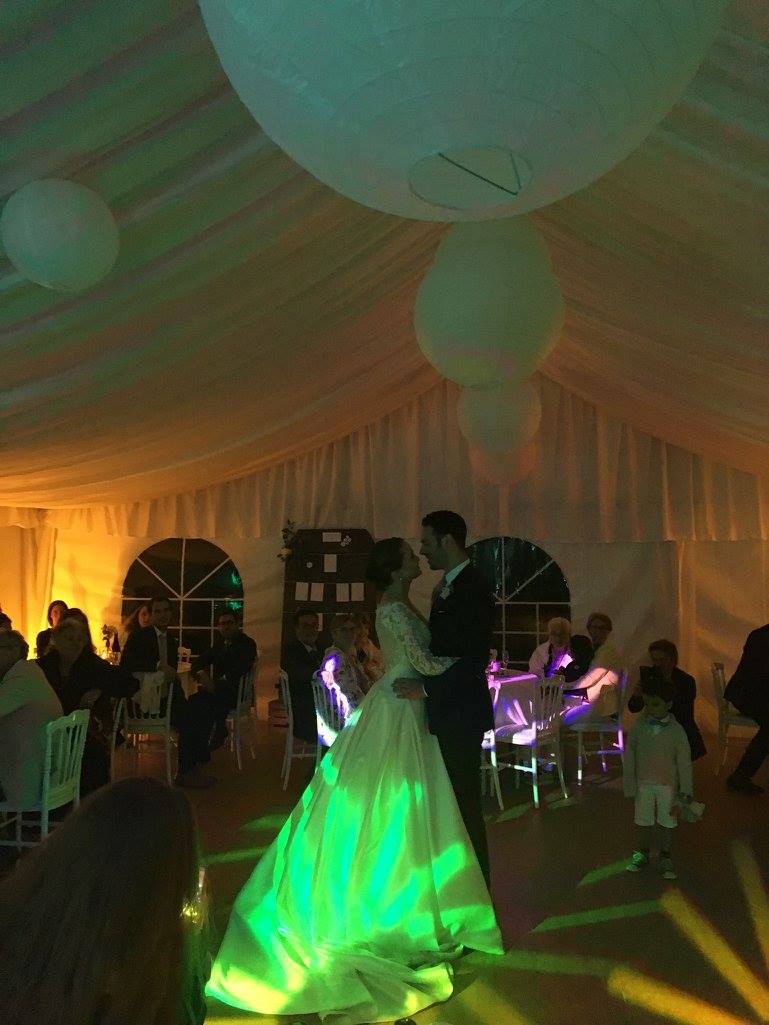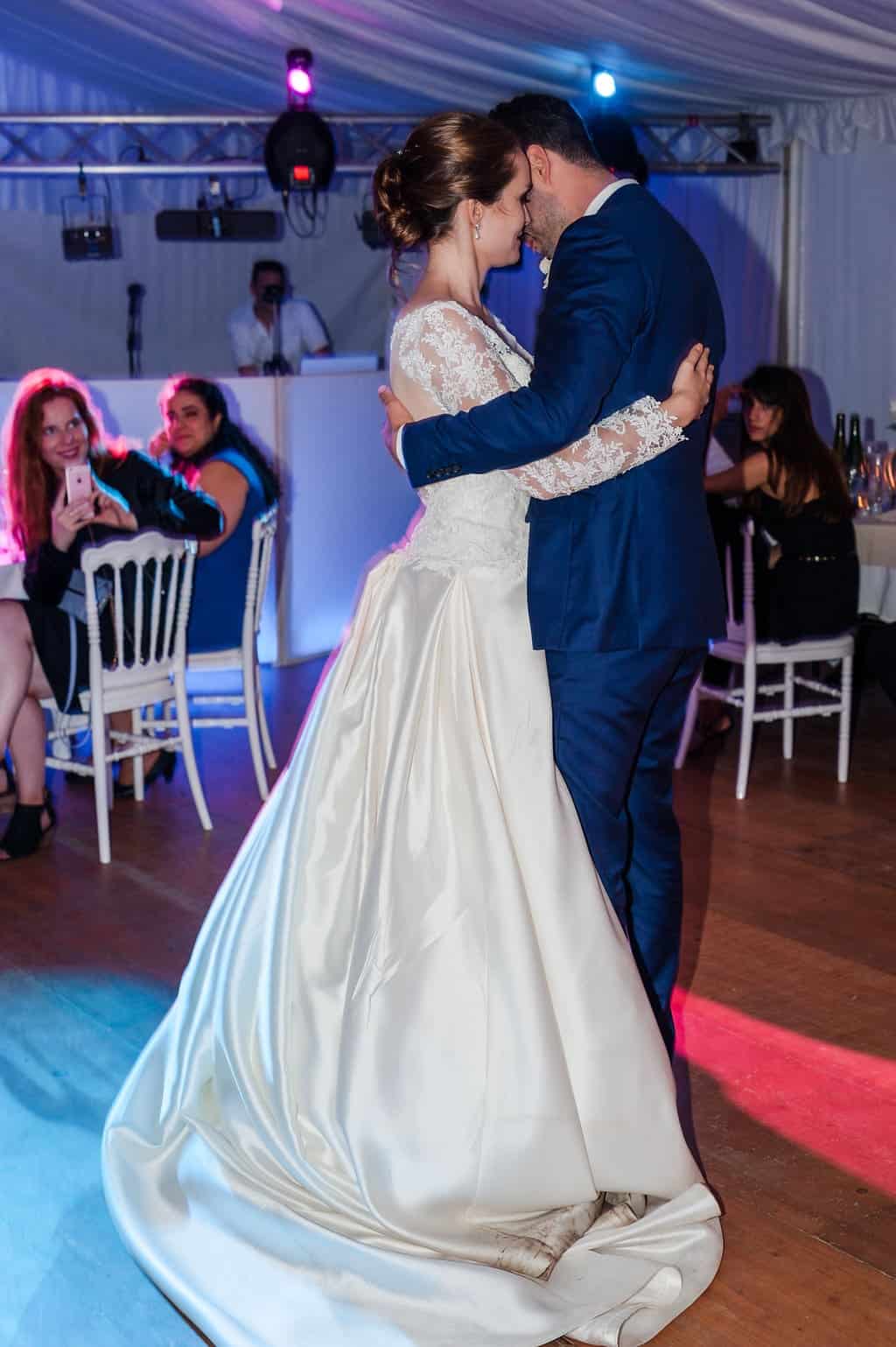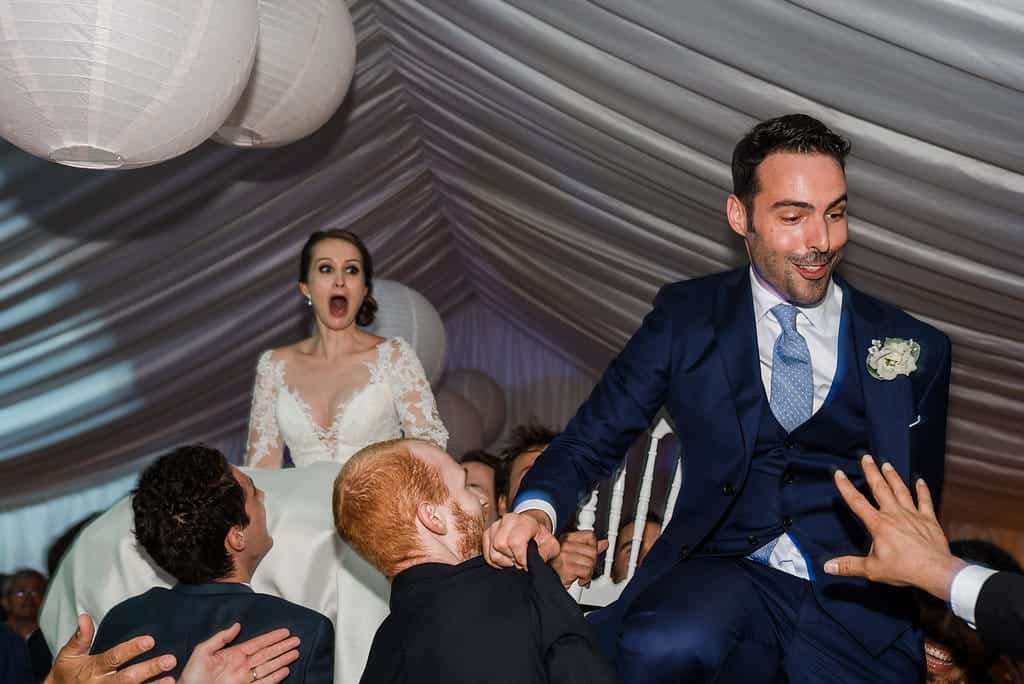 The Sunday Brunch
The next day, all the guests came back to the castle for a much needed invigorating brunch made of delicious grilled meats (including the best veal sausage I've ever tried), salads, foil-wrapped potatoes and the best ever homemade Boursin sauce. And to finish it off, amazing fruit tarts for dessert. We wanted something a bit more low key for the next day (no more foie gras and duck! haha) but honestly the quality of each product was so good, it made for an incredible meal. Simplicity at its very best!
I don't have many pictures of this day because our photographer was gone and I think everybody was more interested in chatting and eating than snapping! What I do have however is pictures of us thoroughly enjoying our wedding cake leftovers on the following days! haha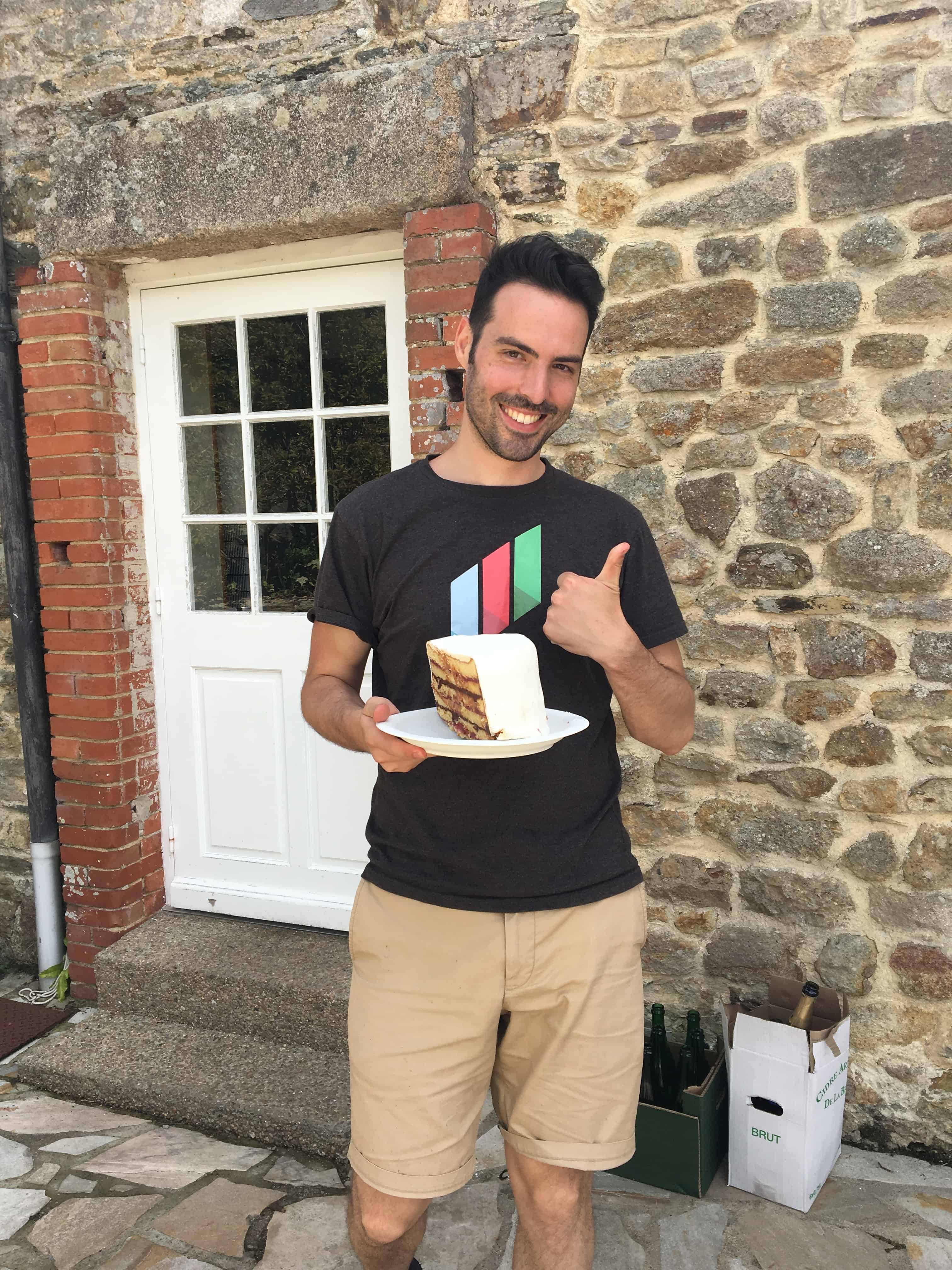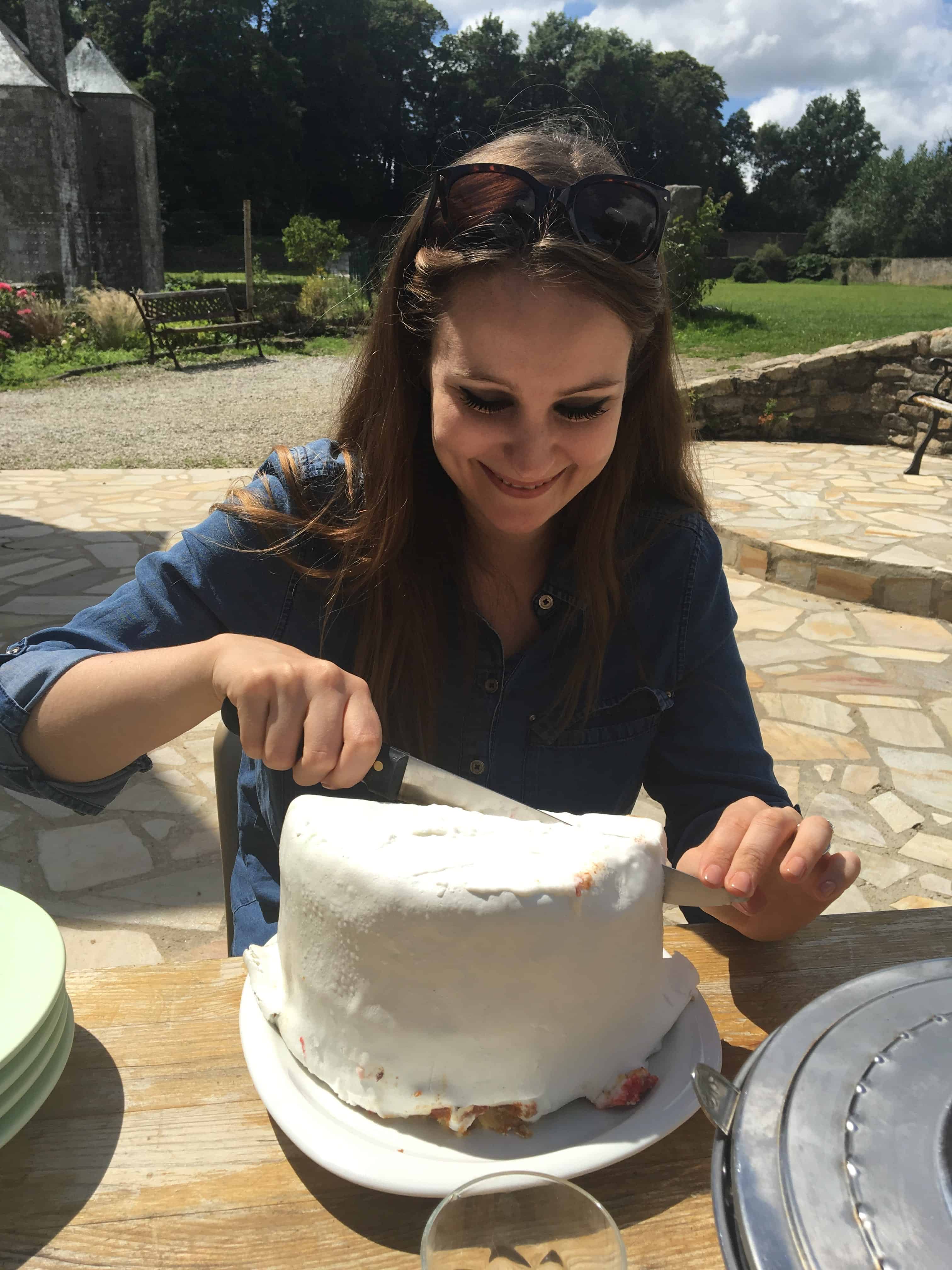 I hope you enjoyed this glimpse into our very special day ❤️
xoxo
Marie
---
The people we loved working with:
Venue: Chateau de Gonneville
Photographer: Typhanie Piton
Caterer: Lombardie Traiteur
Wedding designer: Flavie with French Wedding Belles (get in touch with me if you'd like to work with her as she's no longer working with the same agency)
Make up: Marie Martin
Hair: Zalla Création
Hair comb and earrings: Poetry Jewelry on Etsy
Dress: Confidence Mariage
Solal's suit: George & King Sydney
Bouquets + boutonnières: Margot Lys in Tourlaville