Mexican food does not have to be greasy and heavy! Try my Vegetarian Baked Tostadas recipe: Corn tortillas baked in the oven until crispy, then topped with refried beans, avocado, homemade pico de gallo, avocado and goat cheese!
Update Feb. 2016: I first shared this baked tostadas recipe in October 2014 and I'm re-sharing it today because I made a video to show exactly how it's done! Scroll down just before the recipe box to see it. Enjoy!
The quick weeknight enchilada casserole I shared with you last week inspired me to continue on the Mexican road and try new Latin-inspired specialties.
This vegetarian baked tostadas recipe was my first attempt at tostadas, although it has been on my "to-try" list for a very long time (this list is ever growing!). I had seen many baked tostadas recipes on different blogs, magazines and cookbooks and from their looks I definitely suspected them to be very good.
I finally managed to give this famous Mexican street food classic a try and the crispy baked tortillas loaded with classic Mexican ingredients did not disappoint: they definitely ARE delicious and really addictive!
If you are wondering what Mexican tostadas are, well, they are basically like a Mexican-style open-faced sandwich. Except instead of bread, a crispy corn tortilla is used.
Traditionally, the corn tortilla is fried to make a crispy shell, but I decided to go the healthy way and bake them in the oven instead. The baked tostadas came out perfectly crispy and golden brown, exactly how they should be.
Now, I was expecting these baked tostadas to be very messy and completely fall apart as we ate them but they did hold together beautifully! I think the key is to not overload them with too many toppings. In the baked tostadas recipe, I detailed exactly how much I put on each tostada.
Speaking of toppings, as the title suggests I went meatless and used refried beans (another recent awesome discovery!), iceberg lettuce, pico de gallo - a tomato salsa and mashed avocado (of course, it's me, there's got to be avocado!), topped with a few crumbs of feta. I absolutely adored these healthy baked tostadas and I hope you will too!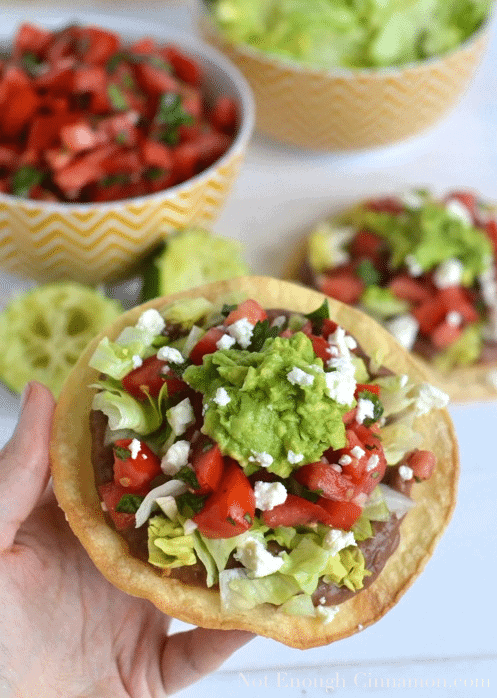 Here's the baked tostadas recipe video (click here if you are reading this via email and can't see the video):
If you tried this baked tostadas recipe, don't forget to rate the recipe below and let me know how it went in the comments – I love hearing from you! You can also follow me on Instagram, Pinterest and Facebook for more deliciousness and behind-the-scenes!
Vegetarian Baked Tostadas
Mexican food does not have to be greasy and heavy! Try my Vegetarian Baked Tostadas: Corn tortillas baked in the oven until crispy, then topped with refried beans, avocado, homemade pico de gallo, avocado and goat cheese!
Ingredients
8

small corn tortillas

olive oil spray

1 14-

oz can

refried beans

1 x 400 g can

2 ½

cups

iceberg lettuce

shredded

1

large avocado or 2 medium

mashed

¼

cup

goat's feta cheese

crumbled (leave out to make vegan and dairy free)
Pico de gallo (tomato salsa)
4

large tomatoes

chopped into small cubes

1

lime

juiced

1

garlic clove

thinly minced

1

tbsp

red onion

thinly chopped

1

jalapeño pepper

seed removed and thinly chopped (optional)

½

bunch fresh cilantro

chopped

salt and pepper

to taste
Instructions
For the tostadas:
Preheat oven to 400F/200C.

Generously spray corn tortillas with olive oil on both sides. Arrange on two baking sheets, in a single layer. Bake 5 minutes then flip tortillas and bake 3 additional minutes or until tortillas are golden and crispy. Remove from the oven and set aside.
For the toppings:
While tortillas are baking, reheat refried beans combined with ¼ cup water in a small pan, on low heat. Let cool slightly.

Prepare pico de gallo. In a medium bowl, combine chopped tomatoes, lime juice, garlic, onion, jalapeño pepper and cilantro. Season with salt to taste.

Prepare remaining ingredients: chop salad, mash avocado and crumble feta cheese.
Assembling:
Assemble tostadas. Spread ¼ cup refried beans on each tostada (be careful not to break the shell!), top with ⅓ cup lettuce, ¼ cup pico de gallo, 1 tbsp avocado and sprinkle with ½ tbsp feta. Repeat with remaining shells and serve immediately. You can also serve the prepared shells and toppings and let people make their own tostadas.
Nutrition Facts
Vegetarian Baked Tostadas
Amount Per Serving (2 Tostadas)
Calories 265
Calories from Fat 90
% Daily Value*
Fat 10g15%
Cholesterol 8mg3%
Sodium 742mg32%
Potassium 658mg19%
Carbohydrates 34g11%
Protein 9g18%
Vitamin A 1500IU30%
Vitamin C 28.4mg34%
Calcium 129mg13%
Iron 2.1mg12%
* Percent Daily Values are based on a 2000 calorie diet.