A simple and healthy, yet comforting veggie soup recipe loaded with zucchini, black beans and celery in a light tomato broth! The perfect soup recipe for rainy days or cold winter nights.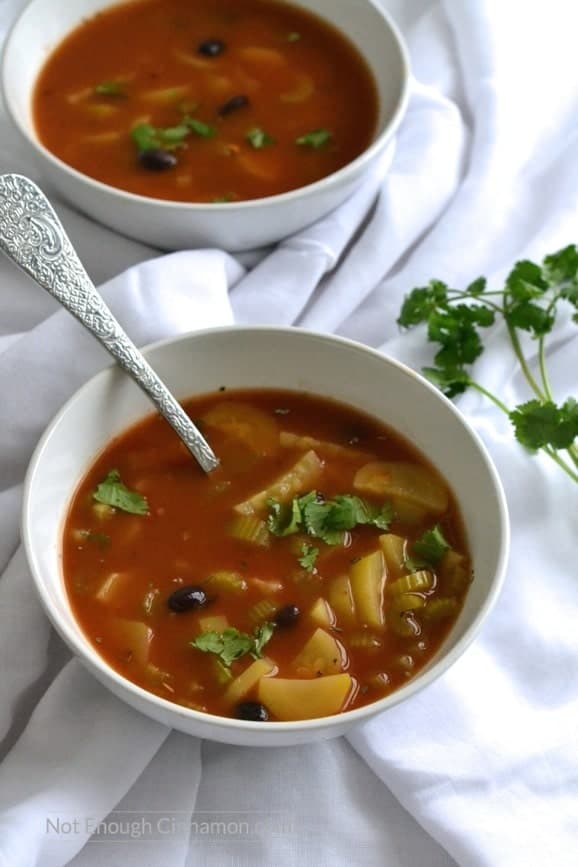 This veggie soup recipe comes with a little Canadian winter wonderland story attached to it. You wanna hear it? Here we go:
Last November, we did a tour of Canada and part of our trip included a 4-day cruise on the cross-country train called The Canadian.
We boarded in Toronto and arrived in Vancouver 4 days later, with several stops in between.
On the second day, we stopped in Winnipeg, Manitoba early in the morning. It was the first time we were seeing snow in Canada so Solal and I were pretty excited.
We put our layers on and off we went, happy as clams! Except...I don't think we were prepared for this cold. I have goosebumps just thinking about it!
The wind was freezing and we could barely walk in the snow. We had just arrived in Canada so we didn't have the right gear yet.
No snow boots, no warm coats, just funny looking layers. This is what I looked like. Ahem.
Feel free to laugh, it's fine.
You can see in my eyes that I'm suffering haha. Needless to say that pretty quickly we made our way back to the station because we simply couldn't handle the blizzard.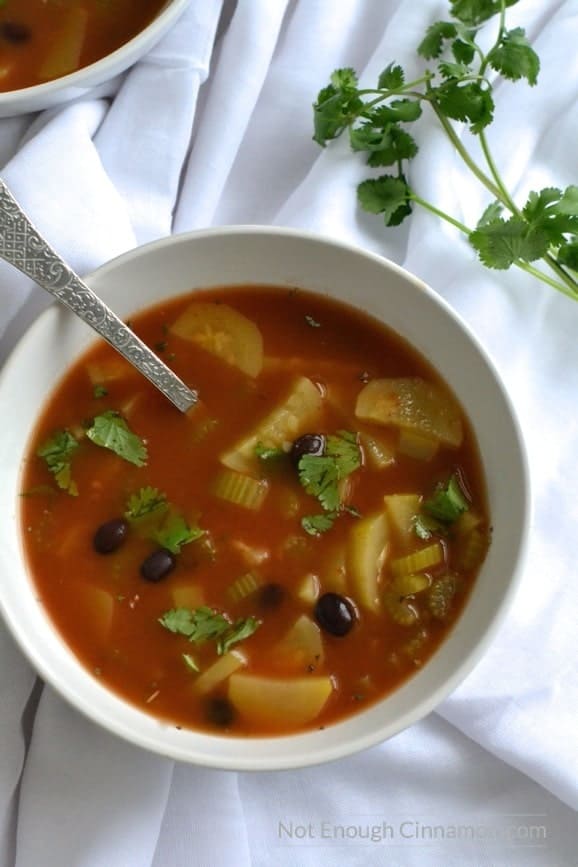 When we arrived there, we spotted a small restaurant serving warm food to take-away. We had been eating cold picnic food since the beginning of the trip and we were craving a real warm meal.
We ordered a veggie soup and two servings of chicken with mashed potatoes and veggies. Seriously, in those circumstances, this simply sounded dreamy.
I wasn't expecting much taste-wise because these station restaurants are rarely delicious but when I tasted the soup...so good! And at this moment it was the most comforting thing in the whole wide world.
Since then, this warming, comforting veggie soup has been stuck in my brain and I knew I had to recreate it at home.
One of the things I really liked about this healthy veggie soup is that they used veggies that I wouldn't have thought of combining normally: black beans, celery, and zucchini cooked in a tomato-based stock, and flavored with oregano.
And let me tell you, it works really well! I'm pretty sure you could use other veggies for this simple soup recipe, but I wanted to stay true to the Winnipeg Station soup.
Next time we'll visit Manitoba, we'll make sure to be well wrapped up and stop by the station for a bowl of this delicious vegetable soup again!
If you tried this veggie soup recipe, don't forget to rate the recipe below and let me know how it went in the comments – I love hearing from you! You can also follow me on Instagram, Pinterest, and Facebook for more deliciousness and behind-the-scenes!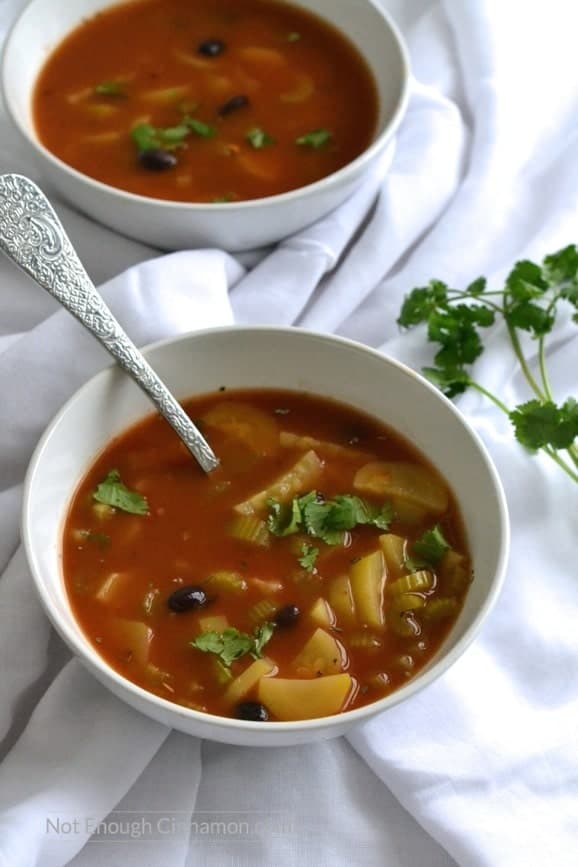 The Winnipeg Station Veggie Soup
A simple and healthy yet comforting veggie soup recipe loaded with zucchini, black beans and celery in a light tomato broth! The perfect soup recipe for rainy days or cold winter nights.
Ingredients
⅓

cup

tomato paste

½

cup

+ 3 cups chicken stock

or vegetable stock for vegetarian and vegan

¾

cup

celery sticks

chopped (about 2 sticks)

1

cup

zucchini

cut in half lengthwise then sliced (about 1 small zucchini) - skin on or peeled

½

cup

black beans

drained and rinsed

1

tsp

dried oregano
Instructions
In a small bowl, whisk tomato paste with ½ cup stock.

Pour in a medium pan then add celery, zucchini, black beans, and oregano. Cover with 3 cups of stocks.

Bring to a boil, then reduce heat and simmer until veggies are cooked through, about 20 minutes. Taste and adjust salt and pepper if needed.

Serve warm.
Nutrition Facts
The Winnipeg Station Veggie Soup
Amount Per Serving (1 /3th)
Calories 174
Calories from Fat 27
% Daily Value*
Fat 3g5%
Cholesterol 8mg3%
Sodium 654mg28%
Potassium 864mg25%
Carbohydrates 24g8%
Protein 11g22%
Vitamin A 640IU13%
Vitamin C 15.1mg18%
Calcium 49mg5%
Iron 2.3mg13%
* Percent Daily Values are based on a 2000 calorie diet.