Sweet Potato Quinoa Patties with Creamy Cilantro Avocado Sauce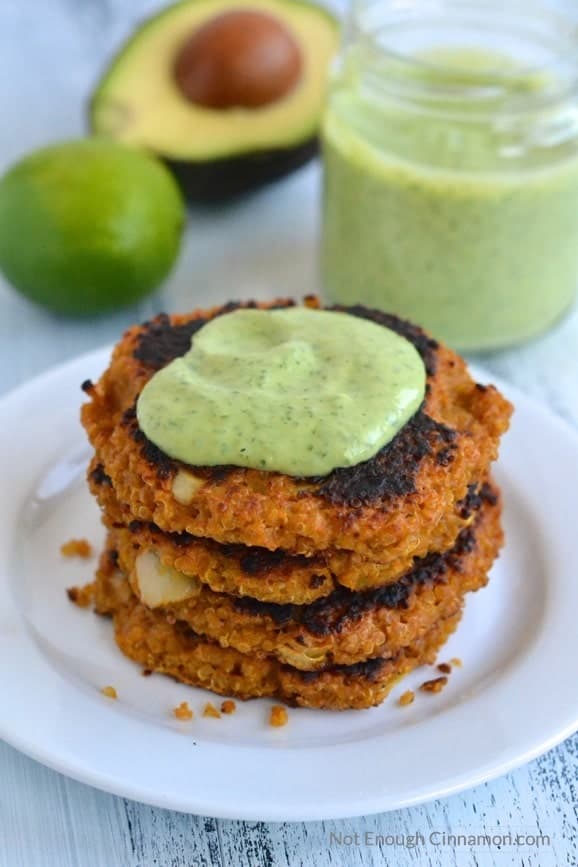 Loooong title but so much love going on here guys! I don't even know where to start. These patties! Crispy on the outside and soft on the inside, they're made with mashed sweet potatoes, quinoa and some of my favorite spices: smoked paprika, ground coriander and cumin. It took me three tries to get the perfect ratio of binding ingredients but I think I've nailed it now, and I'm so happy to bring them to you!  They are so tasty on their own, but add this luscious cilantro avocado dressing and…you've lost me to food heaven.
I honestly can't tell you which part of the recipe I like best, the patties or the sauce. The sauce on its own is amazing too. Creamy, fresh, with hints of garlic… Hmmm so good! But when you put these patties and this sauce together…BOOM magic. No, seriously. And then, you can eat the leftover sauce by the spoonful (Maybe I did just that. Maybe haha). Or better yet, use it as a dressing for your favorite salad!
P.S. Solal aka my husband doesn't like quinoa. I tried many times, but it's just really not his thing. Except he LOVED these patties. And I made a happy dance.
What's your favorite way to eat quinoa?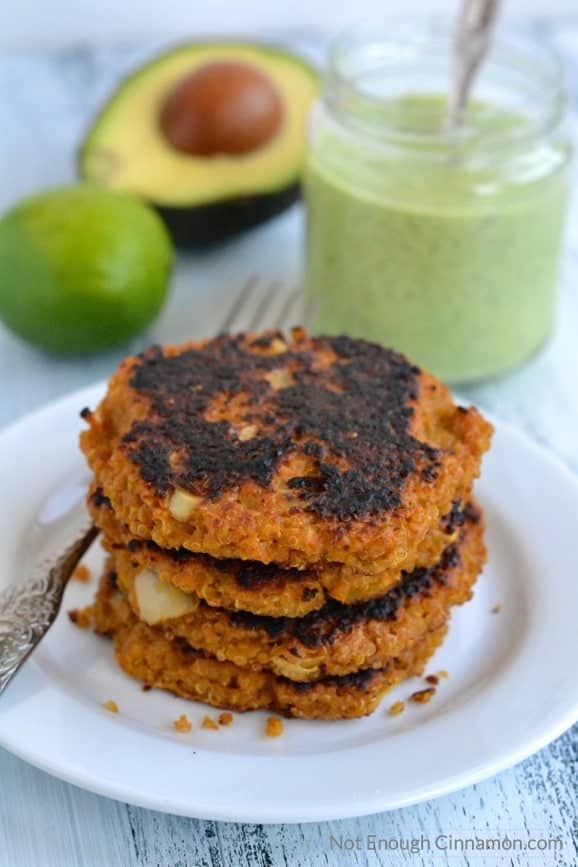 Sweet Potato Quinoa Patties with Creamy Cilantro Avocado Sauce
Total Time
1
hour
20
minutes
Servings
9
patties + 1 cup of sauce
Ingredients
1

medium sweet potato

peeled and cut into chunks

1

cup

uncooked quinoa

2

extra large eggs

1/2

cup

onion

chopped finely (about 1/2 medium onion)

1/2

tsp

ground cumin

1/2

tsp

ground coriander

1/2

tsp

smoked paprika

1/2

tsp

sea salt

1

tbsp

refined coconut oil

divided
For the sauce
1/2

avocado

cut into chunks

1

cup

packed fresh cilantro

about 1 bunch

1/2

garlic clove

germ removed, roughly chopped

1/2

cup

Greek yogurt

2

tbsp

lime juice

about 1 large lime

1/4

tsp

sea salt

2

tbsp

water
Instructions
Cook quinoa. Place quinoa in a fine-mesh strainer and rinse thoroughly with cool water for at least 2 minutes. Drain. Rinsing quinoa before cooking will remove its natural bitter or soapy taste. Transfer to a medium saucepan, cover with stock or water, cover with a lid and bring to a boil. Reduce heat and cook for 15 minutes on the lowest setting. Turn off the heat and let stand covered for 5 minutes. Set aside.

Prepare mashed sweet potatoes. Place potato chunks in a medium pot and cover with water. Bring to a boil and cook until they are very tender. Drain and mash sweet potato in your food processor (you can also mash them manually but make sure they're very smooth).

In a large bowl, add cooked quinoa, 1 cup mashed sweet potatoes (you may have more than 1 cup but don't add more or less than that), eggs, onion, cumin, coriander, paprika and salt. Mix until well combined.

In a large skillet, heat 1/2 tbsp coconut oil over medium heat. When hot, form patties with quinoa mixture (about 1/3 cup each), place them in the skillet and flatten them a little. Make sure you don't overcrowd the skillet. Cook for 7 minutes undisturbed. Flip patties very gently with a spatula and cook for another 7-8 minutes. You want to cook them gently, so they are brown on the outside and cooked all the way through inside. Place patties in warm oven. Repeat with remaining patties, adding 1/2 tbsp coconut oil.

Sauce. While the patties are cooking, prepare the sauce. Add all the ingredients to the bowl of your food processor or blender, and process until smooth (if using a blender, you might need to add a little bit more water).

Top patties with sauce, and serve warm.
Recipe Notes
MAKE AHEAD TIP: Save some time and cook the quinoa and prepare mashed sweet potatoes a few days ahead!
Nutrition facts for 1/4 cup of sauce: 
Cal: 62 - Protein: 3.7g - Fat: 3.8g - Carbs: 4.2g - Fiber: 1.8g - Sugar: 1.3g
Nutrition facts for 3 patties (without sauce): 
Cal: 341 - Protein: 9.8g - Fat: 8.1g - Carbs: 57.7g - Fiber: 5.7g - Sugar: 5.4g 
Nutrition Facts
Sweet Potato Quinoa Patties with Creamy Cilantro Avocado Sauce
Amount Per Serving (1 patty)
Calories 139
Calories from Fat 45
% Daily Value*
Total Fat 5g 8%
Cholesterol 36mg 12%
Sodium 223mg 9%
Potassium 260mg 7%
Total Carbohydrates 17g 6%
Protein 5g 10%
* Percent Daily Values are based on a 2000 calorie diet.