When my boyfriend Solal is in charge of the dinner, he often makes us what he calls "assorted plates", which is actually a assortment of bites of any kinds. Depending on what could be found in the fridge, you'll get stuffed vine leaves, crudités, cheese, deli meat or...tuna spread on toasted bred! Those dinners are simple but I love them.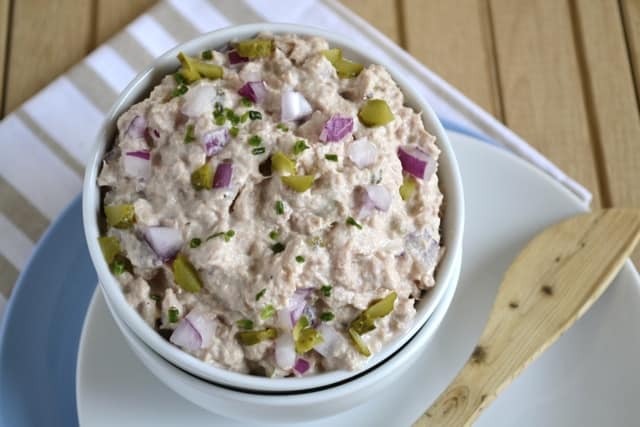 Tuna spread is a classic, but what a yummy one! To keep it light, but still tasty, I sub mayo with fat free greek yogurt, and use some dijon-style mustard. Then I add chopped red onion and pickles, and here you go for a delicious and creamy tuna spread! At the end, it's only 141 cal and 3 WW Pts+ for a large portion!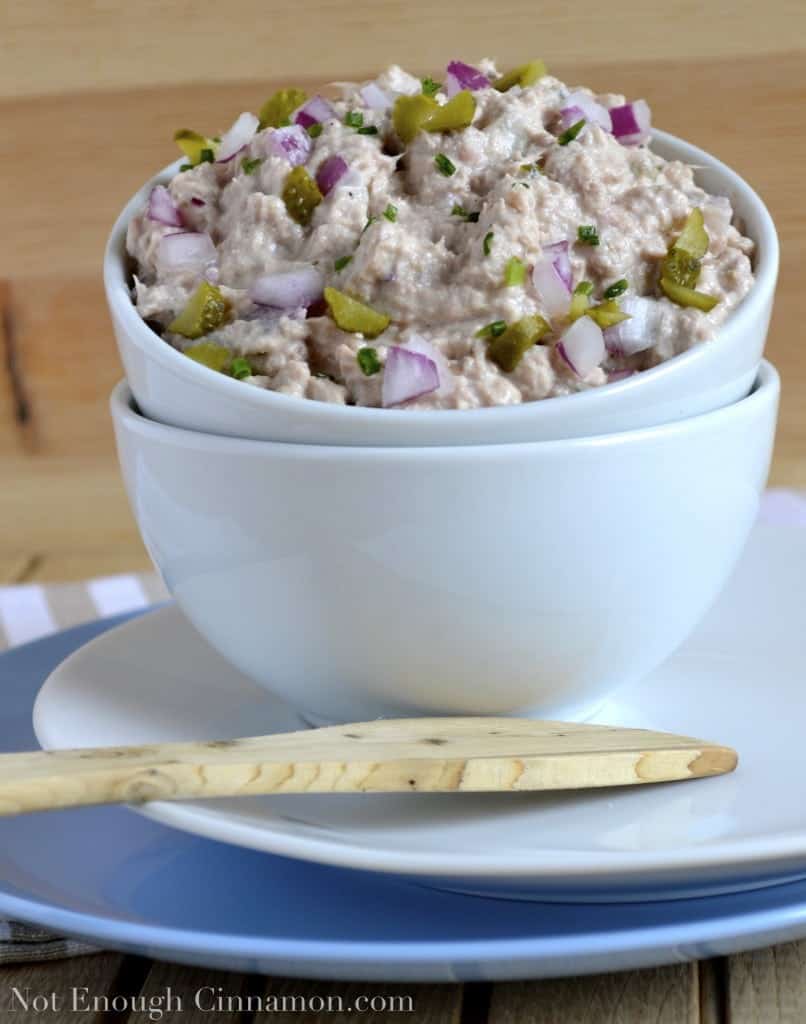 This is a perfect spread for a quick and refreshing sandwich. But you can also serve it on cucumber slices, to keep low in carbs; or with baked pita chips as a dip. This makes a perfect appetizer served on small toasted bread slices.
Skinny Tuna Spread
Servings: 2, for a large sandwich - Serving size: ½th
Cal: 141 - Protein: 22.47 g - Fat: 3.3 g - Carbs: 3.9 g - Fiber: 0.35 g
Old Points: 3 pts - Points+: 3 pts
Ingredients:
1 can (6 oz) tuna, in water, drained
⅓ cup fat free Greek style yogurt
1 ½ tsp Dijon-style mustard (or more to taste)
1 ½ tbsp pickles, finely chopped
1 ½ red onion, finely chopped
salt and pepper, to taste
cive, chopped, for garnish (optional)
Directions:
1. In a bowl, add tuna and shred with a fork.
2. Add Greek yogurt, mustard, pickles, onion and mix until well combined. Add salt and pepper if needed.
3. Keep refrigerated until ready to use.
Makes ¾ cup
Notes:
- You can easily double up the recipe if you need.
- Get crazy! Add red bell peppers, pickled onions, capers, cucumber or even ketchup! In fact, you can add pretty much what you like in this spread.