Skinny Moussaka aka Delicious Beef and Eggplant Casserole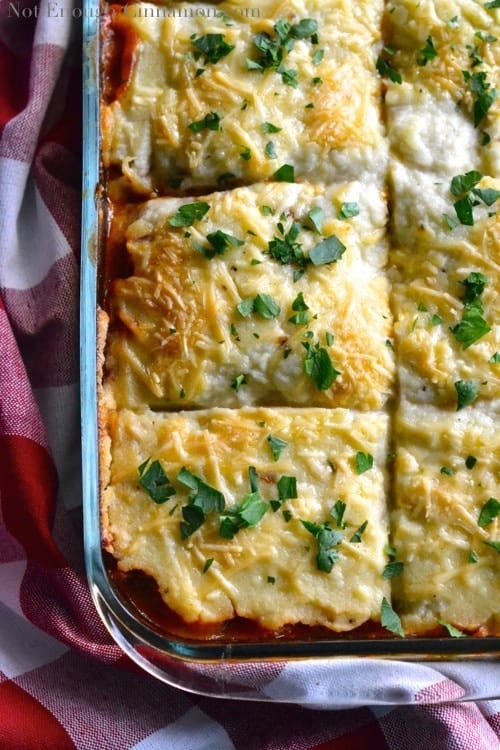 Making moussaka has been on my "to-make" list for ages and a few weeks ago, I finaly decided it was time to tackle it. So I made some research to find the best recipes and….I didn't expect what I found at all! I knew moussaka was a traditional Greek casserole made with eggplant and ground lamb or beef but what I didn't know was that this somehow healthy (or so I thought!) casserole was topped with a fatty béchamel aka white sauce. Not to mention that in the traditional recipe, the eggplant is fried. Well…thanks but no thanks! I still wanted to eat moussaka so I racked my brains to find a healthy alternative and, not to toot my own horn but I'm pretty excited about what I've come up with!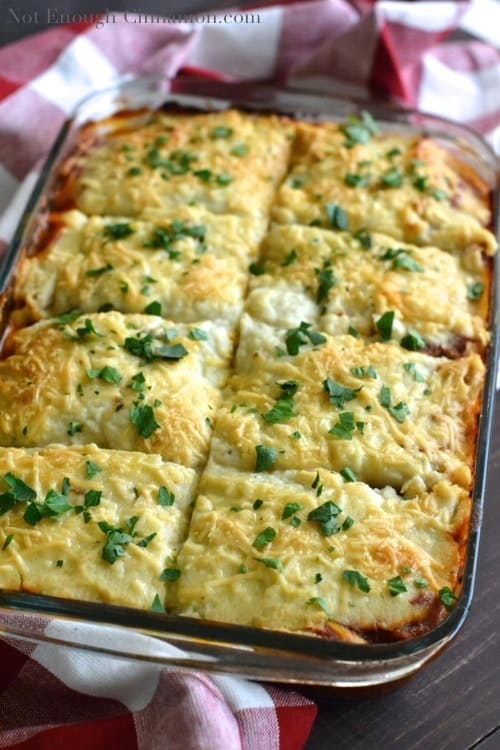 The fried eggplant issue wasn't really one. The easy solution: baking it instead of frying it. Subbing the bechamel sauce wasn't as straightforward though. I've been seeing food geniuses doing amazing things with cauliflower – like Sonia's grain-free focaccia or her dairy-free cheesecake (yep, you read that right) so I knew I had to lean towards this magical vegetable. I finally settled for a creamy cauliflower sauce adapted from Lindsay's recipe and it was perfect for my moussaka! If you think cauliflower should have nothing to do with moussaka, it totally agree with you but the great news is that you can barely taste it. It's really just a delicious and creamy sauce and all you can taste is the parmesan, with a hint of garlic. Less calories, fat and carbs;  more veggies and more taste => a winner!
PS: I just emailed Solal to ask him if he noticed the cauliflower in the moussaka he had been eating all week and he said… "what cauliflower?" You can definitely trick your picky eaters with this one!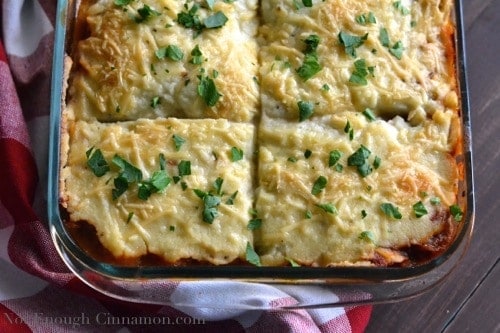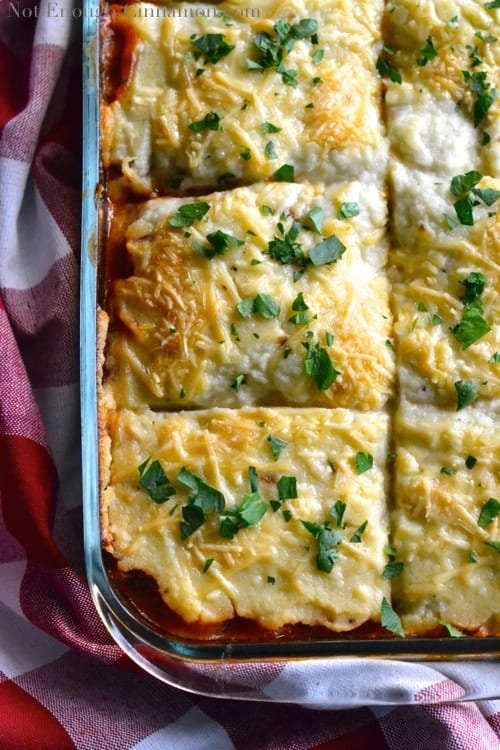 Skinny Moussaka aka Delicious Beef and Eggplant Casserole
Total Time
2
hours
20
minutes
Ingredients
1

lb

/ 500 g extra lean ground beef

5% fat

1

onion

peeled and chopped

1

garlic clove

peeled and minced

1/4

tsp

freshly ground pepper

1/2

tsp

sea salt

1

tsp

cinnamon

1/2

tsp

all spice

2 14-

oz

400 g can crushed tomatoes

1/4

cup

tomato paste

2

medium eggplants
For the cauliflower sauce
3

large garlic cloves

peeled and minced

1

tbsp

butter

3

cups

cauliflower florets

about one small cauliflower or half a medium one

3

cups

vegetable stock

1

cup

parmesan

shredded (divided)

1/2

tsp

freshly ground pepper
Instructions
Place beef in a medium saucepan over medium heat, break it into small chunks and cook until brown, about 4 minutes. Drain liquid and transfer to a bowl.

Add onion and garlic in the same saucepan and season with salt, pepper, cinnamon and all spice. Mix and cook for about 3 minutes. Add ground beef back to the pan. Add crushed tomatoes and tomato paste. Bring to a boil on high heat then reduce to low and simmer uncovered for one hour.

Preheat oven to 400F/200C.

While beef is cooking, prepare eggplants. Remove eggplants' ends and slice them thinly. Spray a baking sheet with olive oil and place 12 eggplant slices on it. You may need to use two baking sheets or bake them in two batches depending on the size of your oven. Bake for 10 minutes, remove from the oven and let cool.

Prepare cauliflower sauce. Add butter in a non-stick skillet over medium low heat and cook garlic until fragrant but not browned (or it will be bitter). Turn off the heat and set aside. Bring the stock to a boil in a medium pot, add cauliflower and cook until very tender, about 6 minutes. Do not drain. Using a slotted spoon, transfer cauliflower in your blender or food processor. Add 1/2 cup cooking liquid, cooked garlic with butter, 1/2 cup parmesan and pepper. Pulse until very smooth. Taste and adjust seasonings if needed. Set aside.

Assemble moussaka. Place half of the eggplant on the bottom of a large baking dish, cover with half of the beef mixture. Place another layer of eggplant then the remaining beef mixture. Using a rubber spatula, spread the cauliflower sauce evenly and top with 1/2 cup parmesan. Bake for 30 minutes or until bubbly and golden brown. Remove from the oven and let it sit for 10 minutes before cutting and serving.
Nutrition Facts
Skinny Moussaka aka Delicious Beef and Eggplant Casserole
Amount Per Serving (1 /8th)
Calories 229
Calories from Fat 72
% Daily Value*
Total Fat 8g 12%
Cholesterol 47mg 16%
Sodium 958mg 40%
Potassium 980mg 28%
Total Carbohydrates 21g 7%
Protein 20g 40%
* Percent Daily Values are based on a 2000 calorie diet.