Got leftover rice? Make this Sausage and Rice Stuffed Portobello Mushrooms recipe! These savoury, baked filled mushrooms make for a great appetizer but can also be served as a main course alongside a green salad.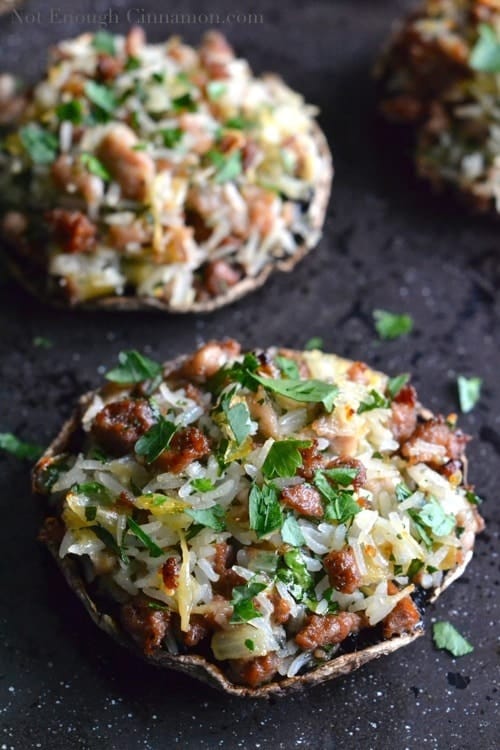 Before we dive straight into this delish Stuffed Portobello Mushrooms recipe, can we talk just a little bit about NEC? You might have noticed that last Sunday we launched a brand new design for the website. Can I get a big hooray?!
We've been working hard on this one Solal and I. It might not seem like much but we've designed and rebuilt everything from scratch so yeah...it was a lot of work and I'm so happy to finally see it live! Can't remember what it looked like before? Here you go: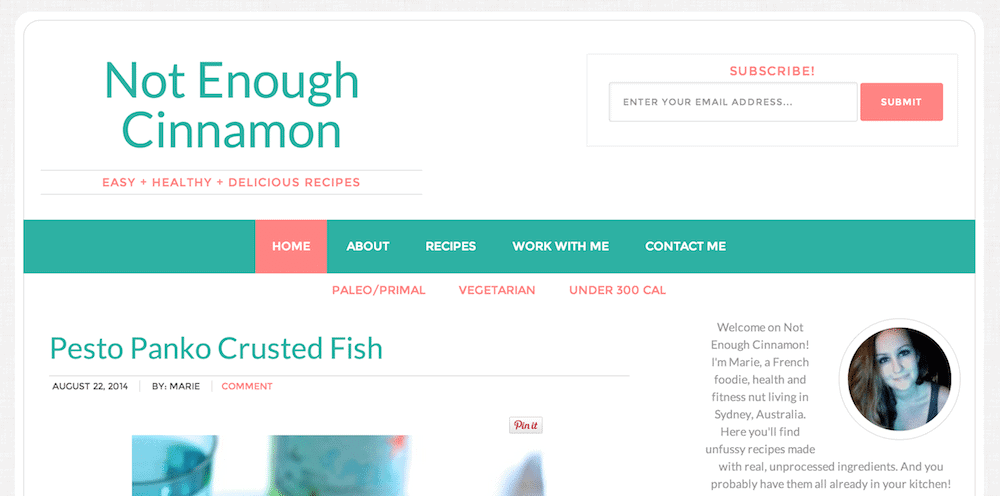 Much better now, huh? I wanted something clean and very user-friendly so that you could easily browse NEC and find what you're looking for in a snap. I'm not going to list all the new features because you probably don't really care and really just came here for my Stuffed Portobello Mushrooms recipe. And we'll get there!
My most favorite part of all is the brand new visual recipe index. Have you checked it yet? From this page, you can search for a recipe using keywords like ingredients or title in case you already know what you're looking for; you can also browse by categories and even by ingredients!
My goal was really to make things easier for you guys, and I hope it will. You can check the visual recipe index here. Another cool feature is the sharing bar that allows you to pin for instance this Stuffed Portobello Mushroom recipe on Pinterest in about 3 seconds. Perfect for the Pinterest junkie in you.
We've also added at the bottom of each article a "next recipe" and "previous recipe" button so you can easily read another post without having to go back to the homepage.
Oh and of course, the site is fully responsive, which means that you can read it comfortably from any device: computer, smartphone, tablet...you name it!
We are still fixing a few bugs here and there so don't hesitate to reach out if you spot one! I see Not Enough Cinnamon as a constant work in progress. We'll keep tweaking the interface and adding new features with one goal in mind: making NEC a useful and pleasant experience for you.
If you have feedback, something you like or don't like about the website, feel free to share your thoughts in the comments below or email me ([email protected]). I'd be happy to hear from you!
Now...to this Sausage and Rice Stuffed Portobello Mushrooms recipe!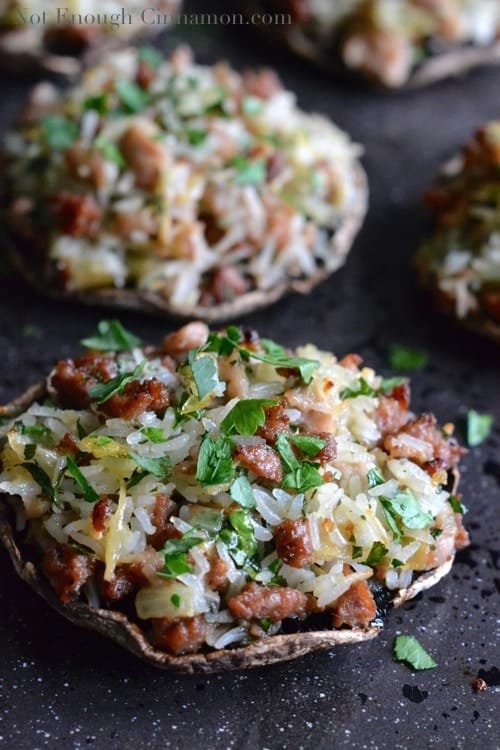 I've been on a sausage kick lately and I want to put them everywhere. They are glorious with pasta and didn't disappoint in this stuffed portobello mushrooms recipe either.
Ever since I've made my stuffed portobello mushrooms with ricotta, pesto and grilled haloumi recipe about 6 months ago, I knew I would have to try other stuffed baked mushroom recipes 'cause they are simply delicious and it's a nice change to the stuffed tomatoes or stuffed eggplant I'm more used to.
The stuffing for these portobello mushrooms is so good you'll want to eat all of it before you get a chance to fill one single mushroom. It's such a great recipe for using up leftover rice because let's face it, we all end up with plain rice and pasta in our fridges all.the.time. Or am I the only one?
Also, should you have some leftover portobello mushroom filling, you can serve it as fried rice the next day with a few veggies mixed in and a green salad on the side. Enjoy!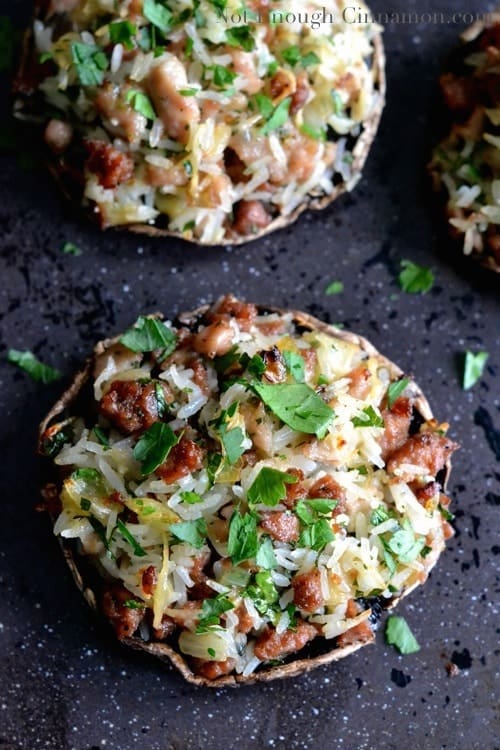 If you tried this Stuffed Portobello Mushrooms recipe, don't forget to rate the recipe below and let me know how it went in the comments – I love hearing from you! You can also follow me on Instagram, Pinterest and Facebook for more deliciousness and behind-the-scenes!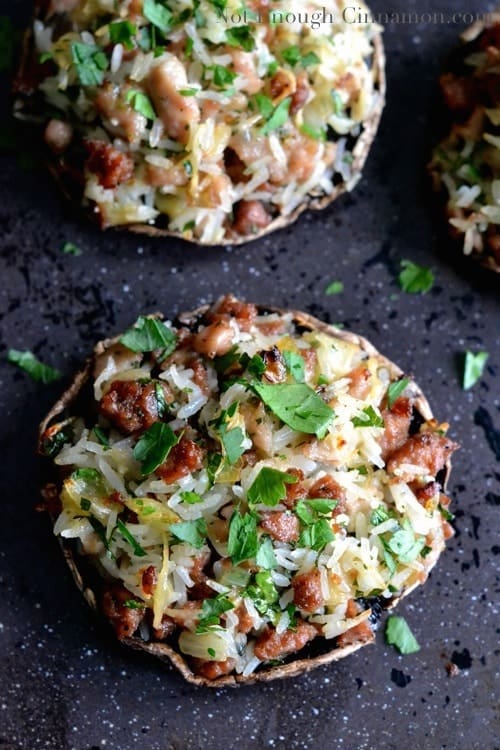 Sausage and Rice Stuffed Portobello Mushrooms
Got leftover rice? Make these Sausage and Rice Stuffed Portobello Mushrooms! They make for a great appetizer but can also be served as a main course alongside a green salad.
Servings
6
stuffed mushrooms
Ingredients
1

tsp

olive oil

1

onion

peeled and chopped

2

garlic cloves

peeled and minced

1

lb

seasoned sausage

450 g, casing removed and crumbled into small chunks (I used a mix of mushroom chicken sausages + garlic and herbs beef sausages)

2

cups

cooked rice

¼

cup

parmesan cheese

shredded

¼

cup

fresh flat-leaf parsley

thinly chopped

6

large portobello mushroom caps

olive oil spray
Instructions
If you don't have any cooked rice leftovers, start by cooking about 1 cup of rice, following the package directions. Drain and set aside.

Preheat oven to 350F/180C.

Add olive oil, chopped onions and garlic to a large non-stick skillet and cook for about 1 minute over medium heat. Add sausage and cook for 10 minutes, breaking it into small chunks again if needed. Turn off the heat and drain fat if any.

In the same skillet, add cooked rice, parmesan, parsley and stir. Taste and adjust salt and pepper if needed.

Arrange mushroom caps upside down in a baking dish. Stuff them with about ½ cup sausage and rice mixture each. Spray with a little olive oil and bake for 20 minutes.

Serve warm on a bed of salad.
Nutrition Facts
Sausage and Rice Stuffed Portobello Mushrooms
Amount Per Serving (1 stuffed mushroom)
Calories 270
Calories from Fat 108
% Daily Value*
Fat 12g18%
Cholesterol 56mg19%
Sodium 850mg37%
Potassium 364mg10%
Carbohydrates 23g8%
Protein 16g32%
Vitamin A 510IU10%
Vitamin C 6mg7%
Calcium 67mg7%
Iron 1.2mg7%
* Percent Daily Values are based on a 2000 calorie diet.