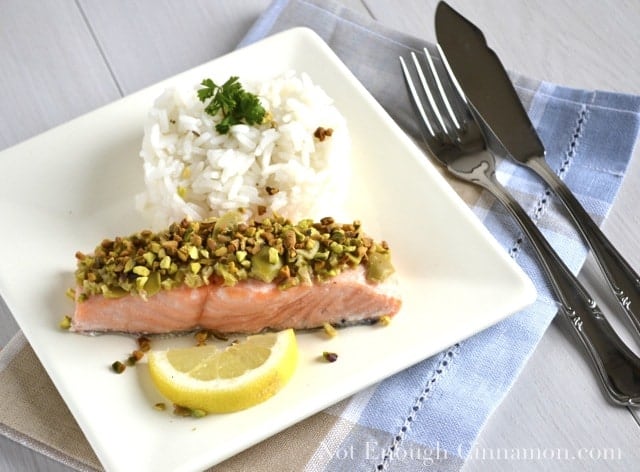 This is a fancy but easy kind of recipe. What I really like about it is that you can either make it to impress your friends at a dinner party or on a casual busy night, just to enjoy a good meal with your family.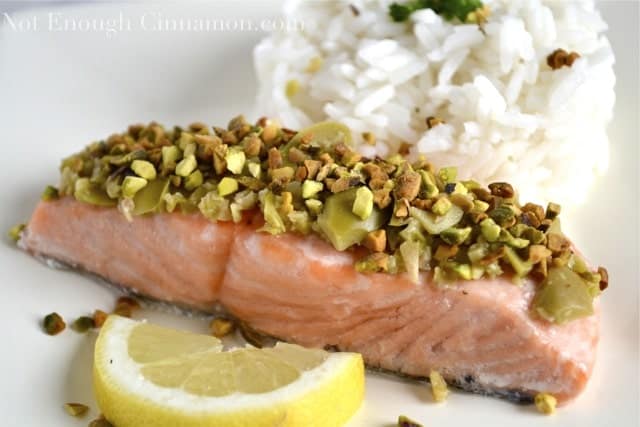 Basically you will only need 5 ingredients - salmon, pistachios, green olives, lemon and garlic powder - and it takes less than 30 minutes to be ready (preparation and cooking time included). And you know that salmon is really good for you, right? It's high in protein, Omega-3 fatty acids, and in Vitamin D. Plus this recipe is low-carb and only 222 Kcal/serving!
The uncooked green olives give the salmon a very refreshing kick, so it's definitively a perfect recipe for summer time.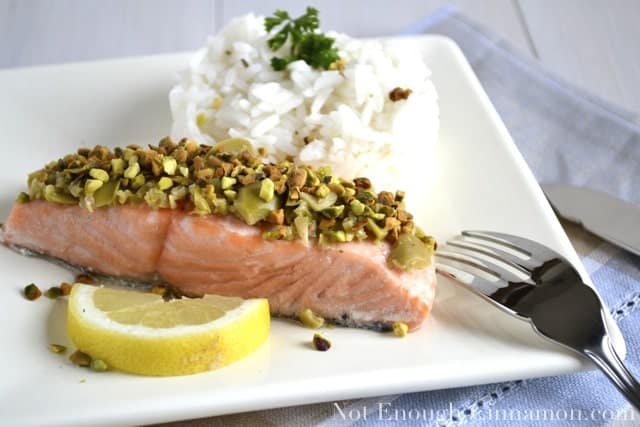 You can totally adapt the recipe to your taste. It's not important how you cook your salmon. Poached, grilled, baked, broiled it...Just choose your favorite way. I personally baked mine, so that's what you'll see in the recipe below. If you don't like pistachio, or can't find it where you live, I'm pretty sure you can replace it why any kind of chopped nuts. I've not tried yet it but I bet it would be delicious with pine nuts. Just toast them before (or buy them already toasted) to enhance their flavors.
You can serve it with stir-fry vegetables, tagliatelle or rice. It's also delicious with grilled asparagus (and makes it even more elegant!).
Enjoy and have a wonderful week-end!
Salmon with Green Olives and Pistachios
Servings: 4 - Serving size: 1 fillet + topping
Kcal: 222 - Protein: 25,39 g - Fat: 11,6 g - Carbs: 3,9 g - Fiber: 1,5 g - Sugar: 0,96 g
Old Points: 5 pts - Points+: 6 pts
Ingredients:
4 salmon fillets (4 oz each)
24 small green pitted olives (about ½ cup)
½ lemon, juiced
¼ tsp garlic powder
⅓ cup unsalted pistachios, toasted and finely chopped
Directions:
1. Preheat oven to 350F
2. Place salmon fillets in a baking dish and bake uncovered 10 minutes per inch of thickness (this tip works with all kind of fish).
3. While salmon is baking, chop green olives in a food processor.
4. In a small bowl, combine chopped olives, lemon juice, and garlic powder.
5. When salmon is ready, spread olive mixture on each fillets.
5. Topp with pistachios, and serve immediately.
Notes:
- If you'd rather use another cooking method for salmon, just change steps 1 and 2, the rest is all the same.
- I didn't add any salt because I think green olives are already salted enough. Feel free to add some salt on cooked salmon if you wish.
- I bought my pistachios already toasted and chopped. But if you can't find some, just toast some unshelled pistachios (check out this article to know how), and chop them using a food processor. Don't chop them with the olives, you want your pistachios to keep their crunchy texture.