Make this simple Prosciutto Tomato Bruschetta as a classic Italian starter.  Fresh, tasty and full of flavour, this bruschetta is also ideal for a light lunch or casual dinner to share with friends.
Today, I want to share an amazing recipe for Prosciutto Tomato Bruschetta with you!
Bruschetta seems to be the latest appetizer obsession in this home. We had some for Christmas Eve's dinner, for Solal's birthday last weekend and about once a week for casual dinners.
We love a good, authentic Italian tomato bruschetta - a lot. Maybe because it reminds us of Rome. When we were still living in Europe, we used to travel to Italy at least once a year, and most of the time to Rome.
You see, when I was about 13, my school took us to a trip to Rome. It was love at first sight. I literally fell in love with this city. Growing up, my obsessions were mostly Italy-related.
My plan was to learn Italian and be fluent before high-school ends so I could leave and spend the rest of my life in Rome with a handsome green-eyed, dark-haired Italian husband.
Well, I did learn to speak Italian and I did end up with an handsome dark-haired (french) boyfriend, but I realized studying and working in Italy wasn't an ideal choice.
Instead, I visit the country as often as I can, and luckily Solal enjoys Italy as much as I do, so this is kind of our second home.
So, what was I saying? Yeah, bruschetta. Every time I bite into a piece of crunchy bruschetta I'm amazed how tasty such simple ingredients can taste when combined.
Strictly speaking, an authentic Italian bruschetta consists of a slice of grilled bread, rubbed with garlic and topped with olive oil, salt and pepper. Pretty simple, right? Yet, it's incredibly good.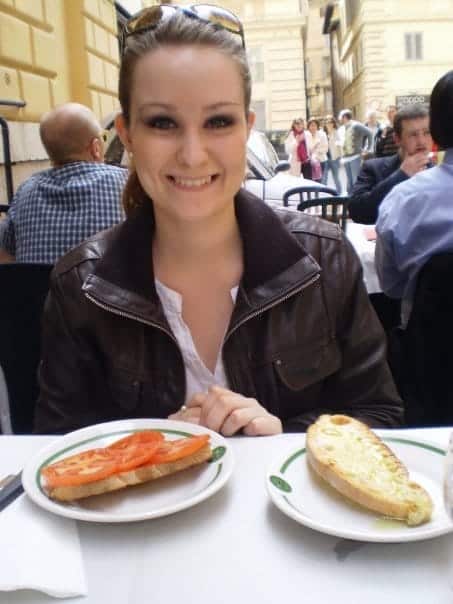 See how happy I look? This is the bruschetta+Rome effect.
This pic was taken back in April 2009. Already in love with bruschetta. The one on the left is a bruschetta al pomodoro (a tomato bruschetta) and the other one is a simple bruschetta aglio e olio (garlic and oil).
And just for free, it's me again, happy with my gelato.
Feel free to make fun of me. In case you're wondering, the flavors are cinnamon, yogurt and banana (who's surprised?). If you ever visit Rome, go to Giolitti, they simply have the best, handcrafted gelato in town.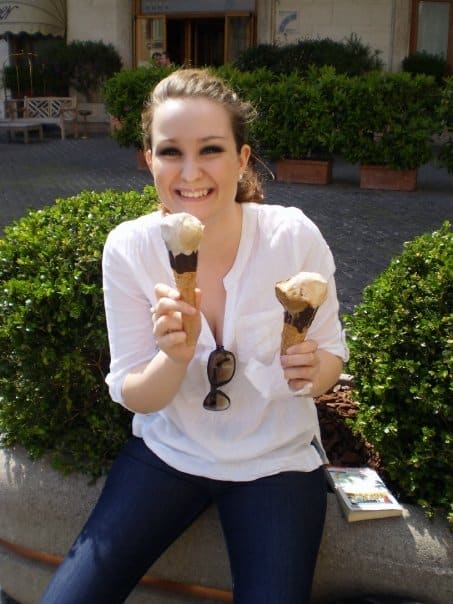 The recipe I'm sharing in this post - a simple Prosciutto Tomato Bruschetta - is basically a bruschetta on steroids. Meaning that I obviously kept the toasted bread + garlic + olive oil base but I also added chopped tomatoes and prosciutto.
Solal would argue that this Prosciutto Tomato Bruschetta looks like a Spanish tapas he used to eat in Burgos but I will not even respond to this. Bruschetta is Italian. Period. Even if they copied this tomato and prosciutto-topped one in Spain.
This Prosciutto Tomato Bruschetta is the best and easiest appetizer to share with family and friends! It also makes a really nice casual lunch or dinner, especially now in summer.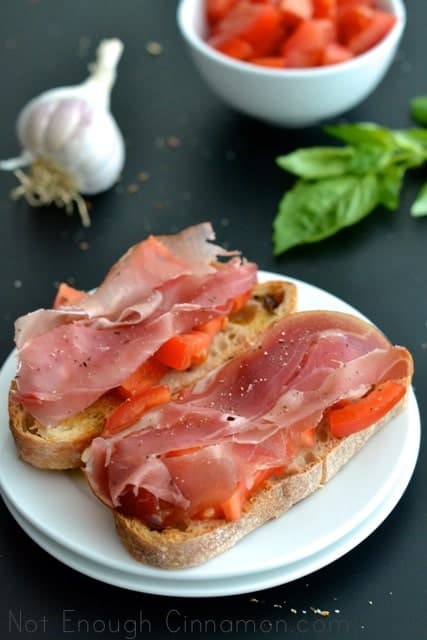 If you tried this Prosciutto Tomato Bruschetta, don't forget to rate the recipe below and let me know how it went in the comments – I love hearing from you! You can also follow me on Instagram, Pinterest and Facebook for more deliciousness and behind-the-scenes!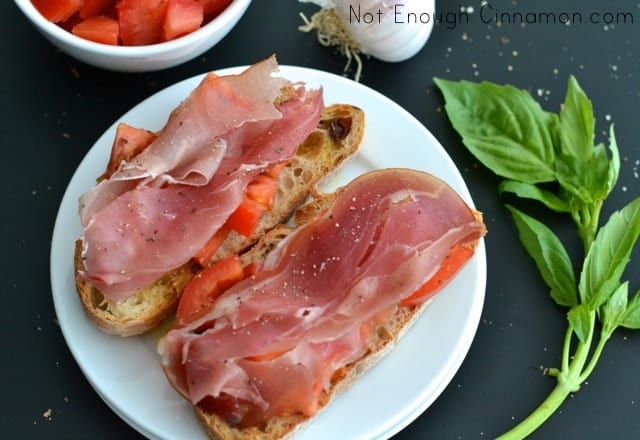 Tomato & Prosciutto Bruschetta
Make this simple Tomato Prosciutto Bruschetta as a classic Italian starter. Fresh, tasty and full of flavour, this bruschetta is also ideal for a light lunch or casual dinner to share with friends.

Ingredients
2

medium slices

crusty white bread

French or Italian, I used a sourdough bread with kalamata olives

1

clove

garlic

peeled

2

ripe Roma tomatoes

chopped

3

tsp

extra virgin olive oil

coarse salt

to taste

freshly cracked pepper

to taste

2

slices

prosciutto

all visible fat removed
Instructions
Toast bread slices. Don't hesitate to make them crispy as they will soften with the tomatoes and olive oil.

Arrange slices on two plates or a serving platter. Rub them generously with the peeled garlic clove (about ½ clove per slice).

Top bread with tomatoes, then drizzle with olive oil. Season with salt and pepper.

Top your bruschetta with prosciutto and serve immediately.
Recipe Notes
Because these bruschette are made with simple ingredients, it's crucial that you choose good quality ingredients. This will make the difference between an 'ok' bruschetta and an amazing one.
If you prefer, you can also add the olive oil before topping the bread with tomatoes.
Nutrition Facts
Tomato & Prosciutto Bruschetta
Amount Per Serving (1 bruschetta)
Calories 433
Calories from Fat 108
% Daily Value*
Fat 12g18%
Cholesterol 5mg2%
Sodium 637mg28%
Potassium 291mg8%
Carbohydrates 66g22%
Protein 14g28%
Vitamin A 515IU10%
Vitamin C 9mg11%
Calcium 56mg6%
Iron 4.3mg24%
* Percent Daily Values are based on a 2000 calorie diet.