Prosciutto Sandwich with Fig, Pesto and Arugula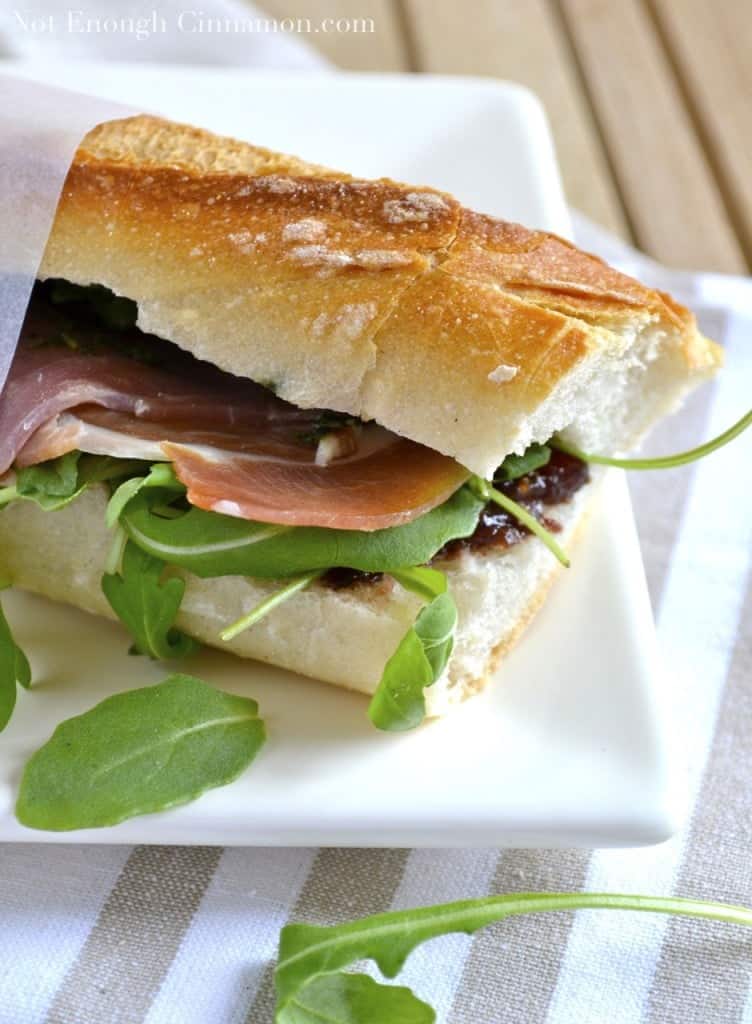 Remember that amazing gourmet sandwich I told you about? Well, this is it. This is the THE sandwich itself. So what exactly are we talking about? Imagine a perfect combination of flavors… Sweet, salty and a bit tangy. And a perfect texture… Soft and crispy at the same time. I'm telling you, this is the best gourmet sandwich I have ever tasted. The kind of sandwich I wouldn't be ashamed to serve at a dinner party. The kind of sandwich I could eat at every single picnic I go to. Honestly, I don't mean to be rude, but you HAVE to try it. And soon, I'll be in love too.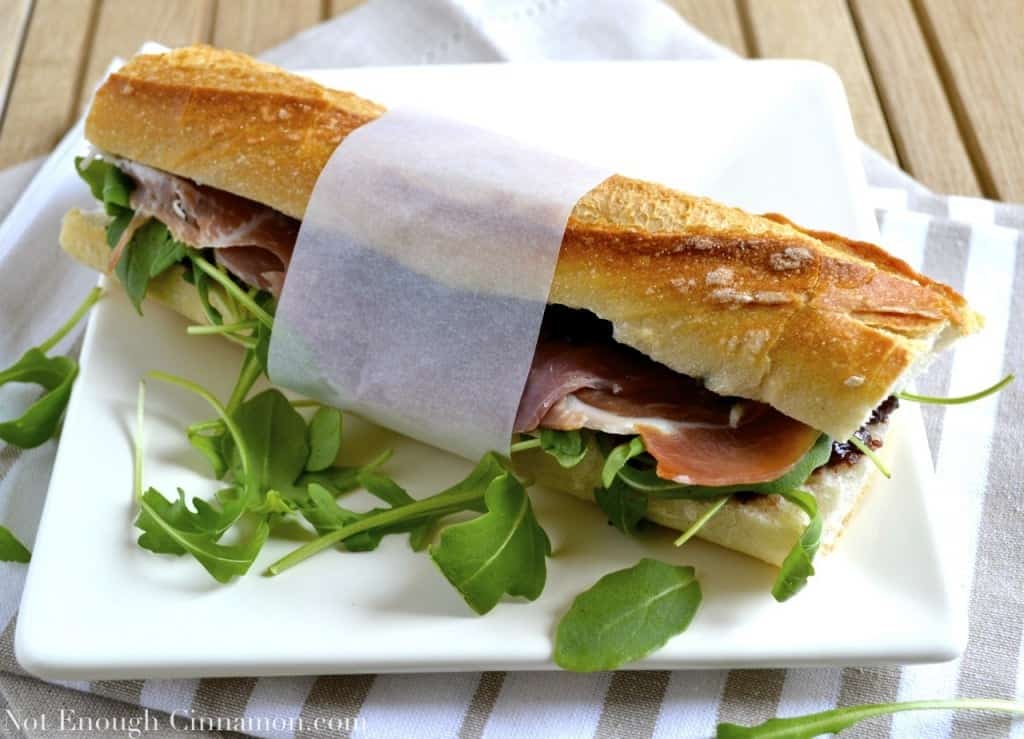 This sandwich is made with fresh french baguette, homemade pesto, homemade fig chutney, prosciutto and arugula. If you can, try to buy the best bread available where you live. It represents half the sandwich so if your bread isn't good I'm afraid you'll be disappointed.
As for the rest of the ingredients, you just have to follow my recipes : homemade fig chutney here, and homemade pesto there. Note that I left out the pine nuts in the pesto this time, just to cut down some unnecessary fat.
And you know what's really cute? Bite sized sandwiches for your buffet. 100% happy guests guaranteed!
Don't eat meat or pork? Try this classic but yet delicious Smoked Salmon Club Sandwich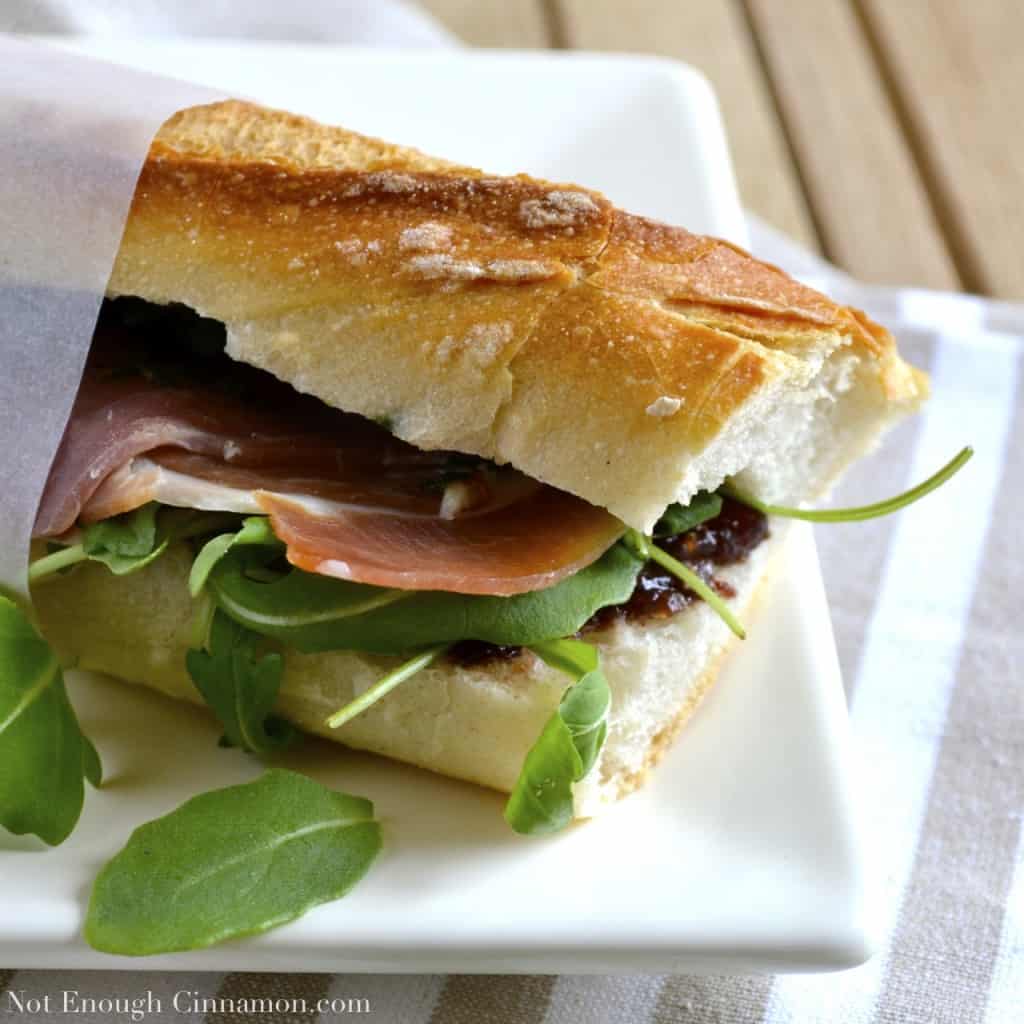 Prosciutto Sandwich with Fig, Pesto and Arugula
Instructions
Cut bread lengthwise.

Spread bottom side with fig chutney. Spread top side with pesto. Make sure sides don't touch.

Add arugula, then prosciutto and enjoy!
Nutrition Facts
Prosciutto Sandwich with Fig, Pesto and Arugula
Amount Per Serving (1 sandwich)
Calories 328
Calories from Fat 99
% Daily Value*
Total Fat 11g 17%
Cholesterol 11mg 4%
Sodium 616mg 26%
Potassium 77mg 2%
Total Carbohydrates 46g 15%
Protein 8g 16%
* Percent Daily Values are based on a 2000 calorie diet.