Not only does this pomegranate hummus look gorgeous, but it is also the best easy hummus recipe ever! A combination of canned chickpeas, garlic, tahini, olive oil, and lemon juice lends it the perfect, smooth texture.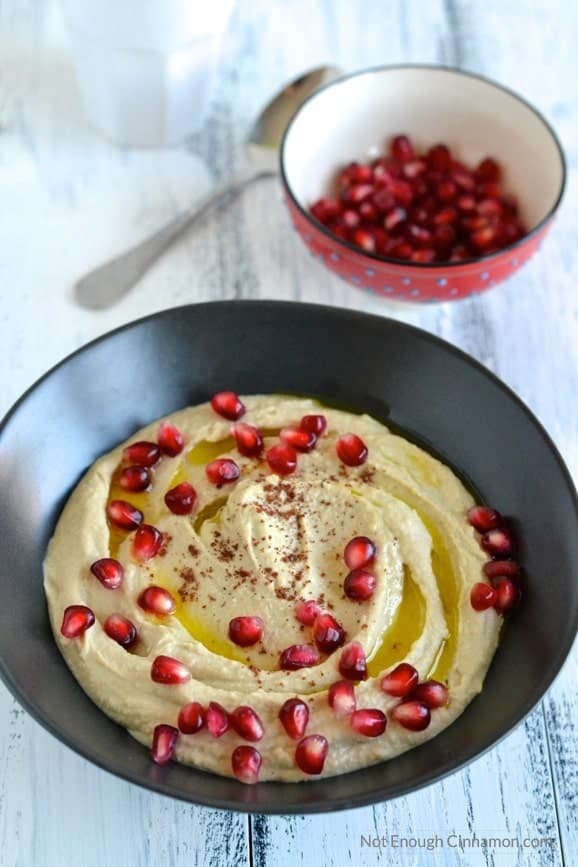 Hummus makes a perfectly easy, convenient and healthy snack. Except when your name is Marie and in that case, hummus also makes a somewhat perfect, convenient and healthy dinner.
If you knew me in real life, you'd quickly notice that I always give myself up for little things I should rather hide.
A good example is me carefully burying the proofs of my third sushi lunch in three days but then making obvious allusions to my husband when he gets home. Being caught just makes me laugh.
And apparently, I'm doing this exact same thing right now on my blog.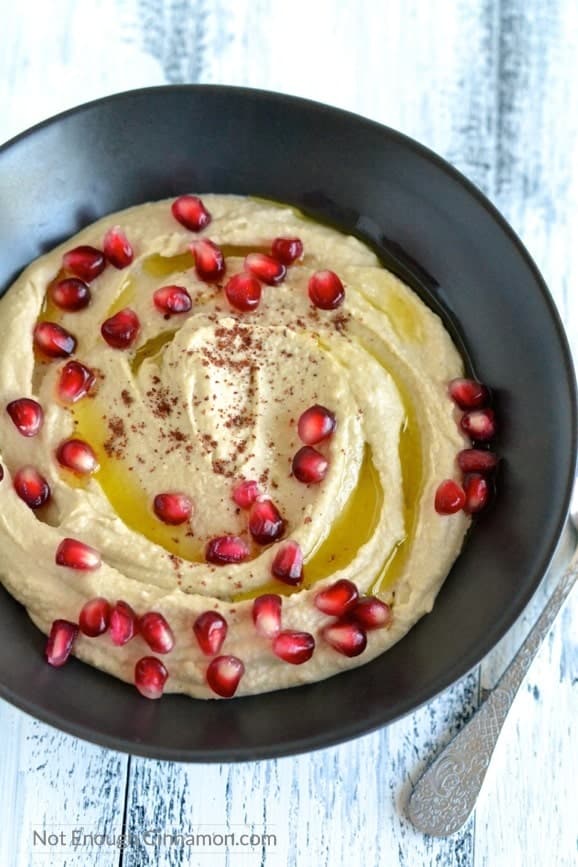 Looking for the best easy hummus recipe? Look no further than this Pomegranate Hummus!
Should I tell you that I ate the whole batch of this awesome easy hummus + veggies for dinner the other night? Probably not, but I just did. It's simply the best hummus recipe I know.
Also, Solal was having a night out with his friends which means...treat night + Netflix binge watch for yours truly! When I say treat, I don't necessarily mean cheat treat. I just eat whatever I want to eat.
This night, I was pondering the idea of yet another sushi dinner (yes, I'm obsessed) but to be honest I was just too worn out to even get out of the house and they don't deliver.
Two hours of indecision and starvation later, I simply settled on this easy hummus recipe, sprinkled it with sumac and pomegranate seeds and called it a dinner.
And let me tell you, loads of hummus with veggies + lots of Nashville episodes = a happy and relaxed Marie!
Now tell me, what's your favorite shameful dinner? Confess!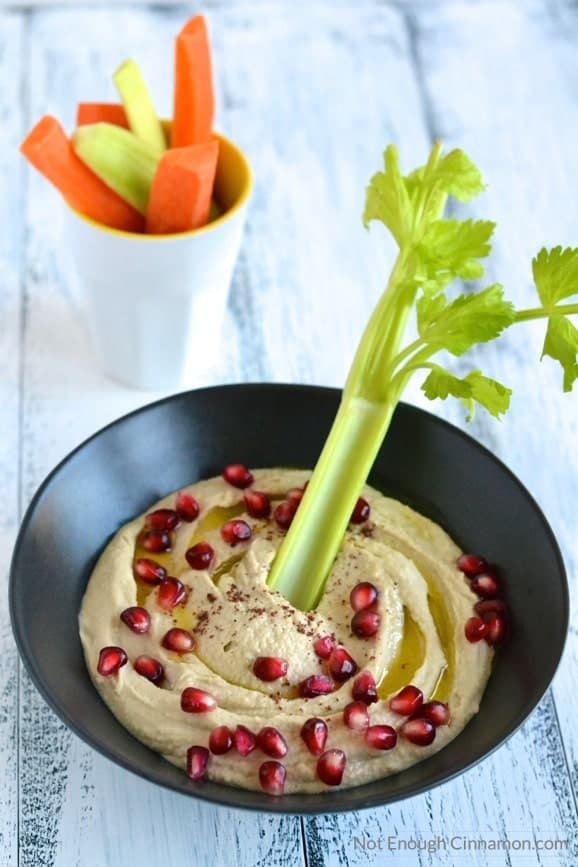 If you tried this easy hummus recipe with pomegranate arils, don't forget to rate the recipe below and let me know how it went in the comments – I love hearing from you! You can also follow me on Instagram, Pinterest, and Facebook for more deliciousness and behind-the-scenes!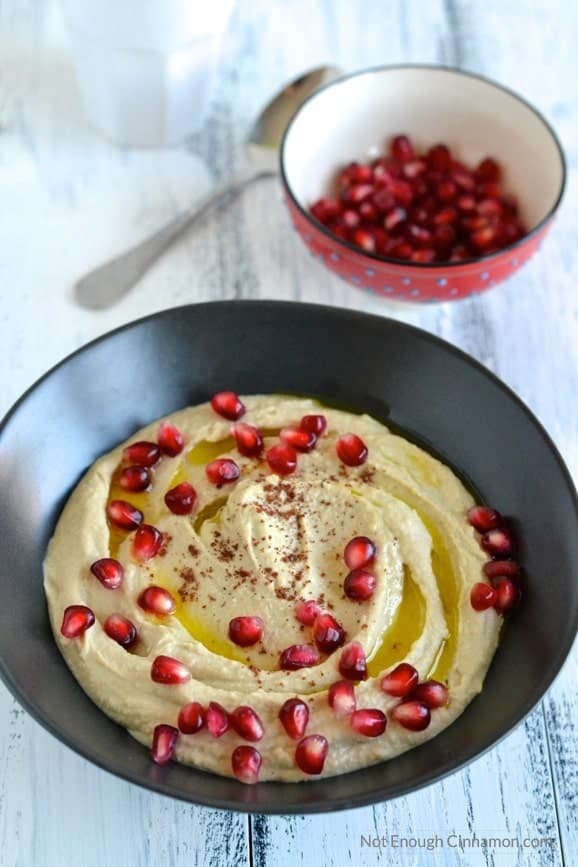 Pomegranate Hummus
Not only does this pomegranate hummus look gorgeous, but it is also the best easy hummus recipe ever! It's made with canned chickpeas, garlic, tahini, olive oil and lemon juice which lends this Israeli chickpea dip the perfect smooth texture and nutty, yet tangy taste!
Servings
24
tablespoons (1.5 cups)
Ingredients
Instructions
Pop the seeds of half the pomegranate into a bowl. Save the juice and discard any pith.

Add tahini and lemon juice in the bowl of your food processor. Pulse for about 1 minute, scraping the edges with a spatula as needed.

Add garlic, olive oil and salt, and pulse again until smooth.

Add chickpeas and saved pomegranate juice. Pulse until you reach the desired consistency, adding a little bit of water as needed (I added 1 tablespoon).

Transfer in a serving bowl, swirl the top and drizzle a little bit of olive oil. Sprinkle with sumac if using and scatter pomegranate arils. Serve with pita chips (or your favorite chips) and veggie sticks like carrot, cucumber, celery, and bell pepper.

If not serving straight away, transfer to an airtight container (or cover with plastic wrap) without the toppings, and add them at the last minute.
Nutrition Facts
Pomegranate Hummus
Amount Per Serving (1 tablespoon)
Calories 51
Calories from Fat 18
% Daily Value*
Fat 2g3%
Sodium 74mg3%
Potassium 67mg2%
Carbohydrates 5g2%
Protein 1g2%
Vitamin A 5IU0%
Vitamin C 2.3mg3%
Calcium 11mg1%
Iron 0.4mg2%
* Percent Daily Values are based on a 2000 calorie diet.