Not This Time, America
Do you remember we were supposed to move to the US around August this year? That's why we left Canada and moved back to Sydney for a year (catch up here if you don't know the story!). Well... turns out we're not going anymore. WAIT. Change of plans, AGAIN? Gah, I know, it's annoying. Even our family and friends are confused. It's hard to keep up!
It's not that we didn't want to go anymore, but we had visa issues. Long story short, we can't qualify for the visa we were aiming for anymore. We had an alternative very long, very expensive and very uncertain path before us but after countless mentally draining conversations about our life, our jobs and our future we decided to let it go. So we won't be coming to America. For now. It's been a huge disappointment, not to mention all the arrangements we had to make (like moving overseas again!) to make it happen but it's ok.
We've accepted it and now we're moving on. If there's one thing I've learned from my life these past 5 years it's that plans change and you never know what the future holds for you. And I find it pretty exciting. Think about all the wonderful things that could happen! So maybe one day we'll come to the US, maybe not; but whatever happens, we'll make the most of it!
What's next?
On April 1st, we left Sydney for the second time with about 8 suitcases and headed back to France! Did you know Solal + I are French? Now you do 😀 We are not moving back there permanently though. I've pushed the moment when I'd published this update because the outline of the coming year is still pretty blurry. We are still in a very intense "decision making" phase to choose exactly what we want to do with ourselves because we have two equality exciting opportunities in front of us. The only thing we know for sure is that we won't be going back to France permanently. Something's brewing up on Solal's side but I can't say much right now. The only thing we know for certain is what's going to happen in the next 4 months.
Planning my Wedding
First thing first! On July 29, Solal and I are getting married! If you've seen me calling him "hubby" and you're confused... don't be. You're not crazy. Solal and I actually got married at the French consulate in Sydney two years ago, so technically and legally we are already married. But we never did an actual ceremony and an actual party with all our friends and family. French civil weddings basically last 10 minutes and the mayor (or in our case, the consul) reads a portion of the civil Code. Not very romantic ????. Plus, out of all of our family, only Solal's parents were able to make it to Sydney.
So now, we're doing what I like to call "the real thing". The wedding will be in a super cute castle close to where my dad lives in Normandy. We'll have a proper ceremony, an outdoor cocktail/buffet, a diner and then we'll party all night long ????
We seriously can't wait, but man, planning a wedding is a LOT of work. And planning a wedding while living 11 000 miles away from the venue doesn't simplify things either.
So in April, right after we arrived from Sydney, we left for Normandy and stayed there for 2 weeks to do everything wedding planning. We had a gazillion people to meet and things to decide on (crazy how a wedding is all about details!) but I'm happy to share that we've crossed off most of the things on our to-do list and are about 80% ready. And I've found my dress hihi so the rest doesn't really matter, right?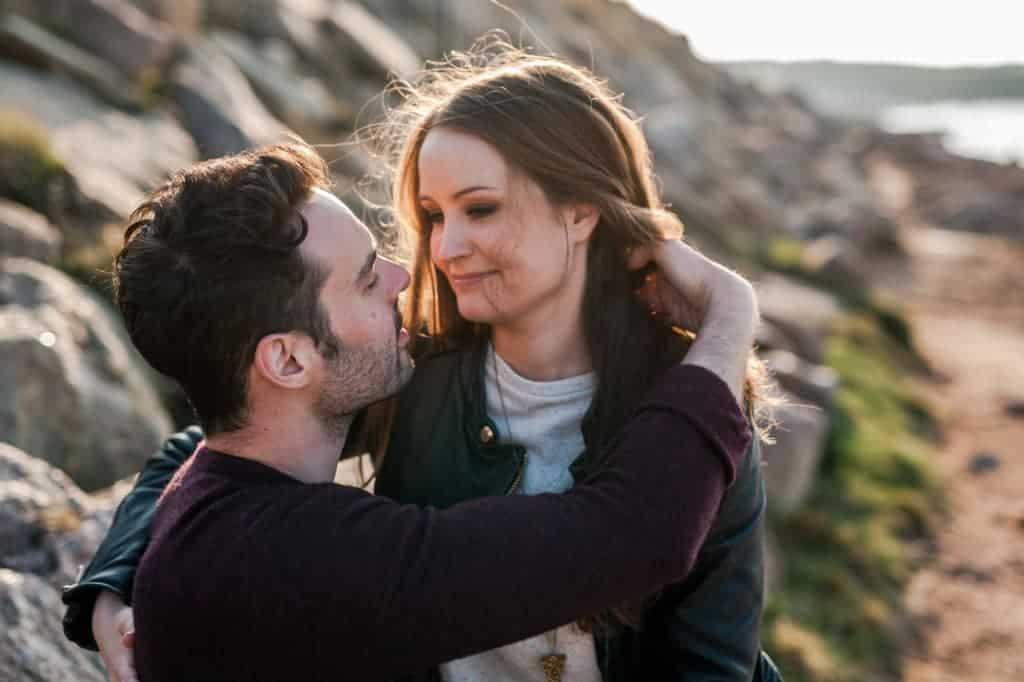 While we were there, we also did an "engagement" shoot with our amazing wedding photographer Typhanie Piton and I just love how it turned out! Isn't the light gorgeous?! Please excuse my messy hair, it was pretty windy that day! ???? Basically pretty much all the pictures you see in this post are from her (except the ones from our "first" wedding) and I luuuve them. Shootout to you, girlfriend!
Travels
Are you still with me or did I lost you a few paragraphs ago? I've got so many things to tell you, but I swear I'll try to keep it short and sweet. Basically, we will be travelling in the coming months. Both Solal and I are lucky enough to be able to work remotely so we can work + travel at the same time.
As I'm typing this post, I'm currently in Edinburgh, Scotland and staying there for a month! I've just arrived yesterday and I'm loving it so far. I've been obsessed with Scotland since I saw + read Outlander (I know, totally cliché but it's the ugly truth) and I just couldn't wait to visit. We are based in Edinburgh but we'll travel to Glasgow and the surrounding regions as well. And hopefully we'll be able to get a glimpse of the Highlands too! So.many.things I want to see! And that Scottish accent...I'm obsessed!!
Next stop in June: Tel Aviv, Israel where we'll meet some friends from Sydney and reunite with our Israelis friends. Then in July, back to Paris for the wedding!
Stay tuned for travel and wedding updates with lots and lots of pictures ????
Love,
Marie