Tender, rosy slices of lamb fillet, sweet figs, peppery arugula, caramelized onions and a drizzle of balsamic reduction - this unique blend of flavors makes this lamb sandwich truly memorable!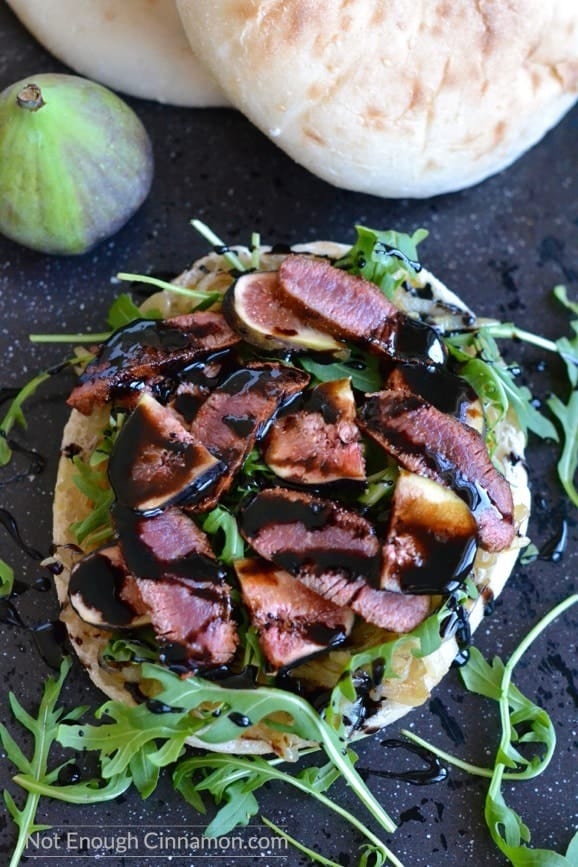 YOU GUYS! This is super-exciting-sandwich time! Just the thought of this top-notch lamb sandwich makes me happy, I'm not kidding. Food can do things like that. It's powerful!
Let's calm down for a minute and let me tell you the story of my new favorite sandwich. About a month ago, a lovely reader commented on this old post for Prosciutto, Fig, Pesto and Arugula Sandwich to tell me how much she loved it.
To be honest 1. I had completely forgotten about this one and 2. I couldn't agree more with her, this sandwich is just a killer! Over the next few weeks, as I was brainstorming new ideas for the blog, this recipe kept coming back to my mind over and over again.
I had to something about it. For some reason, fig, red meat and arugula work SO WELL together! So naturally, I kept this winning combination in mind and whipped up something a little bit different...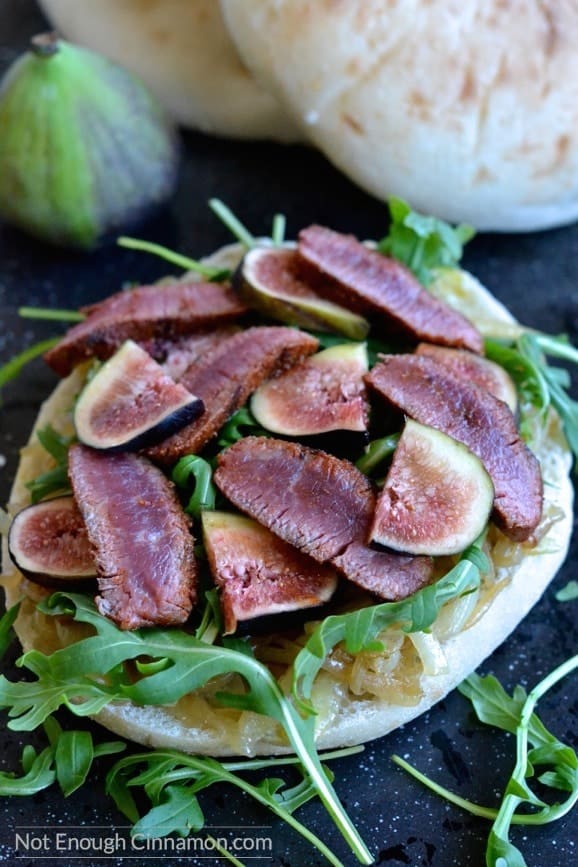 And now I'm happy to present to you my Lamb Sandwich with fresh figs, sweet caramelized onion, peppery arugula and a homemade Balsamic Glaze! A super long title, I know, but I feel every single ingredient makes this lamb sandwich special so they all deserve to be in there!
I'm usually not a big fan of lamb because most cuts are too strong for me but lamb backstrap is another story. It has to be the most tender meat I've tasted! Just delicious on these lamb sandwiches as it almost melts in your mouth! It's not cheap but it's well worth it if you ask me.
Now, if you've followed me for quite some time, you might know that I avoid gluten as much as I can. I'm luckily not allergic but it gives me a tummy ache and it makes me foggy.
It doesn't mean that I don't like pasta or bread, because trust me, I do! I just don't feel super good afterwards. So why post a recipe with bread, you ask? Well, because this lamb sandwich is totally worth it! If that's not a proof of its yumminess, I don't know what is 😉 Enjoy!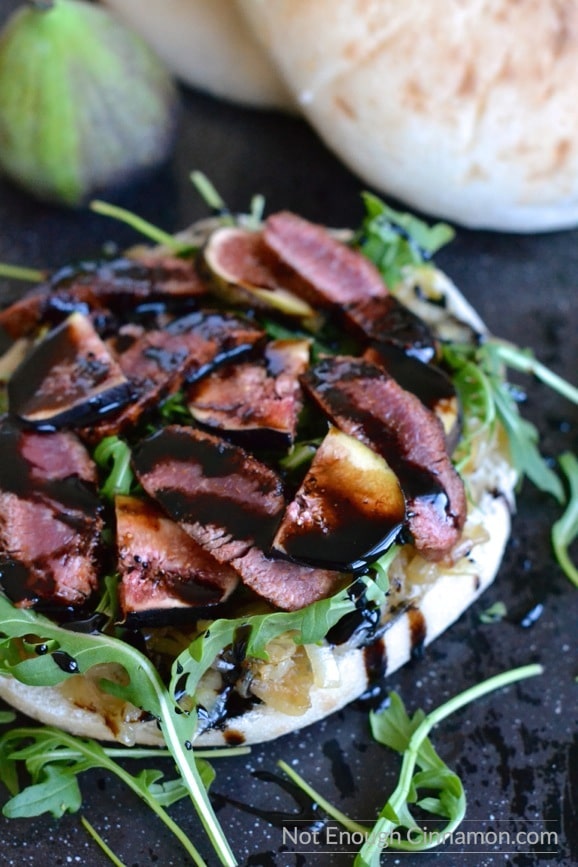 If you tried this lamb sandwich recipe, don't forget to rate the recipe below and let me know how it went in the comments – I love hearing from you! You can also follow me on Instagram, Pinterest and Facebook for more deliciousness and behind-the-scenes!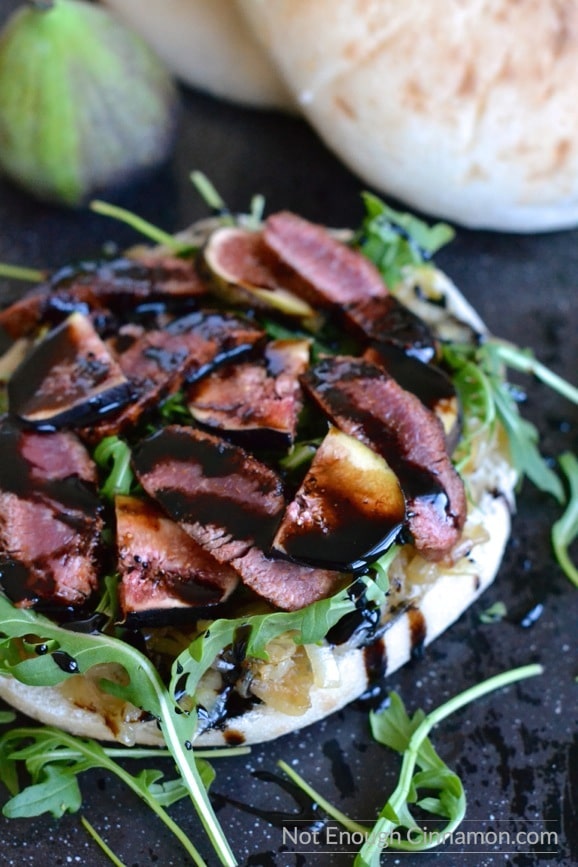 Lamb, Fig and Caramelized Onions Sandwich with Balsamic Glaze
Tender, rosy slices of lamb fillet, sweet figs, peppery arugula, caramelized onions and a drizzle of balsamic reduction - this unique blend of flavors makes this lamb sandwich truly memorable!

Servings
2
open-face sandwiches
Ingredients
Caramelized onions
2

tsp

olive oil

2

large yellow onions

cut into thin slices

1

pinch

salt

3

tbsp

water

or more as needed
Balsamic Glaze
½

cup

good quality balsamic vinegar

1

tbsp

molasses

you can also use honey
Lamb
5

oz

lamb backstrap

140 g, also known as lamb fillet or lamb loin

1

tsp

ground smoked paprika

⅛

tsp

ground coriander

⅛

tsp

ground cumin

¼

tsp

fine sea salt

olive oil spray
Remaining ingredients
1

Turkish pide roll

cut in half lengthwise (or your favorite top quality roll)

1

cup

arugula

rocket packed

2

large figs

stem removed, thinly sliced, each slice then cut in half
Instructions
Caramelized Onions
Heat olive oil in a non-stick skillet (preferably with a thick bottom) over medium heat. When hot, add onions and stir to coat them with oil.

After one minute, add a pinch of salt and stir again. Reduce to low heat and cook onions for 30 to 40 minutes, stirring often to make sure they don't stick to the skillet and burn.

You can add a tablespoon of water from time to time to make sure the onions stay moist (I used 3 tablespoons). Be patient! Do not turn the heat up to speed up the process, you'd only end up with burned onions. Instead, you want sweet, super tender onions that will melt in your mouth. When onions are ready, remove from the skillet and set aside.

While onions are cooking, prepare the rest of the recipe.
Balsamic glaze
Mix together balsamic vinegar and molasses (or honey if using) in a small saucepan. Bring to a boil and cook until it has reduced by half and has thickened (this can take 10 to 20 minutes depending on your burner). Set aside to cool.
Lamb
In a small bowl, combine paprika, coriander, cumin and salt. Pat dry the piece of lamb and rub generously with the spices.

Heat a grill pan (or a regular pan if you don't have one) on medium-high. When hot, spray with olive oil and add lamb. Cook for about 1-2 minutes on each side, or to your liking. Cooking time will depend on the thickness of the cut and how you like your meat. Backstrap is a very lean cut that will get tough if overcooked. I like mine very rare.

Remove from the pan and transfer on a cutting board. Let the meat rest for a few minutes then cut it into thin slices.
Sandwich
Toast the bread. Drizzle each half with a little bit of olive oil, top with caramelized onions, then arugula, fig pieces and lamb slices. Drizzle with balsamic vinegar and serve immediately.
Recipe Notes
We've eaten this sandwich as an "open faced" one, with just one bottom bread and no top. Feel free to use the other half and make yourself a complete sandwich!
Nutrition Facts
Lamb, Fig and Caramelized Onions Sandwich with Balsamic Glaze
Amount Per Serving (1 open face sandwich)
Calories 349
Calories from Fat 81
% Daily Value*
Fat 9g14%
Cholesterol 46mg15%
Sodium 500mg22%
Potassium 603mg17%
Carbohydrates 45g15%
Protein 19g38%
Vitamin A 800IU16%
Vitamin C 10.6mg13%
Calcium 84mg8%
Iron 2.6mg14%
* Percent Daily Values are based on a 2000 calorie diet.