Welcome to another edition of Interview with a food blogger! Today we're chatting with Julia, the sweet lady behind the great blog A Cedar Spoon. I love Julia's blog because she shares easy and healthy recipes. Most of them are quick too and perfect for busy weeknights. A Cedar Spoon is a great place to find meal ideas you and your family will love!
The Interview
1. What is the story behind your blog's name, A Cedar Spoon?
I spent a lot of time trying to decide what to name my blog.  A Cedar Spoon developed from my heritage and love of Middle Eastern food and cooking.   My Mom's side of the family is from Lebanon and one of my dreams has always been to visit and see the Cedars of Lebanon in person.  It is on my bucket list and I am determined to visit Lebanon one day.  Growing up as a child, my Grandma and Mom would cook delicious Lebanese cuisine for holidays and get togethers.  Middle Eastern food is my favorite food to eat and many of the ingredients (olive oil, lemon, parsley, tahini) I grew up eating are scattered throughout my cooking and are staples in my kitchen.
2. What is your favorite Middle-eastern dish?
Do I have to pick just one? It is funny because my husband teases me that I have too many favorites and I have to pick just one. I am a salad lover so I guess it is a tie between Tabbouleh and Fattoush Salad. My grandma makes the best tabbouleh you have ever eaten.
Smoked Sausage, White Bean and Spinach Pasta with Toasted Pine Nuts 
3. What are your cooking inspirations? A famous chef, your mom, a cookbook, a blog...?
My cooking inspirations are first and foremost my Mom and Grandma.  Throughout my whole life I have watched them cook meals from scratch not using a recipe but improvising, and creating dishes from experience and talent (I strive to one day be able to do that). My Mom is a dietician and has always ingrained healthy eating in me.  She cooks from scratch as much as possible and avoids the boxed and processed foods. In today's society and the busy lives we lead it can be hard to cook from scratch when buying the quick, boxed food is so much easier.  This is something I am constantly thinking about when cooking for my family and try my hardest to put a healthy, wholesome meal on the table each day. I am so thankful to both my Mom and Grandma for instilling healthy eating into my life and the love of food and cooking and hope to do same for my children.
The other influence I have when it comes to cooking is other food blogs, cookbooks, magazines and cooking shows. I believe inspiration can come in many different forms--from seeing a picture of something delicious on Instagram and being inspired to go home and make it, to watching your favorite chef on TV whip up something new that you have never heard about.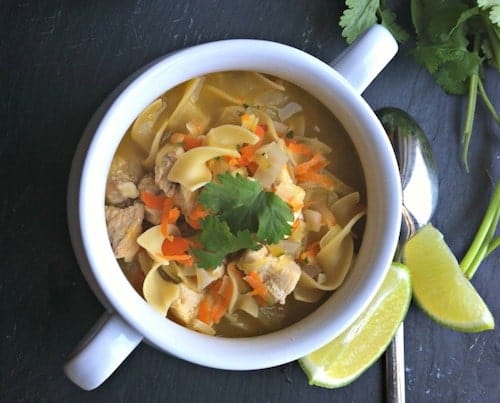 4. What's your biggest failure ever in the kitchen?
Some people are good at cooking and baking, but for me I am not much of a baker (I can make a mean oatmeal raisin cookie though). When it comes to kitchen failures it always seems to happen when I am baking something complicated and new. I tried to make a three tiered dark chocolate cake once that didn't turn out so well. The middle of the cake sunk in and I had to remake it.  That good old rule "try try again" applies to me and baking!
5. You visited Europe a little less than a year ago. What's the best food you tried there?
Yes! In May we visited Germany, Switzerland and Italy for two weeks and it was the most amazing experience.  While I would say Switzerland has the most breathtaking scenery, I would say that hands down Italy has the best food! Italian food is one of my favorite cuisines and there is nothing like getting it straight from the source whether it was the pizza in Rome to the fresh fish in Cinque Terre to the gelato in Florence.  In Cinque Terre you can get fresh fish that was caught hours before you sit down to eat.  The fish falls off the bones and they know how to use the flavors of Italy to compliment it.  In Florence we loved the fresh caprese sandwiches and the homemade pastas.  I remember one meal we had that stands out—gorgonzola and walnut ravioli with truffle butter—absolutely mouth watering! In Tuscany we did a day of wine tasting that included an olive oil, olive and balsamic tasting at one of the local wineries.  I love olive oil and cook with it constantly and must say that this local winery had the best olive oil and olives I have ever tasted.  If you are a foodie I highly suggest Italy.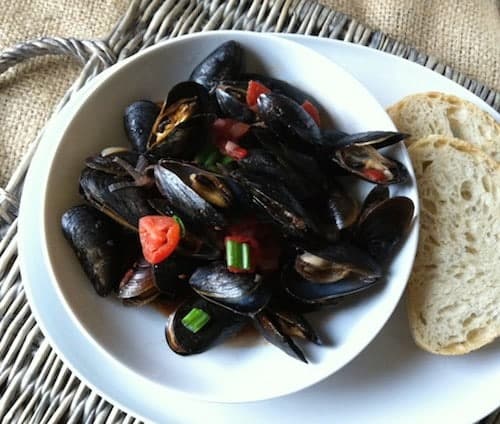 6. What would be your dream destination regarding food?
Italy was always on my list but now my number one place is the Middle East, especially Lebanon.  My sister visited Lebanon a few years ago and said the food there was better than any Lebanese food she has ever eaten. I hope to one day go to place that my ancestors lived and taste the food that I grew up eating.  I think going to a country, learning the culture behind the food and experiencing it firsthand gives you a new found appreciation.
7. What ingredients would you bring on a desert island with you? You can only pick three!
Lemons to add flavor to water, and any other foods I am eating.  Olive oil to cook the fish I have to catch in. Avocados because they are one of my favorite things to snack on and they provide lots of healthy fats, vitamins and protein which would be good if I was stranded without many sources of food.
8. You have a 2 ½ year-old boy and recently gave birth to another baby boy. Congrats! 🙂 What's your go-to kid-friendly recipe?
I love making recipes with hidden veggies in them like these Carrot Zucchini Muffins or these Turkey, Carrot and Zucchini Meatballs. With toddlers, at least my son, he will refuse to try anything that looks a little different than what he is used to (which I hope will one day change!).  Vegetables can also be kind of a struggle with him so I like finding ways to hide them in dishes he already loves so I know he is getting his daily nutrients.
9. Why did you decide to start a food blog?
One year after I had my son I realized that I had gotten off track with cooking and eating healthy.  Life was crazy, we weren't sleeping, I was working a 40 hour a week job and cooking took a back seat to my family and the stresses of life.  We started eating out more, buying convenient foods and I knew something had to change. I had spent years reading food blogs and loved them as both a resource and inspiration.  I felt that I could offer friends and family healthy recipes (and a few not so healthy recipes), a chance to share family recipes and it would get me back in the kitchen.  A Cedar Spoon has become so much more than I imagined and brings creativity and joy into my life and my kitchen.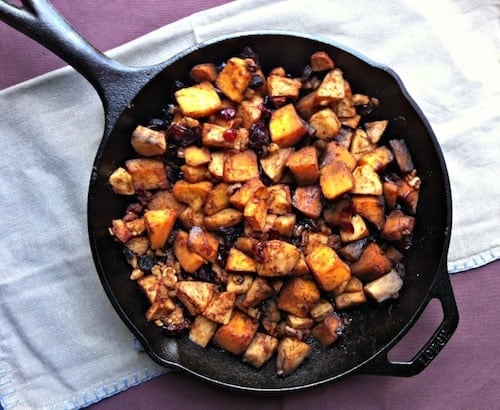 10. What's your favorite recipe from your blog?
This Moroccan Red Lentil Soup  is one of my favorite soup recipes on my blog.  Not only will your house smell amazing as the spices simmer but it is healthy and packed full of flavor. I love soups in the fall and winter that can simmer on the stove while you go about your day and make enough so you have leftovers throughout the week.My other favorite recipe is Tabbouleh.  I make Tabbouleh a lot and eat it as a side to dinner and throughout the week for lunch. It involves a lot of chopping but other than that it is easy to make and uses ingredients most people have or are easily able to buy.
My favorite recipes from A Cedar Spoon
I'm really not sure why I decided to add a 'favorite recipes' section in these interviews because I always want to pick them all anyway and I'm the worst at making simple choices. But still, here are a few of Julia's recipes that make me drool...
Rosemary and Lemon Roasted Vegetables
Anything with rosemary is a winner in my book and this recipe is no exception!
I love me a good coleslaw but they often tend to be heavy on the calories. Julia's version is healthy but just as delicious!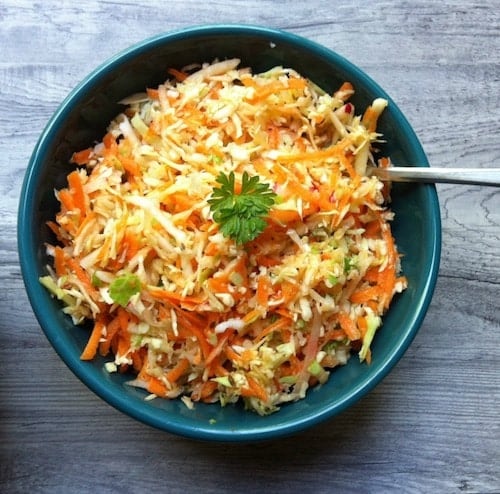 Everything you love in a Sloppy Joe, with a healthy twist!
Head over to Julia's recipe index or see her Pinterest board dedicated to A Cedar Spoon recipes for more recipes!
Read my previous interviews: