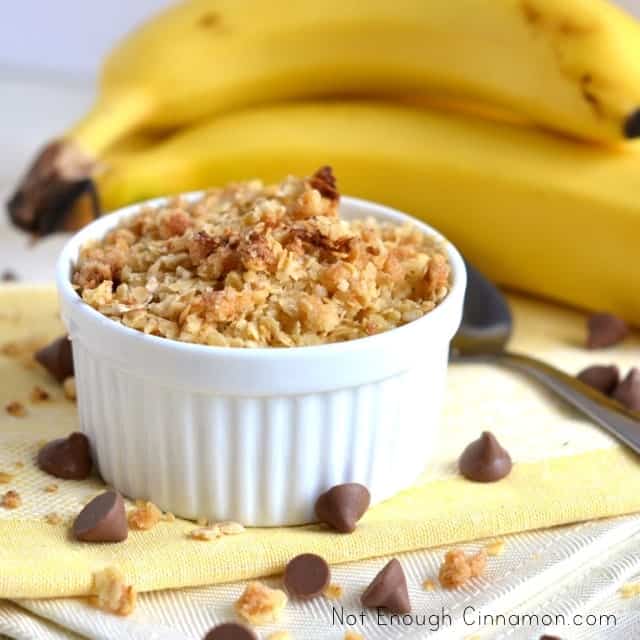 I don't know if I ever told you, but I'm a sucker for bananas. I eat some on a daily basis. The other day, when I came back from the grocery store, my boyfriend asked me if we were raising a chimp - maybe because I bought 3 bunches of bananas, who knows-. I first laughed and then I realized I might have a serious issue. I mean, I need to have plenty of bananas in my kitchen. So, obviously when I go grocery shopping I buy tons of them.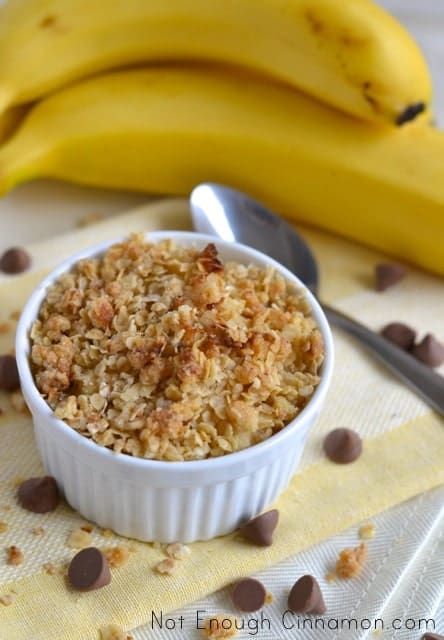 The thing is, I like my bananas unripe, almost green. When they start to ripe, well, they taste different and it's not the same fruit for me anymore. But there's no way I'm going to waste them, right? Right. The first solution I have is my boyfriend. He loves ripe bananas. Good for me. But, unlike me, he's not willing to eat more than one a day. So I need a backup plan, and it consists in baking a lot of banana-based stuff. Like my favorite banana bread, or banana muffins or banana oatmeal cookies or...banana everything. Very ripe bananas taste super good when they're baked, you know that? Anyway, last week I had a couples bananas slowly dying on my counter so I decided to make a crisp, because the crunchy topping of a crisp is obviously super good. And there's oat in it, so basically, it means it's healthy. I added a few chocolate chips, just for fun. It took me about 3 minutes to get everything done + 15 minutes in the oven. And then I died. Guys, I'm asking you, is there anything better than warm banana? Well, I don't think so.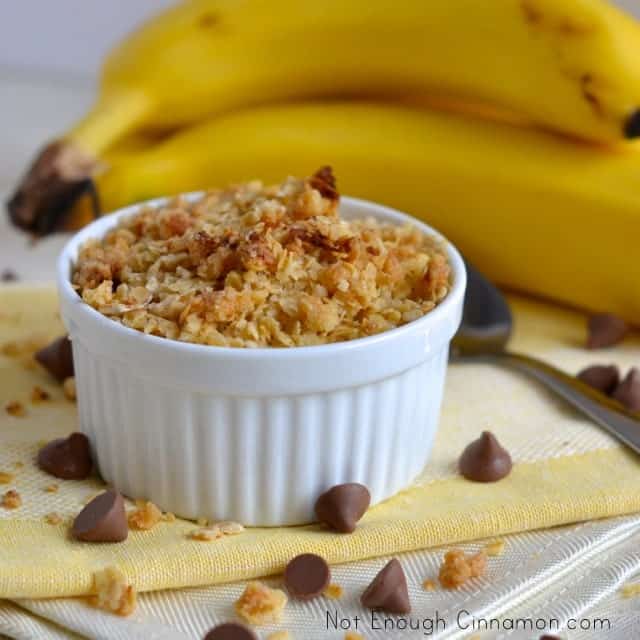 Individual Banana Chocolate Chips Crisp
Ingredients
Ingredients for one ramequin
Topping:
1

tbsp

quick rolled oats

1

tsp

whole wheat flour

½

tbsp

brown sugar

1

tsp

butter

melted
Filling
1

banana

sliced

1

tsp

sugar

optional, only if your bananas aren't sweet enough

1

tbsp

chocolate chips
Ingredients for four ramequins
Topping
4

tbsp

quick rolled oats

4

tsp

whole wheat flour

2

tbsp

brown sugar

4

tsp

butter

melted
Filling
4

tsp

sugar

optional

4

bananas

sliced

4

tbsp

chocolate chips
Instructions
Preheat oven to 375F.

In a small bowl, combine oats, flour and sugar. Add melted butter and mix.

In a medium bowl (or directly in the ramequin is you're only making one), combine banana, sugar and chocolate chips. Transfer to four ramequins.

Top with oats mixture and bake for about 15 minutes or until topping is golden brown. Serve warm and enjoy!
Nutrition Facts
Individual Banana Chocolate Chips Crisp
Amount Per Serving (1 ramequin)
Calories 284
Calories from Fat 72
% Daily Value*
Fat 8g12%
Cholesterol 13mg4%
Sodium 49mg2%
Potassium 444mg13%
Carbohydrates 52g17%
Protein 3g6%
Vitamin A 235IU5%
Vitamin C 10.2mg12%
Calcium 31mg3%
Iron 0.8mg4%
* Percent Daily Values are based on a 2000 calorie diet.