Honey-Pineapple Glazed Shrimps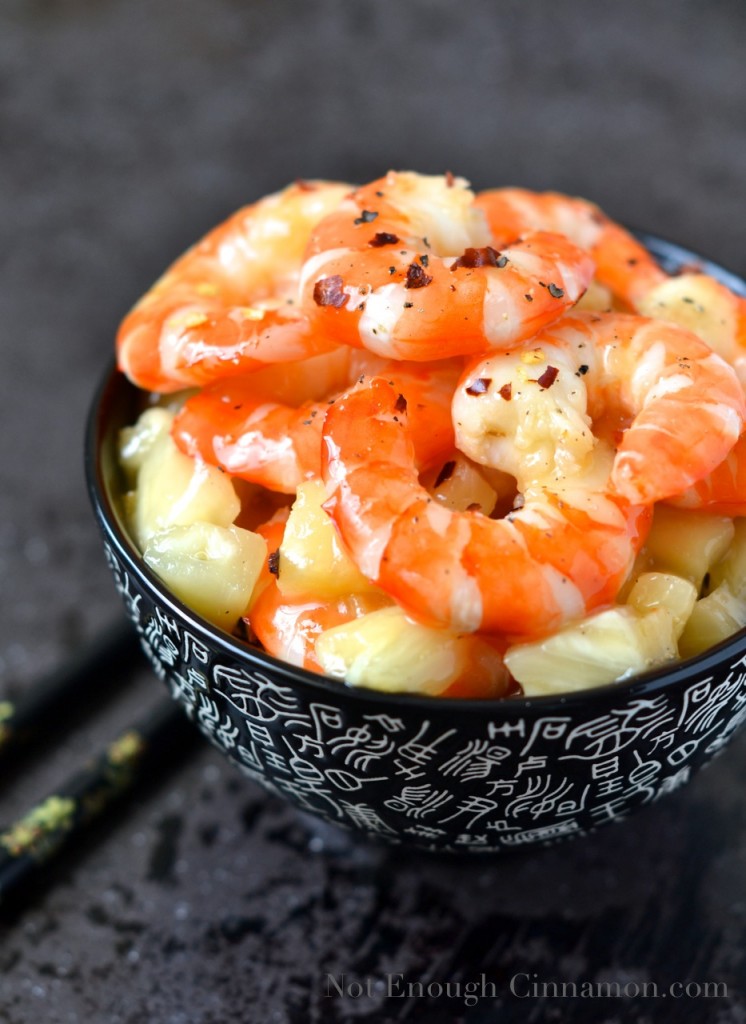 I've been having this recipe on my mind for quite some time now. For some reason, I absolutely wanted to create a pineapple-based glaze — don't ask me why, I'm not really sure myself.  So I've been playing with the ingredients and I think I finally got it right this time. I decided to feature shrimps on the blog today for a change but I've also made this recipe with chicken and it works very well too!
A quick note on using cornstarch and arrowroot. These two ingredients are great thickener for sauces and gravies. If you're gluten-free/paleo/primal, arrowroot is a great alternative to cornstarch. Both basically work pretty much the same but arrowroot is a more powerful thickener than cornstarch. The good thing with arrowroot is that your sauce will thicken below the boiling point = you don't need to boil your sauce, which is convenient when it contains eggs or other ingredients that can't be boiled. The drawback is that sauce thickened with arrowroot will not hold well and cannot be reheated. You basically must not thicken your sauce, and in our case your glaze, more than 10 minutes before serving. So if you decide to use arrowroot, be ready to eat immediately. Who would like to wait anyway? 😉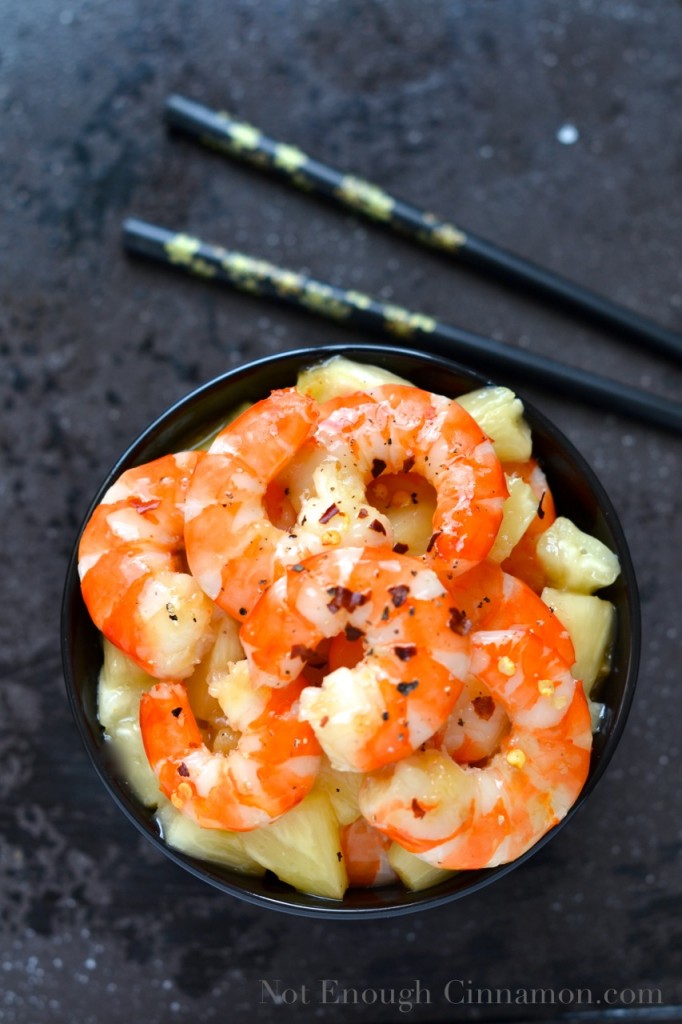 Honey-Pineapple Glazed Shrimps
Cal: 249 - Protein: 30.9g - Fat: 4g - Carbs: 21g - Sugar: 0.65g - Fiber: 15.86g
WW Old Points: 5 pts - Points+: 5 pts
Ingredients
1.5 lb raw shrimps, peeled and deveined
1 tbsp + 2 tsp arrowroot powder OR 1 tbsp + 3 tsp cornstarch (I used arrowroot)
1/2 tbsp olive oil
3 small garlic cloves, minced
1 can (8 oz) pineapple chunks in juice (keep the juice!)
1-1/2 tbsp honey
1/2 tsp hot pepper flakes
Salt and pepper to taste
Directions
In a medium bowl, combine raw shrimps with 1 tbsp arrowroot powder or cornstarch. Mix well to cover the shrimps.
Heat olive oil in a non-stick skillet over medium heat. Cook garlic for about 30 seconds. Add shrimps, season with salt and pepper and cook until they turn pink. Remove from skillet and set aside.
While shrimps are cooking, combine pineapple juice (you should get about 1/2 cup out of a 8 oz can) and 2 tsp arrowroot (or 3 tsp cornstarch) in a small bowl.
In the same skillet you used for the shrimps, pour pineapple juice mixture and honey, and keep stirring. As soon as it starts bubbling, reduce heat. Return shrimps to the skillet, add pineapple chunks and hot pepper flakes and stir until heated through. Serve immediately.
Notes
Please do not make this recipe ahead if you're using arrowroot. Prepare the glaze no more than 10 minutes before serving otherwise it will not hold. Check the article for more details.
This recipe is perfect with chicken too!
https://www.notenoughcinnamon.com/honey-pineapple-glazed-shrimps/