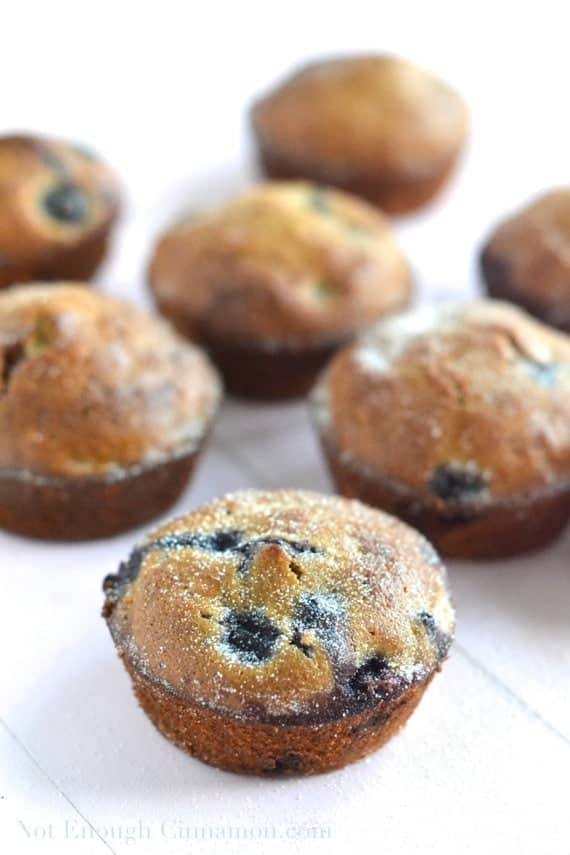 These healthy blueberry muffins made their first appearance when we were having some friends over for brunch. I had previously spotted a similar recipe in a Woman's Magazine cookbook (their cookbook collection is amazing btw!) and this brunch was the perfect occasion to bake a little treat. I knew I wanted to make these muffins gluten free and ideally refined sugar free but when you're baking, just a small change to the recipe can turn the whole batch into an inedible disaster. So I took the "project" step-by-step and modified the recipe one batch after the other. I started by swapping flours and used gluten free flour instead of wheat flour. They turned out amazing and everybody loved them. But they were still a little bit too unhealthy to my taste, because of the sugar. Refined sugar = no way. So I played around with another sugar alternative, called coconut sugar. It's a natural sugar made from the coconut's sap, which is heated until most of the water has evaporated. The first try was too dry so I changed the baking temperature and added some honey to keep the muffins super moist. Success! Light and soft muffins, as I like them.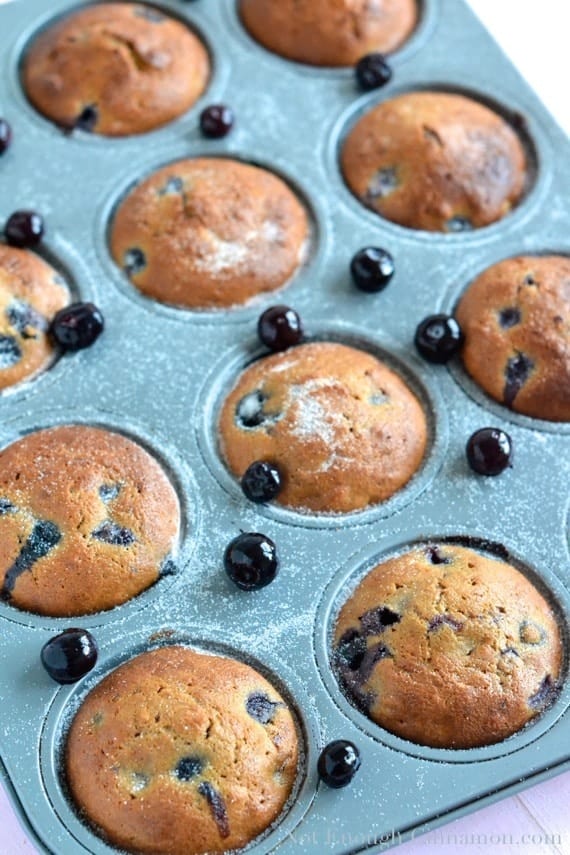 Using coconut sugar is quite similar to cooking or baking with brown sugar. It has a light but distinctive flavor, close to brown sugar or molasses. It will make your batter brown. If your recipe calls for 1 cup of sugar, you can replace it by 1 cup of coconut sugar. I found that I had to reduce the baking time but I'm sure it would be different for each recipe so you would have to play around to find the perfect timing.
Now, is coconut sugar really healthy? As in, can I eat some every single day and just be fine? After doing quite a bit of research, I found that the answer is unfortunately...no (sad face). It's definitely healthier than white sugar because it's less processed and it has a very low glycemic index (GI), meaning your blood sugar levels won't spike. It's also more nutritious: coconut sugar contains minerals, insulin and other good-for-you nutrients (it's actually one of the only nutritious sugars around). But it's quite high is fructose, which consumed in excess can cause all sorts of health problems like obesity, diabetes and cardiovascular disease. So the bottom line is, yes, coconut sugar is healthier than white sugar, but to be consumed in moderation, just like honey.
UPDATE: Read my  article "Everything you need to know about coconut sugar" here.
And if you're wondering, yes, having one or two of these muffins definitely falls into the "in moderation" category 😉 Enjoy!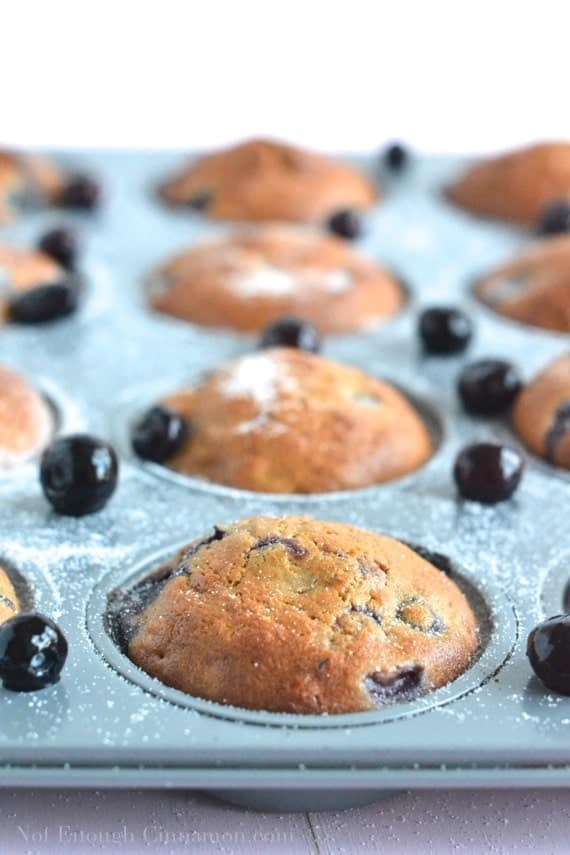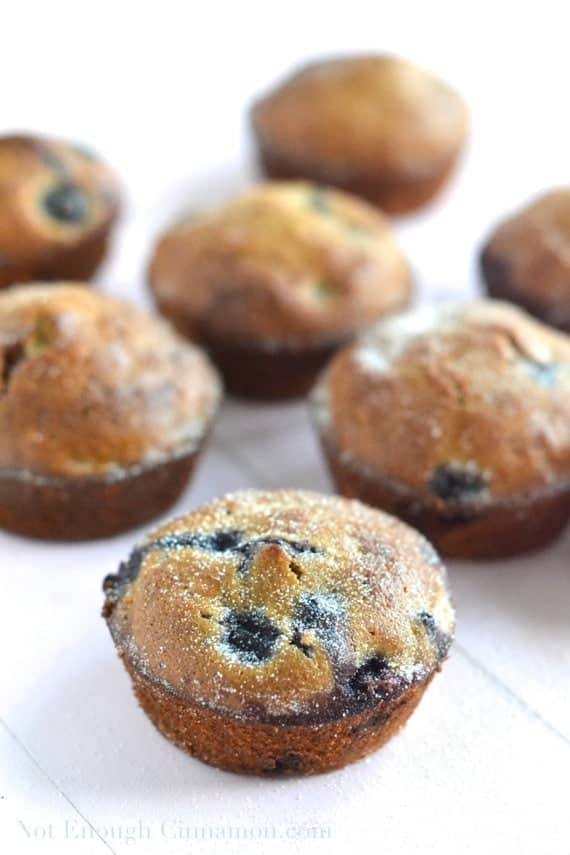 Healthy Blueberry Muffins
Ingredients
1 ½

cup

all purpose gluten free flour

you can also use all-purpose wheat flour

2 ¼

tsp

baking powder

a pinch of salt

⅓

cup

rolled oats

3

eggs

⅓

cup

coconut sugar

you can also use brown sugar

2

tbsp

honey

¾

cup

plain Greek yogurt

⅓

cup

coconut oil

melted – use refined coconut oil if you don't want a coconut taste - you can also use vegetable oil

1 ¼

cups

about 7 oz/ 200g frozen blueberries (unsweetened)
Instructions
Preheat oven to 180C/355F. Line a 12-hole muffin pan (like

this one

) with muffin liners (recommended). Alternatively, grease it with coconut oil and set aside.

In a large bowl, combine flour, baking powder and salt. Stir in oats, eggs, coconut sugar, honey and Greek yogurt and coconut oil.

In a small bowl, toss the frozen blueberries with a little bit of flour (about 1 ½ tsp) to cover them. This will prevent the batter from becoming completely blue. Not a problem for the taste, but not very appetizing! Fold blueberries gently in the batter. Do not overmix.

Spoon batter evenly into pan holes.

Bake for 20 to 25 minutes or until a tooth pick inserted in the middle comes out clean. Let the muffins cool completely on a wire rack before taking them out of the holes. If you didn't use muffin liners, run a knife around the muffins to take them out. Do not store in the fridge (they would harden).
Recipe Notes
Inspired by Woman's Weekly cookbook
Nutrition Facts
Healthy Blueberry Muffins
Amount Per Serving (1 muffin)
Calories 168
Calories from Fat 63
% Daily Value*
Fat 7g11%
Cholesterol 41mg14%
Sodium 30mg1%
Potassium 147mg4%
Carbohydrates 22g7%
Protein 4g8%
Vitamin A 70IU1%
Vitamin C 1.5mg2%
Calcium 73mg7%
Iron 1mg6%
* Percent Daily Values are based on a 2000 calorie diet.