Hey guys, I'm back! I really enjoyed taking a few days off the blog. The hard part when you blog is to keep the cooking fun and I must admit that those last weeks, I was feeling a bit compelled to keep posting new recipes. Don't get me wrong, I love to cook and I'm really grateful to have so many amazing readers. That's why I'm sticking in here! But the thing is, I always post recipes that we're going to eat, not just for the purpose of the blog (and then throw it away). It means that when I cook, unless it's a recipe from another blog or a cookbook, I'm always measuring every ingredient and writing down the recipe in case it turns out great and it's worth publishing (I absolutely don't trust my memory on that!). The downside is that it tends to cut my spontaneity  and somehow my creativity. I can't just add a pinch of thyme or two handfulls of spinach (or whatever) if I want my readers to end up with the same result and be happy with my recipes. The same goes with food photography. I have to think about it as soon as I start cooking to make sure the final dish looks appetizing. Again, not really spontaneous. To put it in a nutshell, I have to be in 'blog mode' when I cook for the blog.
I'm sure that, as time goes by, I will be able to just cook period but I think it requires a little bit more experience. If you think about it, I haven't been cooking for a very long time. Three to four years, that's all. Until last September I was still living with my mom. I sure was cooking a lot but not everyday, for every meal. It always makes me smile to think that I can cook that very sophisticated and somewhat complicated dish, but I don't know some of the basics. So I'm still in an intensive learning phase and I miss this ease you gain only with years of cooking.
I've decided to change up my organization a bit to make sure the blog stays a fun and happy place for me. From now on, I'll try (but that's not an easy thing!) to always have two weeks of prepared posts (or at least recipes)  so I'm never in a hurry to create a new recipe. That way, I'm hoping that it will allow me to just cook for pleasure, and never be in a rush.
If you're still here, thanks for reading all of it! I just though I owe you an explanation 🙂 If you're  a blogger, I would love to hear how you deal with all this!
PS: don't you love my new plates? It was love at first sigh when I spotted them in a charity shop!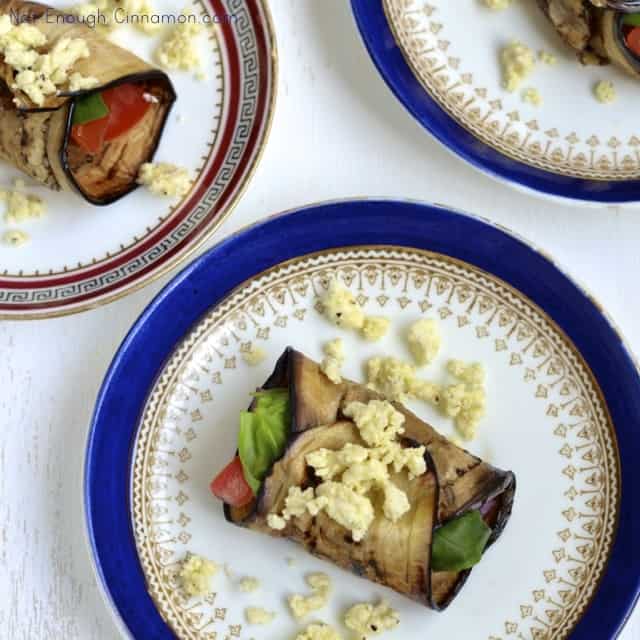 Grilled Eggplant Rolls
Ingredients
For the grilled eggplants
2

tbsp

olive oil

2

medium eggplants

1

tbsp

lemon juice

Salt to taste
For the rolls
3

medium tomatoes

finely sliced

About ⅓rd of a red onion

finely sliced

12

basil leaves
For the feta mixture
⅓

cup

reduced fat feta

crumbled

½

tbsp

olive oil

1

tsp

lemon juice

salt to taste

Balsamic vinegar

for serving
Instructions
Start by preparing the grilled eggplant slices. Cut eggplants lengthwise into thin slices. You should be able to get at least 6 slices out of each eggplant. Brush each side of the slices with olive oil. Heat a non-stick skillet on medium-high heat. When hot, spray with a little cooking spray and cook eggplant, slice by slice, until cooked through and grilled. If you have a BBQ that would be even better! Let the slices cool down a bit and drizzle with lemon juice. Season with salt to taste.

Prepare the feta mixture. In a small bowl, combine all the ingredients and mix well.

Assemble the rolls. Cut tomatoes slices in half. Arrange an eggplant slice on a plate. In the middle of it, add half a tomato, then some onion (more or less depending on your taste), the other tomato half, one basil leaf. Fold up the eggplant. Sprinkle each roll with about 1 tsp of feta and drizzle with a bit of balsamic vinegar.
Recipe Notes
You can add chopped basil leaves in the feta mixture, it's delicious!
Just leave out the feta to make this paleo friendly.
Nutrition Facts
Grilled Eggplant Rolls
Amount Per Serving (1 roll with feta)
Calories 63
Calories from Fat 36
% Daily Value*
Fat 4g6%
Cholesterol 3mg1%
Sodium 49mg2%
Potassium 252mg7%
Carbohydrates 6g2%
Protein 1g2%
Vitamin A 310IU6%
Vitamin C 6.8mg8%
Calcium 30mg3%
Iron 0.3mg2%
* Percent Daily Values are based on a 2000 calorie diet.