A fresh, delicious and easy quinoa salad recipe by Gordon Ramsay which features mint, tomatoes, and cucumbers to create a healthy and summery salad!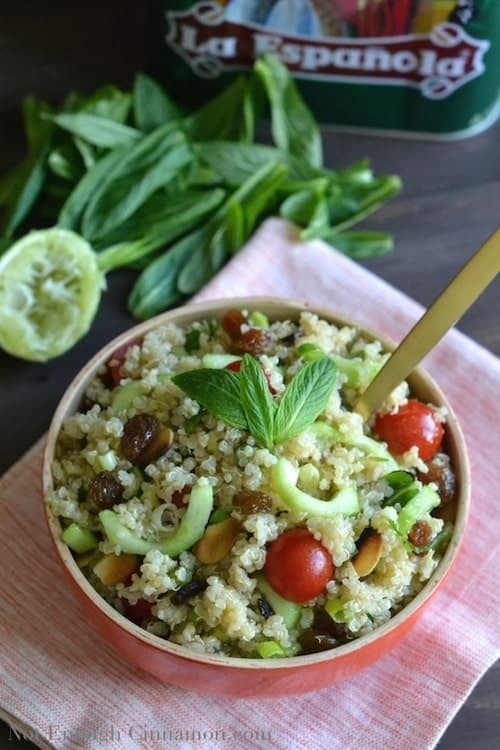 Can I tell you a lil' secret? This easy quinoa salad recipe was my first attempt ever at cooking quinoa. I've eaten quinoa a few times before, but I had never actually cooked it myself.
The truth is, I wasn't really convinced by its taste and above all, by its texture. My boyfriend Solal just hates it, and really, there are very little things he doesn't like to eat. But that was before!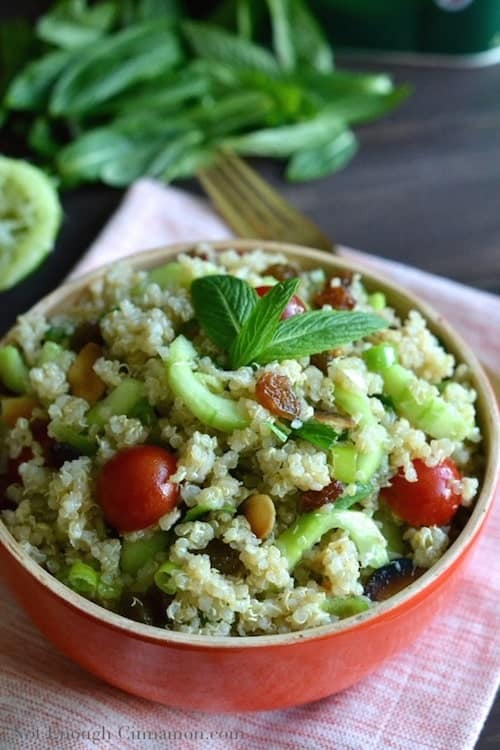 Being open-minded when it comes to food is very important to me, as I like to keep my horizon broad.
Deciding to reduce or to cut out some food for health or well-being reasons is one thing I'm perfectly fine with, but I really don't like to be stopped by my tastebuds.
With that in mind, and knowing that so many of you like quinoa, I wanted to give this little seed another shot and cook it myself this time!
Did you raise an eyebrow when I said seed? Very often, quinoa is considered a grain because it is used and cooked like one but it is actually a seed. It is very popular amongst vegetarians and vegans because it's a good source of plant-based protein.
Being gluten-free, quinoa is a good alternative to couscous or bulgur for intolerant people.
Is quinoa paleo-approved?
There's a small polemic in the paleo world to know if quinoa is paleo-friendly or not. Technically it's not a grain so it could be paleo but some people say it acts like a grain in the guts, provoking inflammations.
If you're following a paleo diet, your consumption of quinoa should be occasional. Otherwise, quinoa is very nutrient rich: it has high levels of fiber, iron, lysine, magnesium, and manganese.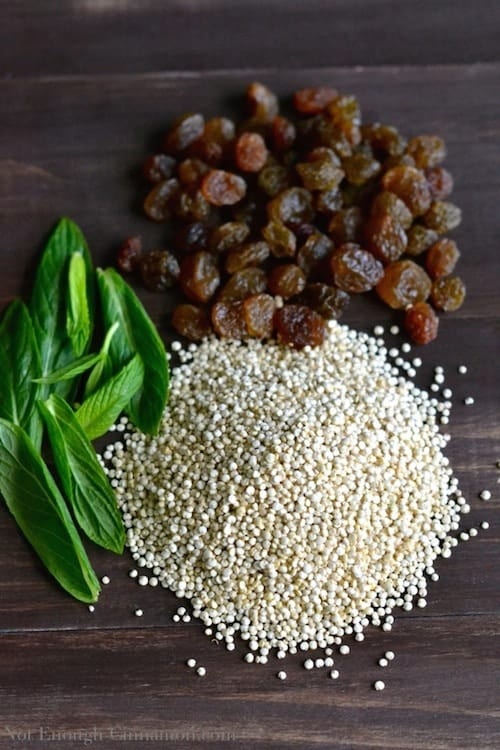 Looking for an easy quinoa salad recipe? This might be the one!
For my first time cooking quinoa, I decided to be safe and I chose an easy quinoa salad recipe from Gordon Ramsay's cookbook called Ultimate Home Cooking that I was pretty sure would work well.
And I was right, it totally delivered! The quinoa salad was fresh thanks to the mint, tomatoes, and cucumber, and the quinoa added a nice nutty touch.
How to cook quinoa properly (no soapy taste):
I detailed in the recipe how to cook quinoa properly, to make sure it doesn't have this 'dirt' taste that can be unpleasant. You have to rinse it thoroughly before cooking it in chicken or vegetable stock.
I hope this post and this easy quinoa salad recipe will encourage you to give quinoa a go if you haven't tried it before.
If you're a fan, you'll love this bright and refreshing quinoa salad with mint, cucumber and tomatoes! Even Solal said it wasn't bad - which is a MAJOR step forward 😉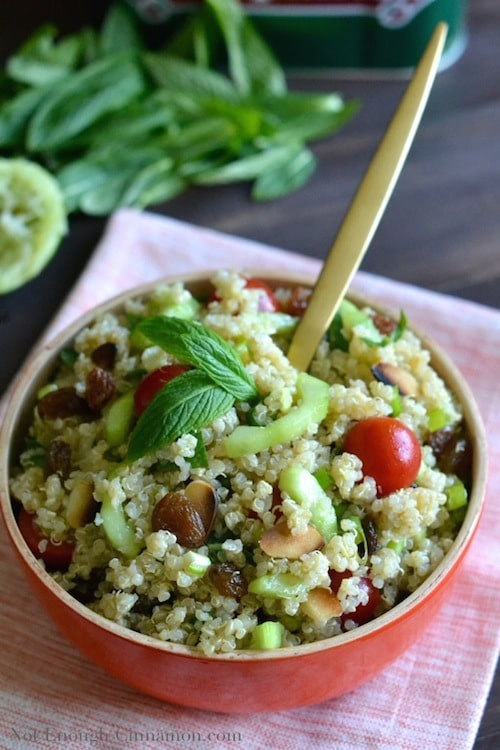 If you tried this easy quinoa salad recipe, don't forget to rate the recipe below and let me know how it went in the comments – I love hearing from you! You can also follow me on Instagram, Pinterest, and Facebook for more deliciousness and behind-the-scenes!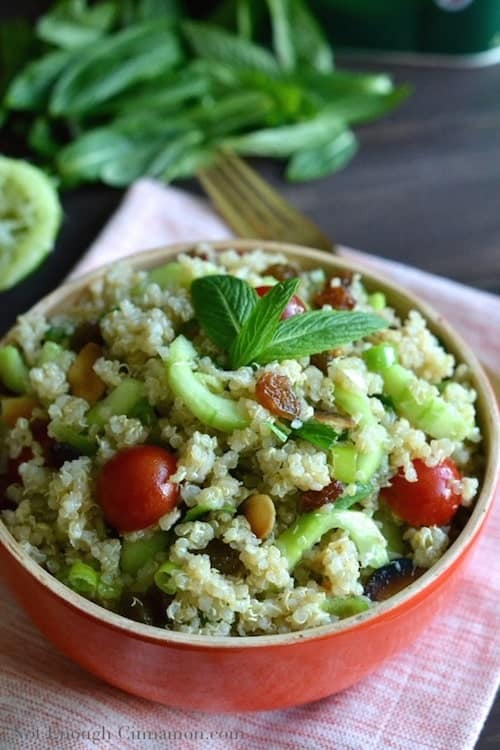 Gordon Ramsay's Quinoa Salad
A fresh, delicious and easy quinoa salad recipe by Gordon Ramsay which features mint, tomatoes, and cucumbers to create a healthy and summery salad!

Servings
8
people as a side - 4 as a main
Ingredients
1 ½

cups

quinoa

200 g, any variety

3

cups

stock

chicken or vegetable

½

cup

flaked almonds

½

large cucumber

peeled, deseeded and cut into half moons

5

oz

cherry tomatoes

140 g, halved

4

tbsp

raisins

4

scallions

trimmed and finely chopped

½

bunch fresh mint leaves

roughly chopped

sea salt and freshly ground black pepper

1

lime

juiced

3

tbsp

olive oil
Instructions
Place quinoa in a fine-mesh strainer and rinse thoroughly with cool water for at least 2 minutes. Drain. Rinsing quinoa before cooking will remove its natural bitter or soapy taste.

Transfer to a medium saucepan, cover with stock, cover with a lid and bring to a boil. Reduce heat and cook for 15 minutes on the lowest setting. Turn off the heat and let stand covered for 5 minutes. Fluff with a fork and spread on a baking sheet or large plate to allow quinoa to cool down quickly.

Spread almonds in a single layer in a pan and toast over medium-high heat until golden. Watch them carefully as they can burn quickly. Transfer to a large salad bowl.

Add cucumber, tomatoes, raisins, scallions, mint and cooled quinoa. Toss to combine. Season with salt and pepper to taste. Drizzle with lime juice and olive oil, and toss again. Serve.
Nutrition Facts
Gordon Ramsay's Quinoa Salad
Amount Per Serving (1 /8th)
Calories 236
Calories from Fat 90
% Daily Value*
Fat 10g15%
Sodium 359mg16%
Potassium 369mg11%
Carbohydrates 30g10%
Protein 6g12%
Vitamin A 350IU7%
Vitamin C 6.2mg8%
Calcium 44mg4%
Iron 2.2mg12%
* Percent Daily Values are based on a 2000 calorie diet.