I believe that exercising, in addition to clean eating, is a central component of a healthy + happy lifestyle. I wanted to share with you what my fitness routine looks like and inspire you to get active today! 
My workouts
My workout sessions are usually between 15 and 45 minute long. My schedule consists of a mix of cardio and strength training. And when I say cardio, I don't mean spending hours on the elliptic or the treadmill. I seriously hate that!
I'm a big believer in HIIT workouts aka high intensity interval workouts. HIIT is a form of interval training, an exercise strategy alternating short periods of intense exercise with less-intense recovery periods (thank you Wikipedia for explaining it better than I could ;)). For example, one of the HIIT workout I do frequently is running 15 minutes on the treadmill, alternating 30 seconds of high intensity and 30 seconds of rest, with the legs on the side of the treadmill. And when I say high intensity, I really mean HIGH intensity. Like I-can't-do-more-or-I'm-gonna-die kind of intensity. That's really the key if you want the workout to be efficient. It's short, but intense. I have tried many workout types and HIIT workouts have been by far the most efficient ones to lose body fat and build a strong heart in a short amount of time.
My actual workout schedule varies from week to week. I follow Zuzka Light's ZGYM workouts and I can't recommend her enough. I'm seriously looking forward to having my butt kicked each time! (Here's her website).
Here are some of my favorite exercices:
Burpees (see a video here) – I love burpees so much! And I hate them, too. They are tough, especially when you do a lot of them but they activate a lot of muscles in your body and are a great cardio exercice.
Side Jump Lunges (pictured below - see a video here) – I do a lot of lunges variations and side jump lunges are my favorite kind. They target the glutes and hamstrings, just to name a few. It's also a great cardio exercice if you switch legs quickly.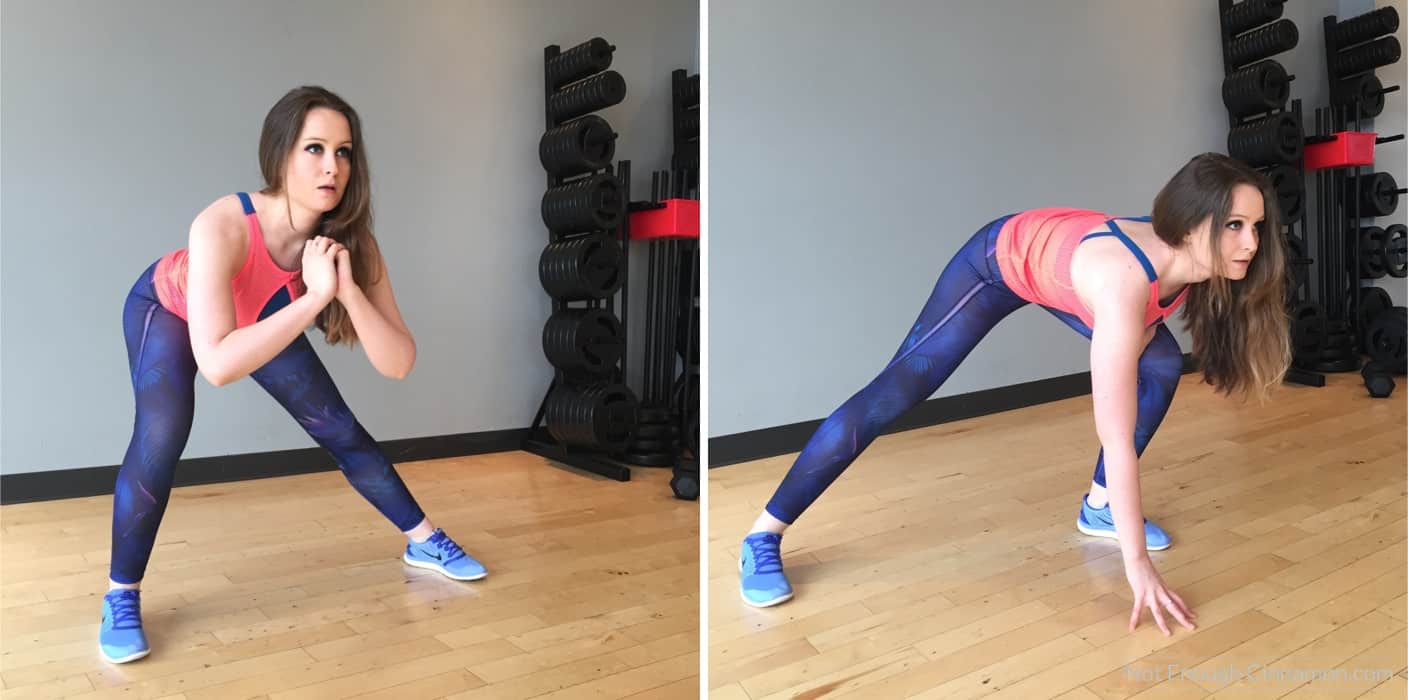 Mountain Climbers (pictured below - see a video here) – Here's another total body exercise that will get your heart pumping. It's particularly great for the abs.
Kettlebell Swings (pictured below - see a video here) – This move is a little more advanced than the other ones but once you get the hang of it, you will see how efficient it is, especially for the lower body. Unfortunately, you really have to use a kettlebell for this exercice, you can't use a dumbbell instead.
Quad Hip Extension (pictured below - see video here) – It's a basic but great exercise that targets the glutes and the back of the leg. No weights needed so you can do it anytime and anywhere (almost!).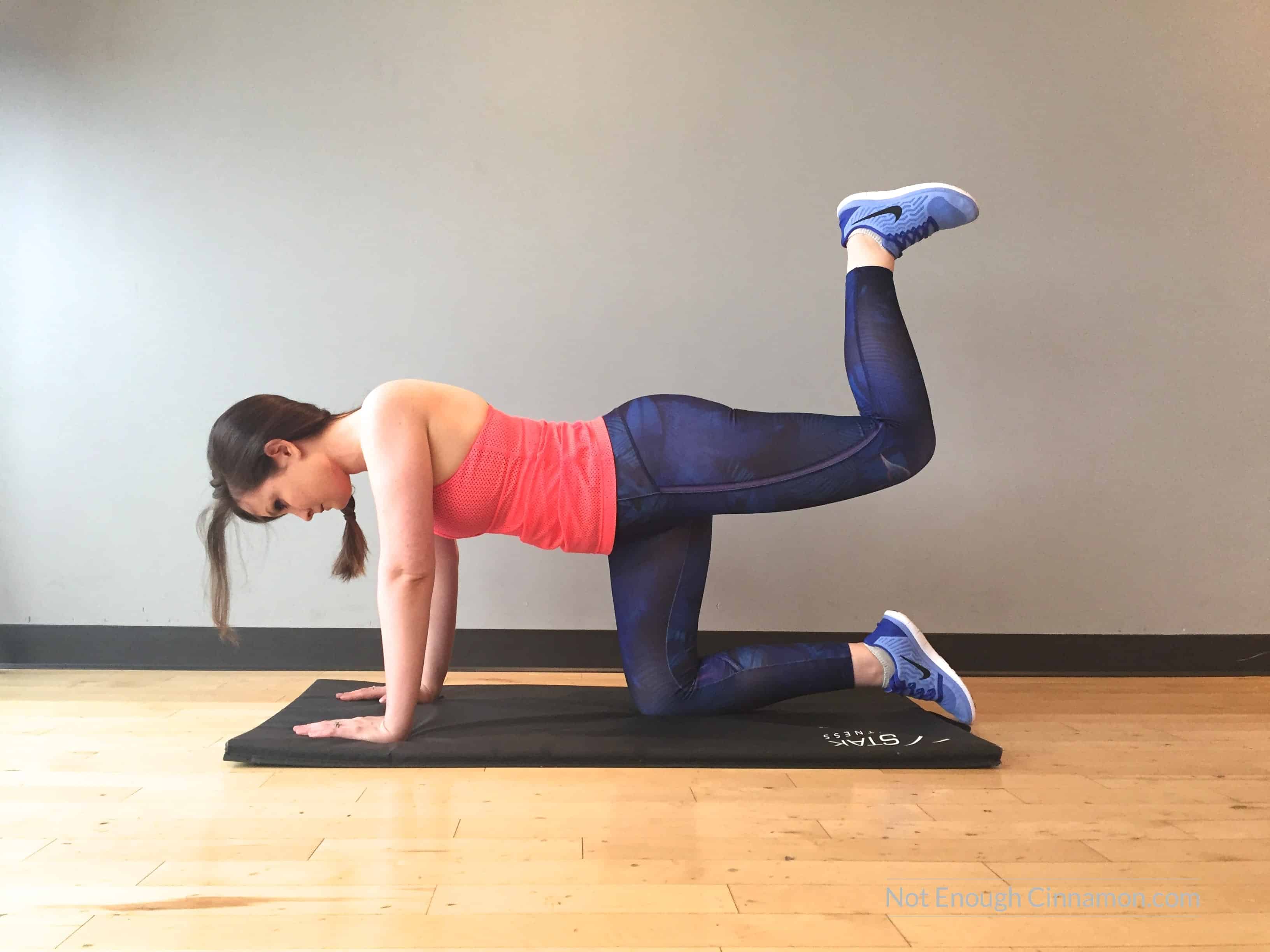 I normally exercise at least 3 times a week, and up to 5 when I'm feeling extra energetic or want to challenge myself. I always have at least two rest days each week to help my body recover and be able to really push myself a 100% every time I'm working out. I've noticed that the biggest changes on my body happen when I'm resting so I don't feel guilty at all when I skip the gym for a day or two.
I like to go to the gym to exercise. I could do some of my sessions at home, especially the ones using body-weight only, but going to the gym motivates me. I'm surrounded by people working out so I want to push myself. I also go to the gym to be able to workout in front of a large mirror and make sure my form is correct. Not to mention that I'm working from home so it's important for my sanity to get out of the house and change my environment!
My pre and post workout meals
I usually train first thing in the morning so my breakfast is my pre-workout meal and 99% of the time, I eat eggs (hard-boiled, soft-boiled, scrambled or poached). Lately, I've been making scrambled eggs (without milk or cream, just cooking them very softly to make sure they stay creamy), topped with tomato sauce, olive oil and fresh basil. It's delicious and it keeps me full thanks to the fat and protein it contains.
When my workout is long and particularly demanding, I'll eat a snack during the session to keep me going. One of my favorite "workout snack" is CLIF Bars. They are made with nutritious and organic ingredients like organic rolled oats, dried fruits, nuts and seeds and provide energy from multiple carbohydrate sources and a blend of protein, fat and fibre. Perfect for the job. Not to mention they are yummy (my favorite is Chocolate Brownie!). I will usually eat half of it during the workout and keep the rest as a post-workout snack.
After my workout I like to get some carbs in. I'll either finish my CLIF bar, eat some Greek yogurt with half a banana and some berries, or if it's close to lunch time I'll go straight to the sushi shop (plenty of carbs with the rice + protein with the fish!). Because we all know how obsessed I am with sushi and using it as a post-workout excuse is what I do best! 😉
This post is sponsored by CLIF Bar, the great-tasting energy bar made with a nutritious blend of organic rolled oats and wholesome ingredients for energy. I have been compensated for this post but all opinions are my own. 
What is your fitness routine? Let me know in the comments below!