These Homemade Bounty Bars are SUPER easy to make and only require 3 ingredients! Follow my simple step-by-step instructions and make this popular candy bar at home!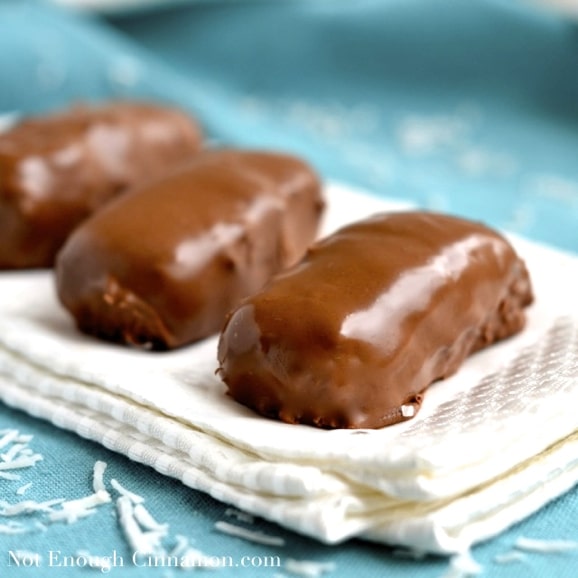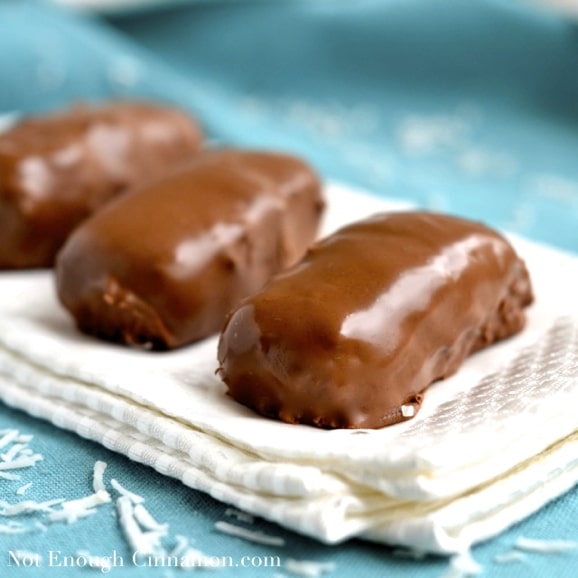 It's Friday today! And you know what it means, right? It's the end of the week so you can INDULGE! And I have the perfect recipe for that. Chocolate + sweetened condensed milk + shredded coconut. That's right, 3 ingredients are all you need to make delicious yet super simple Homemade Bounty Bars aka. Mounds.
Want Homemade Bounty Bars? Use milk chocolate. Want Homemade Mounds ? Use dark chocolate instead. Making candy bars from scratch is as simple as that!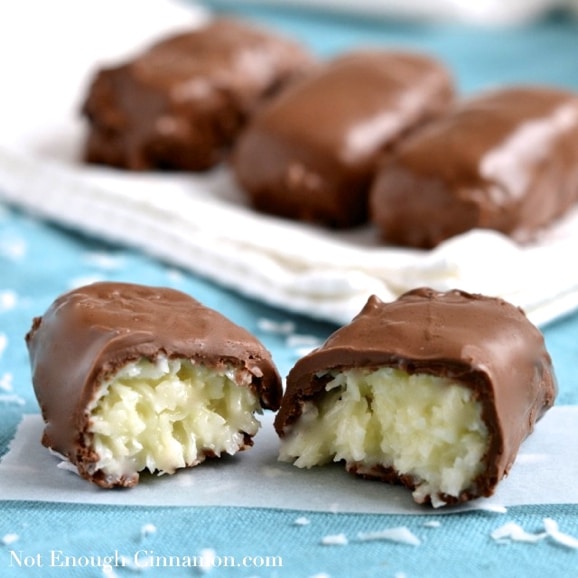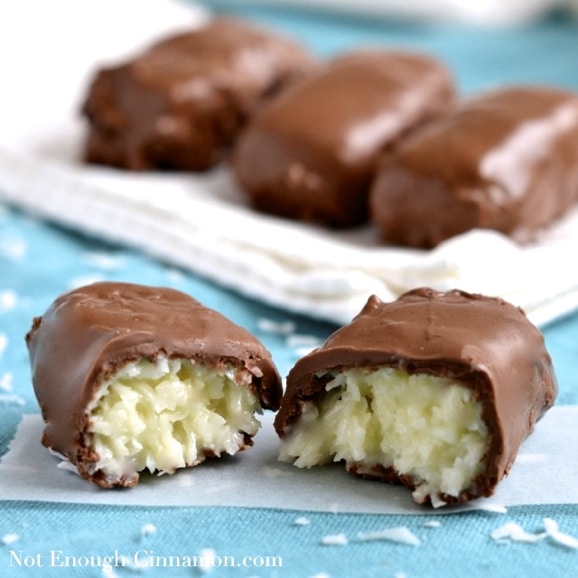 I don't know about you, but I love making goodies like these Bounty Bars from scratch. It usually tastes way better and you know exactly what goes in it. Win win.
Take homemade pesto, or homemade peanut butter for instance. Guys, I will never ever buy those from the store again now that I've tried to make them from scratch!
Anyway, all I'm saying is these Homemade Bounty Bars aka. Mounds are good, very good! I wish I could send some of my homemade candy bars to my mom, because Bounty Bars are her favorite candies 🙂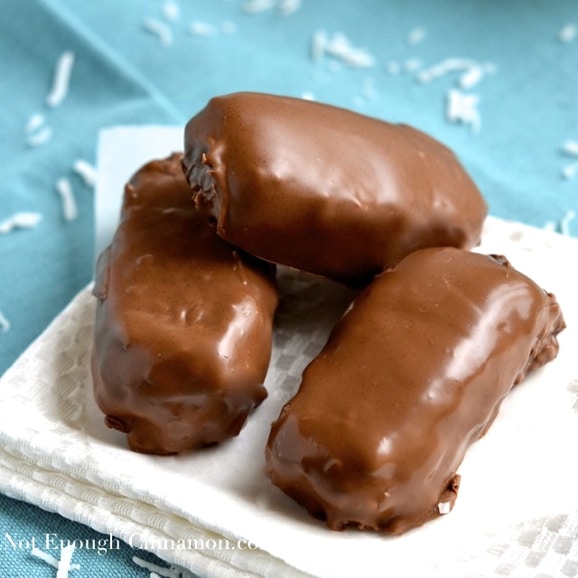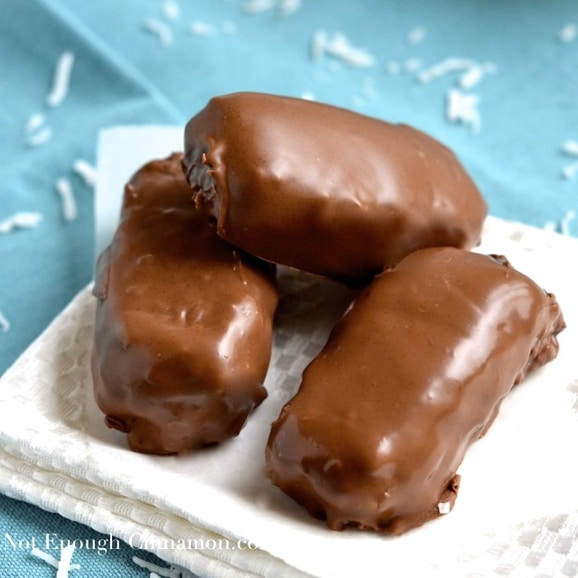 If you tried these Homemade Bounty Bars, don't forget to rate the recipe below and let me know how it went in the comments – I love hearing from you! You can also follow me on Instagram, Pinterest and Facebook for more deliciousness and behind-the-scenes!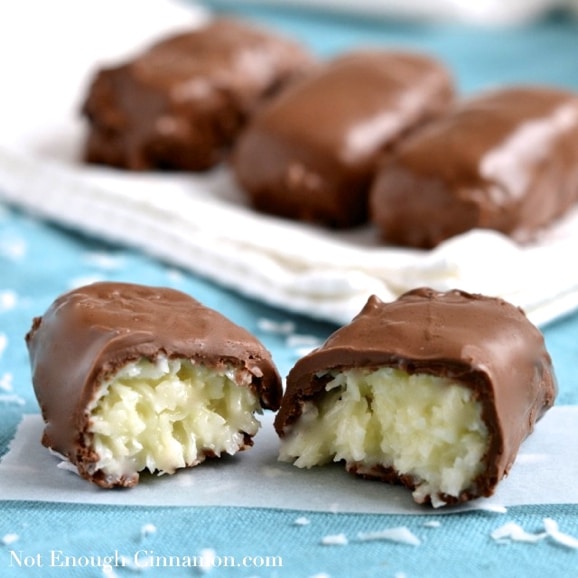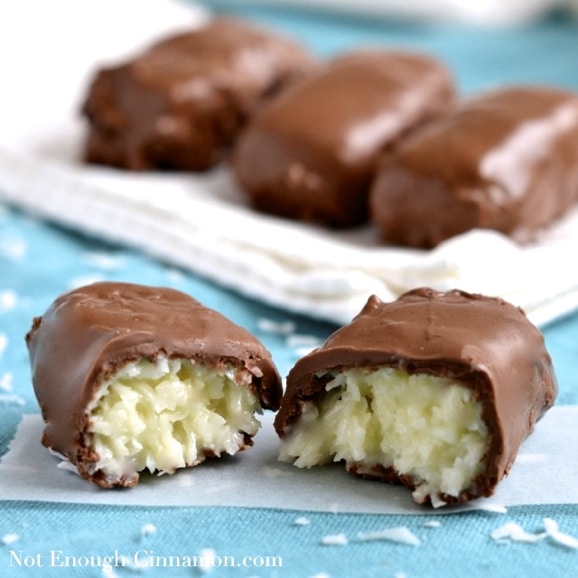 Easy Homemade Bounty aka Mounds
These Homemade Bounty bars are SUPER easy to make and only require 3 ingredients! Follow my step-by-step instructions and make this popular candy bar at home!

Ingredients
3

cups

unsweetened shredded coconut

1

cup

sweetened condensed milk

15

oz

semisweet chocolate
Instructions
In a medium bowl, mix coconut and sweetened condensed milk to make a thick and sticky paste.

Using your hands, form some rectangles with the paste. Press firmly to make sure the rectangles will keep their shape. After 3 or 4 rectangles, wash your hands and do not dry them completely. That way, the paste won't stick to your hands.

Arrange the coconut bars on a baking sheet lined with parchment paper and put in the freezer for about 20 minutes. This will make the candy easier to dip into chocolate. Don't skip this part or it'll be a mess!

In the meantime, cut the chocolate into pieces and put ⅔ of it in a microwave safe bowl.

Microwave the chocolate on medium power for 30 seconds, stir, then repeat in 15 seconds intervals, until the chocolate has melted completely.

If you prefer to melt chocolate on the stove top, place a heatproof bowl over a small saucepan filled with simmering water. On low heat, stir chocolate until melted, ensuring the chocolate does not make contact with water and steam whilst melting.

Add ⅓ remaining chocolate and keep stirring until it is fully melted.

This process is called tempering chocolate. It will allow the chocolate to have a glossy texture and to set correctly with a nice snap when you break it.

It's time for dipping now! Remove rectangles from the freezer. If you want to take your time, you can work with one rectangle at a time and leave the others in the freezer. Using two forks, dip one rectangle halfway into melted chocolate.

And roll it to cover all sides.

Using one fork, remove the rectangle from the melted chocolate. With the other fork, remove excess chocolate and arrange your homemade bounty on a lined baking sheet.

Allow a few hours for the chocolate cover to set (time will vary according to where you live, how warm is your house etc.) and ENJOY your homemade bounty bars!
Recipe Notes
They will last up to 5 days in a air-tight container, away from the sun. After that, they'll start to dry. You can also keep them in the fridge but they'll dry much faster and harden a bit, I don't recommend it.
Nutrition Facts
Easy Homemade Bounty aka Mounds
Amount Per Serving (1 bar)
Calories 440
Calories from Fat 270
% Daily Value*
Fat 30g46%
Cholesterol 10mg3%
Sodium 44mg2%
Potassium 421mg12%
Carbohydrates 37g12%
Protein 5g10%
Vitamin A 85IU2%
Vitamin C 1mg1%
Calcium 100mg10%
Iron 3.1mg17%
* Percent Daily Values are based on a 2000 calorie diet.
UPDATE: I posted a PALEO + VEGAN version of these Bounty bars! CLICK HERE to see it!