Try my Crispy Green Beans with Pesto.  All you need is fresh green beans, garlic, pesto and pine nuts to make this easy, healthy, and flavorful vegan side dish.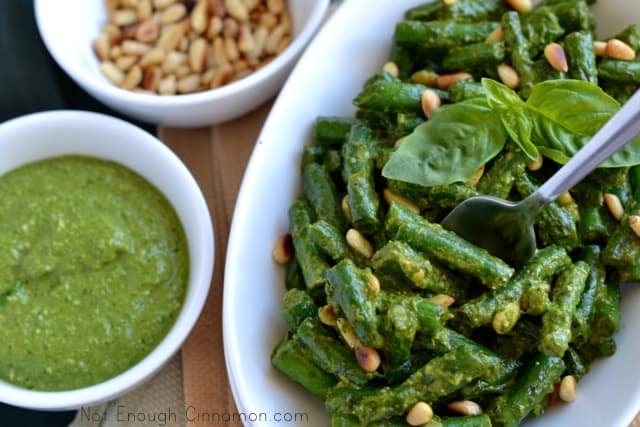 Ok, now that this crazy hospital story is behind us I'm officially back in the kitchen, creating and testing out some good dishes like these Green Beans with Pesto to share with you guys! Feels good 🙂
Today's recipe for Crispy Green Beans with Pesto was inspired by my cravings for homemade pesto. Before heading to Australia, I would make homemade basil pesto very often and God, how I loved it!
There's nothing quite like the taste of fresh basil leaves combined with garlic, parmesan and pine nuts. The ingredients themselves make me drool, so imagine blended together...
Back home, for some reason, homemade pesto would only work with a food processor and not with a blender. My guess was that I didn't make a large enough quantity to allow the blender's blades to work properly. Am I a being clear here?
Anyway, the reason I'm saying all this is because we don't own a food processor here in Sydney (and I miss it a lot!) but only a blender. So the other day, when I couldn't resist buying three beautiful bunches of fresh basil, I was expecting to fail in pesto-making. But I did not. It worked!
So yeah, the key when making homemade pesto with a blender is to use a whole lot of basil and to help your little blender do the job correctly by stirring and pushing the mixture towards the blades super frequently (duh, it's amazing how easy things can be hard to explain sometimes!).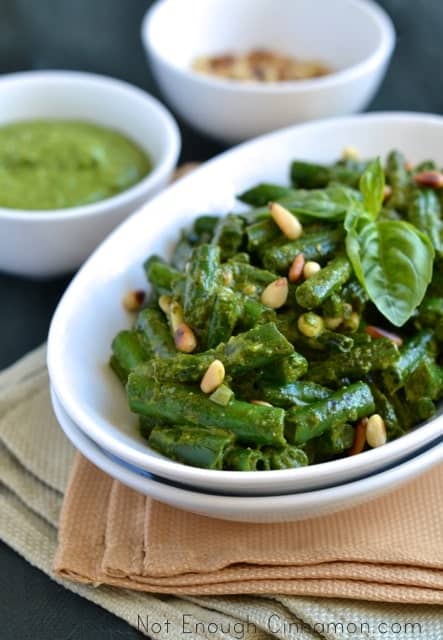 Right, so now we have some fresh homemade basil pesto. Now, the green beans make an entrance.
I recently discovered in myself an unexpected love for green beans. When I was younger, we ate the canned stuff at home and it wasn't really good. Mushy green beans? No, thanks.
But now, green beans are actually my go-to veggies. The only condition? They have to be crispy.
I usually steam my green beans and serve them with a little olive oil, or as a salad when they're cold. But this time, I decided to twist this classic side dish a bit more and served my green beans with pesto. Guys, it's so tasty!!
Honestly, the pictures of these Green Beans with Pesto just don't do this simple yet delicious side dish justice.
The combo of crispy green beans and rich basil pesto is definitively a keeper. Not to mention vegan, healthy and low carb! If you're having a hard time making your kids eat some veggies or just want to change from the usual pesto pasta dish, this recipe for Crispy Green Beans with Pesto is what you need!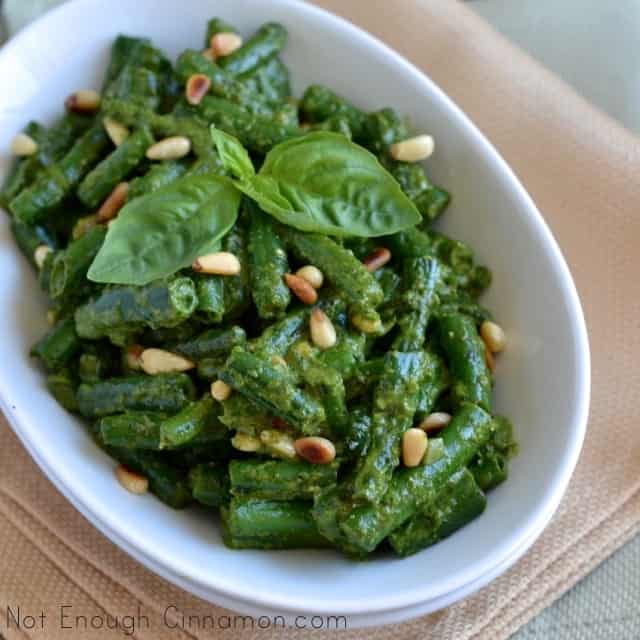 If you tried these Crispy Green Beans with Pesto, don't forget to rate the recipe below and let me know how it went in the comments – I love hearing from you! You can also follow me on Instagram, Pinterest and Facebook for more deliciousness and behind-the-scenes!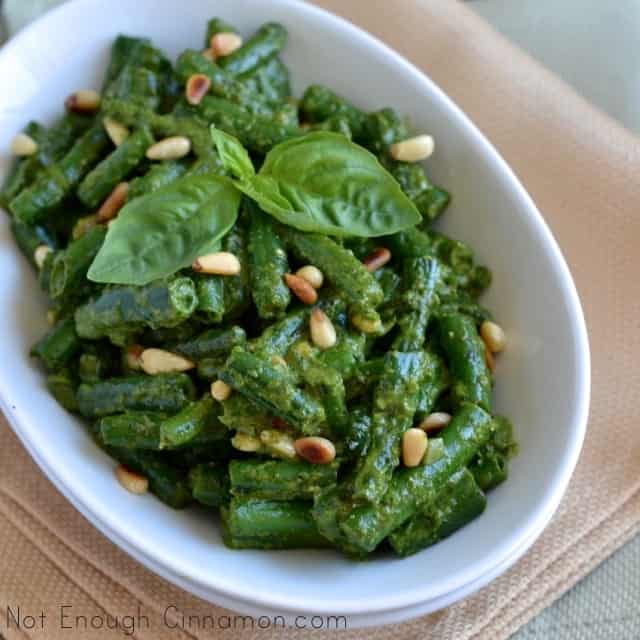 Crispy Green Beans with Pesto
Try my Crispy Green Beans with Pesto. All you need are fresh green beans, garlic, pesto and pine nuts to make this easy, healthy, and flavorful vegan side dish.
Ingredients
1

tsp

olive oil

1

garlic clove

minced

3

cups

fresh green beans

ends trimmed and chopped into 1" pieces

⅓

cup

homemade basil pesto

or store-bought (but it's not as good)

1

tbsp

toasted pine nuts
Instructions
Heat olive oil in a non-stick skillet. Cook minced garlic on medium-high heat for about 30 seconds, remove it from the skillet and set aside.

Add beans to the same skillet and sauté for about 6 minutes or until the beans are cooked but still crispy. Return garlic to the skillet and cook an additional 30 seconds (just enough to quickly reheat garlic). Remove content from skillet and cool down a bit.

Toss the beans with pesto, sprinkle with pine nuts and serve.
Recipe Notes
This dish is also very good as a salad, in case you have leftovers.
Nutrition Facts
Crispy Green Beans with Pesto
Amount Per Serving (1 half)
Calories 266
Calories from Fat 189
% Daily Value*
Fat 21g32%
Cholesterol 3mg1%
Sodium 396mg17%
Potassium 378mg11%
Carbohydrates 15g5%
Protein 5g10%
Vitamin A 1970IU39%
Vitamin C 20.6mg25%
Calcium 128mg13%
Iron 2.2mg12%
* Percent Daily Values are based on a 2000 calorie diet.