This Beef & Eggplant Casserole is THE BEST! Layers of pan-fried eggplant, marinara,  ground beef, parmesan and mozzarella cheese are baked until bubbly. Serve this hearty casserole with a salad for an easy low-carb dinner.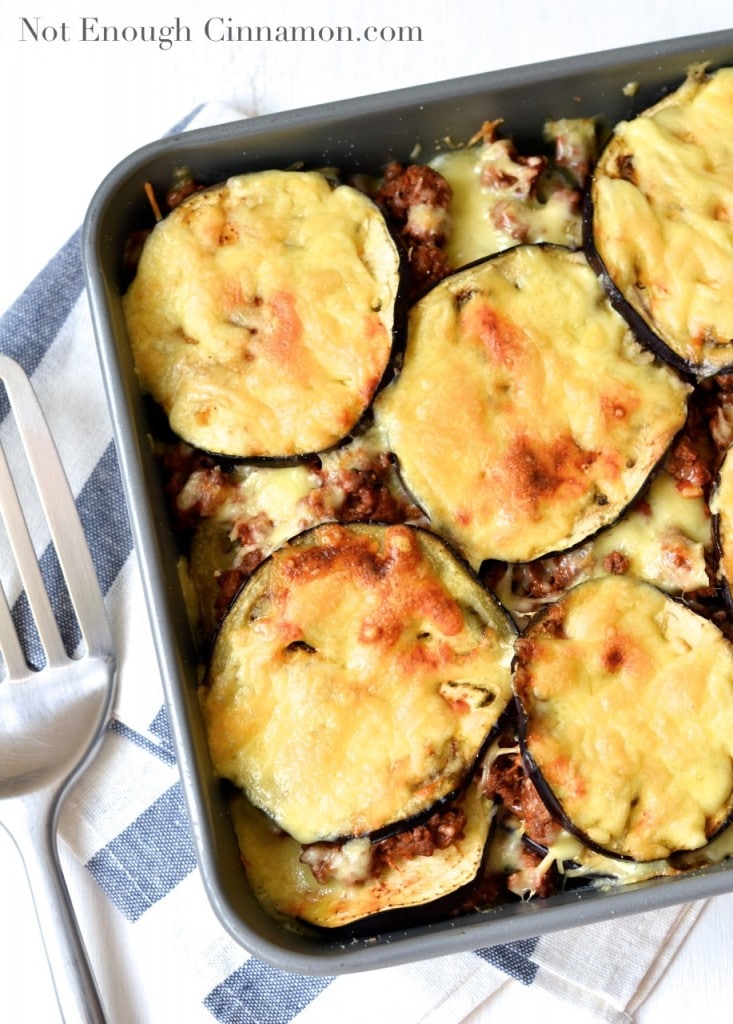 Before we dive right into this Beef & Eggplant Casserole, I need to let you guys know that the past three weeks have been crazy!
First, I had to move my blog to a new host. My former one emailed me a few weeks ago basically saying that my blog had too many visitors and they couldn't handle it anymore. Sounds like good news, right?
Having more and more people coming over here makes me happy, that's for sure! But switching host is definitely a hassle, big time! I don't how I could have done it without my tech boyfriend Solal.
Well, actually I know. I couldn't, so I would have had to hire someone and it would have cost me an arm and a leg. Now it's all done but I lost the last three recipes in the process.
Fortunately, I had written down everything in my recipe drafts book, but it's a mess and I'm currently trying to understand what those signs and arrows mean. I'm just hoping I didn't make any last minute changes to the recipes because obviously, I don't remember them.
Luckily, I remembered how to make this great Eggplant Casserole with ground beef!
Besides my technical adventures, we were also looking for a new home! We had to leave our current apartment by the end of August and needed a new one.
I honestly couldn't say how many emails I wrote and phone calls I made to real estate agents. And I think we are close to 20, if not 30 inspections. I may sound like a very difficult person looking for the perfect place that doesn't exist, but actually, I was just looking for a decent dog-friendly apartment.
Apparently, 90% of the units in the center of Sydney are not pet-friendly. When they were, they were either crappy or too small - at least in our price range. So I decided to temporarily bury my dream of having a Boxer dog and we've finally found a place I'm very excited about.
If you know Sydney, we are moving from Darlinghurst to Paddington. It's a lovely area with beautiful houses and shops, and the biggest park in Sydney is only about 2 seconds away. Perfect for weekend picnics 🙂 I'll give you a tour of the neighbourhood soon!
We're moving on Monday, I can't wait for all this to be over so I can finally relax a bit and do more fun things, like eating a a huge plate of this Beef & Eggplant Casserole!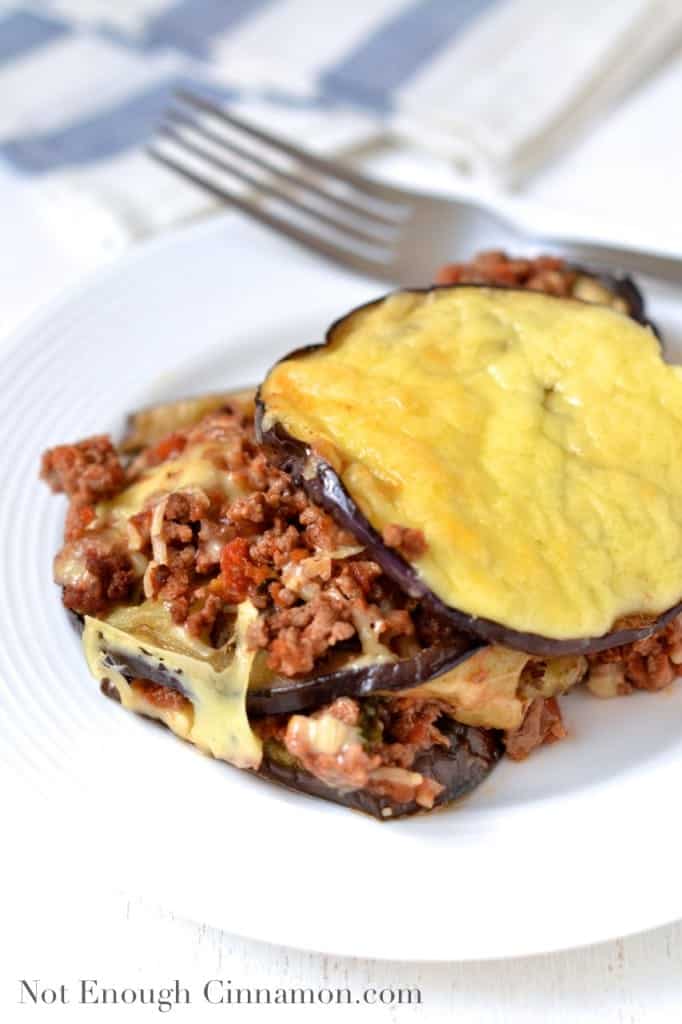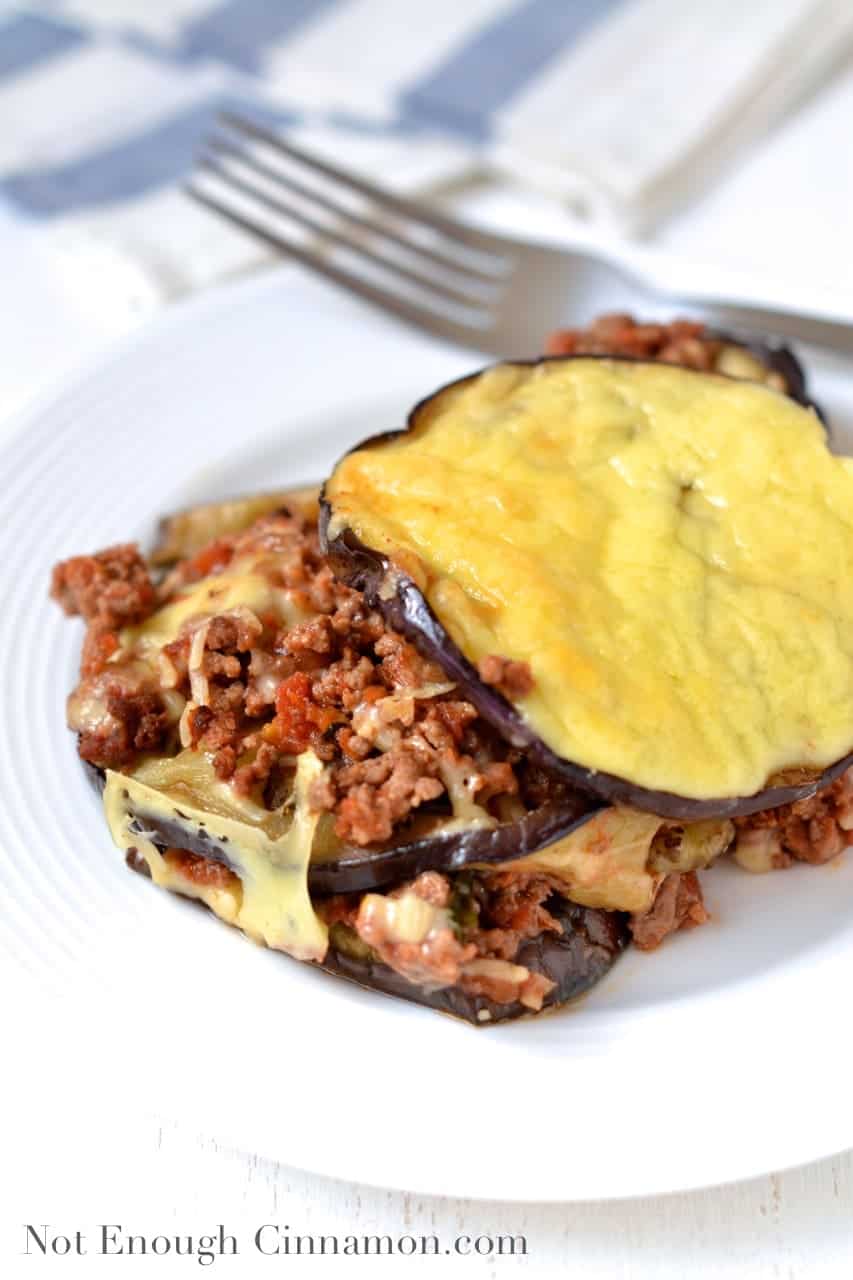 If you tried this Beef & Eggplant Casserole, don't forget to rate the recipe below and let me know how it went in the comments – I love hearing from you! You can also follow me on Instagram, Pinterest and Facebook for more deliciousness and behind-the-scenes!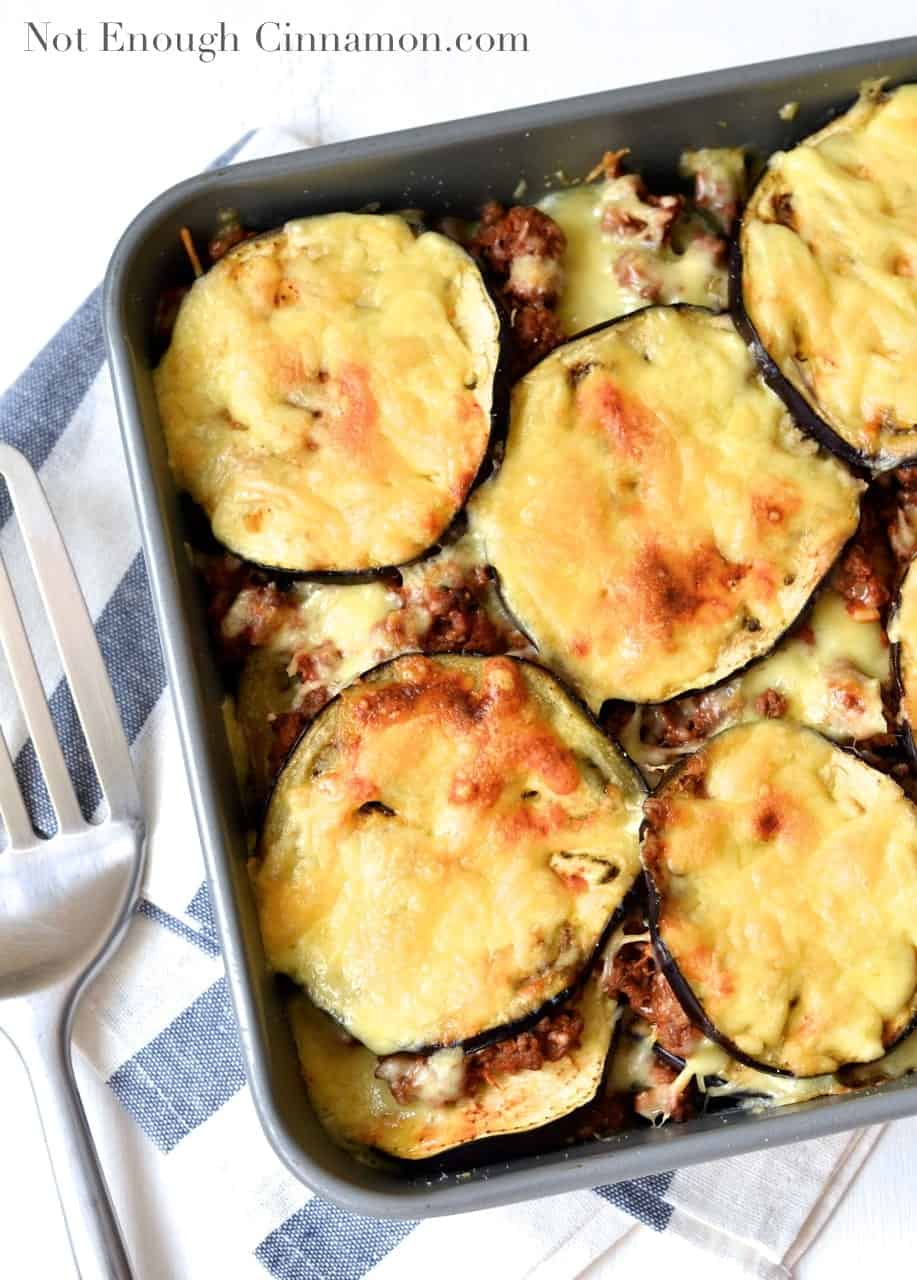 Beef & Eggplant Casserole
This Beef & Eggplant Casserole is THE BEST! Layers of pan-fried eggplant, marinara, ground beef and parmesan as well as mozzarella cheese are baked until bubbly. Serve this hearty casserole with a salad for an easy low-carb dinner
Ingredients
3

tbsp

olive oil

divided

2

eggplants

thinly sliced

1

garlic clove

minced

1

lb

extra lean ground beef

¾

cup

marinara sauce

salt and pepper to taste

½

bunch

fresh basil

leaves chopped

1

cup

grated parmesan

1

cup

grated light mozzarella
Instructions
Preheat oven to 350F. Heat a large non-stick skillet over medium-high heat. When hot, add 1 tbsp olive oil and cook eggplant slices for about 5 minutes on each side and set aside. Cook them in batches and add some olive oil when necessary.

While eggplants are cooking, prepare the beef mixture. Heat another skillet over medium heat and add 1 tbsp olive oil. Cook garlic for about 1 minute (do not let it brown), then add ground beef and break it into pieces with a wooden spatula.

Cook for about 5 minutes and add marinara sauce. Stir well and cook another 5 minutes. Season with salt and pepper. Remove from heat and add basil. Drain excess liquid to make sure you don't end up with a soggy casserole.

In a baking dish (I used a square baking dish), arrange one layer of eggplant, one layer of beef mixture and one layer of parmesan cheese. Repeat (eggplant, then beef, then parmesan) and finish with a layer of eggplant.

Top with mozzarella cheese and bake for 25 minutes or until cheese is golden brown and starts to be crispy. Serve immediately.
Nutrition Facts
Beef & Eggplant Casserole
Amount Per Serving (1 serving)
Calories 465
Calories from Fat 207
% Daily Value*
Fat 23g35%
Cholesterol 97mg32%
Sodium 912mg40%
Potassium 1130mg32%
Carbohydrates 18g6%
Protein 45g90%
Vitamin A 655IU13%
Vitamin C 8.5mg10%
Calcium 586mg59%
Iron 4.1mg23%
* Percent Daily Values are based on a 2000 calorie diet.